Ravell will be taking the stage at HARD Summer this year and is getting everyone's feet moving ahead of the festival with this mixtape!
---
As one of the most beloved festivals to take place in Southern California each year, HARD Summer has continued to impress with lineups of epic proportions and plenty of surprises for attendees. While the brand's faithful following had to spend a year dancing at home instead of being under the summer sun, this year's edition is shaping up to be one of the best yet as they return to the scene in style. To help build up the hype for HSMF 2021, artists from the jam-packed lineup are gracing everyone with mixtapes to showcase their skills and give them a taste of what's in store – and today Ravell has taken the reins.
Since first breaking onto the scene, Ravell has continued to prove his worth as one of the most dynamic artists out there. Over the years he's released tunes like "Rockin'" and "Feelin' You" and unreal mashups that can be found on SoundCloud. Of course, his abilities behind the decks have caught the ear of many as well with stunning sets at festivals like Coachella while he's also curated special shows such as his Academy LA takeover where he served up his favorite food, pupusas, to those in attendance.
While he kept busy during the pandemic by playing livestreams and supported others like Kaskade at drive-in shows, Ravell's return to HARD Summer is sure to be larger than life. To celebrate and showcase what he'll be bringing to the stage his mixtape is filled to the brim with groovy house tunes from his own discography as well as surefire summer heat from the likes of SNBRN and BIJOU, New Northern, DONKONG, and more. If you weren't a Ravellion yet, you will be soon after hearing this mixtape and catching his set at the NOS Events Center this summer.
HARD Summer 2021 is officially sold out but there is a waitlist for those who are still would like to attend. Head over to their website for more details and press play on the mix below to get your blood pumping ahead of the festival!
Stream HSMF 2021 Official Mixtape Series: Ravell on SoundCloud:
---
Tracklist:
Ravell – Rockin'
Cheyenne Giles – Jump Around
Victor Lou & Gommez – Let's Make Noise
J. Cole – Middle Child (Andre Longo Remix)
Kubi – Girls Bounce
Meduza, Becky Hill, Goodboys – Lose Control (CAROLA & MARKUZ Remix)
New Northern – Fresh
Ravell – Get Away
SNBRN x BIJOU x CeCe Rogers – Poison
Ravell – That Body
Wankelmut, Bhaskar & Diskover – Heartbeat (ft. Willemijn May)
Jack Trades ft. Heather Jannsen – Kill Me Slowly (Ravell Remix)
Twoloud – My Game (Destlours Extended Remix)
Curbi – Feel (feat. Helen)
Illusionize & Dual Channels – Pamperonn
DJ Kuba & Neitan x Nogun – Sweat
DONKONG – Like You Say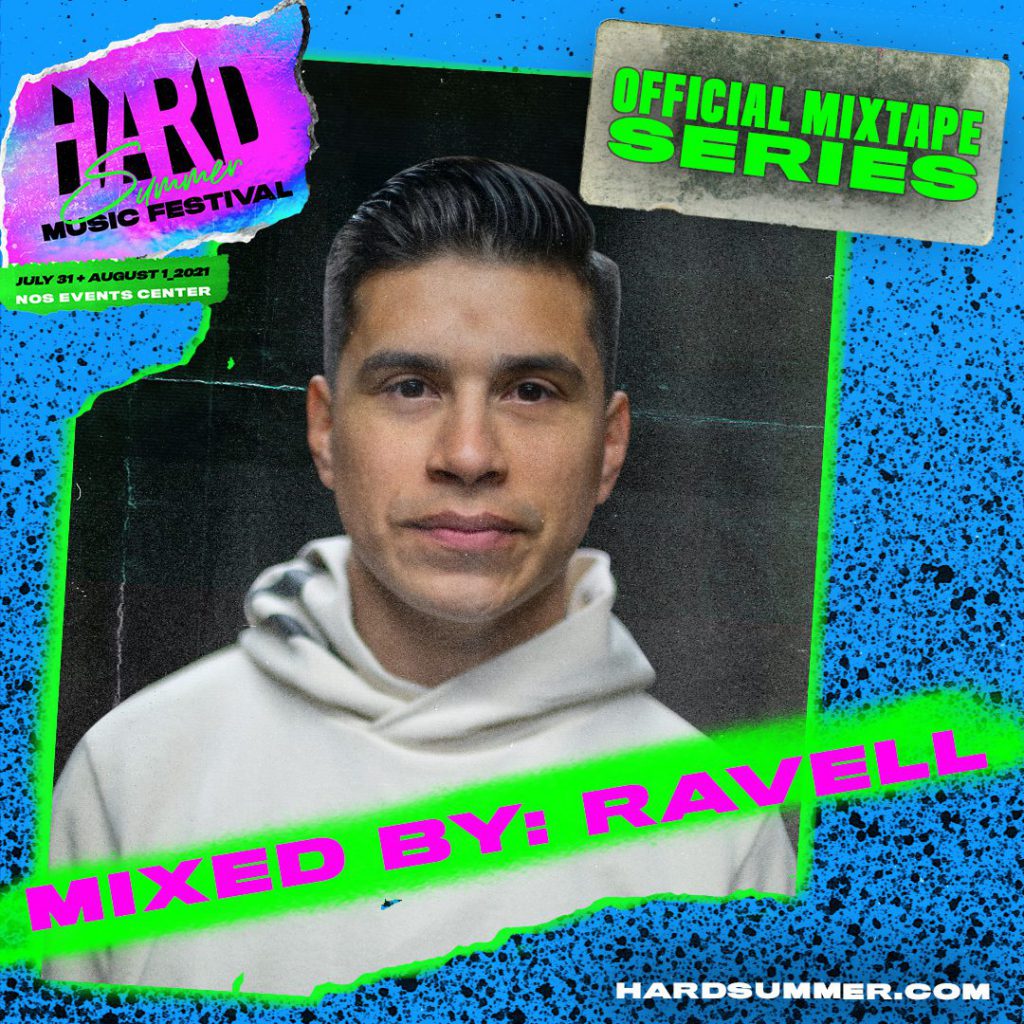 ---
Follow Ravell on Social Media:
Facebook | Twitter | Instagram | SoundCloud | YouTube