Rising artist Federico Gardenghi swung by to chat his latest single "Hold Me" with The Melody Men and how he got his start in the scene!
---
Federico Gardenghi might be one of the youngest artists in the international dance music scene right now at the age of 17, but this rising artist has been honing his craft for years. Showing an appreciation for music early on and beginning to play around in Abelton Live before he even hit his teen years in his hometown just outside of Milano, Italy, he spent time developing a unique production and mixing style with the help of his father. This work culminated in Federico taking the stage for the first time ever in 2012, when he was just eight years old, to play a set on New Year's Eve.
Now, nearly a decade later, Federico Gardenghi is continuing to blossom into an artist in the electronic music realm and is turning heads of industry leaders along the way. During this time he's played alongside artists such as Carl Cox, Roger Sanchez, and more while also hosting a weekly residency on Italy's biggest radio station, m20. He also caught the eye of Armin van Buuren and Armada Music, who signed him exclusively with 2019's "Loco" marking his first release on the imprint.
While the world braced for the uncertainty during 2020, Federico Gardenghi continued on his path and re-emerged in 2021 with two fresh tunes for his growing fanbase to feast on as well. "Get It One," marked the transformation from his early days to his more matured sound, and more recently he unveiled "Hold Me" – a tune that saw him team up with The Melody Men to create a perfect summer jam.
Looking to gain some insight into the mind of this rising star in the scene and help introduce him to the world, we caught up with Federico Gardenghi after the release of "Hold Me" to discuss the tune, his earliest days, and plenty more. So listen to his exclusive guest mix below and read on for the conversation!
Stream EDMID Guest Mix 278 || Federico Gardenghi on SoundCloud:
---
Hi Federico, thanks so much for taking the time to chat with us today. Before we dig into your new releases let's take a trip back in time to your earliest days learning to become a DJ and producer. Although you were very young, do you remember some of your first experiences and influences that helped you develop a passion for music?
When I was a really little boy, I asked my father who was the number one DJ in the world and he said it was Armin van Buuren. I then looked him up and since then I discovered an entire new world. Armin, Carl Cox, they were the first ones I started to love and in my extra time I was stuck watching hundreds of their live sets. Actually, I learned how to use the decks by watching their hands very carefully, that when I touched a CDJ for the first time, it was like I knew it since ever.
Then, at a later stage, I started to think about producing my own music. I always listened to so much music, so many different genres, but every song had something special and I started to understand the difference when a song was beautifully produced.
I started to have an interest in the production and started to work on it with my PC. My head and my mind got a major boost since then! I could try to do music myself! Since then I never stopped learning, I try to learn something new every day. There is so much to learn and to discover about the immense possibilities that music production offers. Then, when you have fairly good knowledge, you can start the 'fine tuning' of the sounds you like most. And this is what I am focusing on now.
What always inspired me in terms of production, are the Future Music videos. I started seeing them (and some of them I know by heart) when I was a little boy. I downloaded them from the web and to see the 'masters' was so inspiring!
Your father played a major role in the beginning of your journey as well, as he downloaded sets and showed you tutorials on how to DJ and produce music. What has his support meant to you over the years, and did he have a musical background as well?
My dad has always worked in the world of television broadcast radio and cinema world as a music consultant so surely, I learned many things from him also related to the world of either music and TV or Radio. When he understood I had this passion, and it was not a 'touch and go' that sometimes happens with little kids, we started doing a lot together, from electrically wiring the studio to downloading the DJ sets I loved.
He followed me since day one in my gigs and still he is present. He always gives me excellent advice. We have a lot of up and down moments like all teenagers I think have with their parents, but I know I can always count on him. He lets me follow my path, still always trying to tell me what is best or not to make sure I keep moving in the right direction.
The first time you played for a crowd as a DJ was on New Year's Eve in 2012 and haven't slowed down since. Looking back on your journey so far, how do you feel your skills behind the decks have grown since that night that was nearly a decade ago?
This is a question that I love because actually, since I started, I created my own 'mixing style'. I have worked hard on it to always do better, but the way I mix has the same characteristics I had at that time. Of course, I have much more experience and much more confidence now but the style is still 'mine'. I can always recognize amongst thousands of mixes if that one is mine.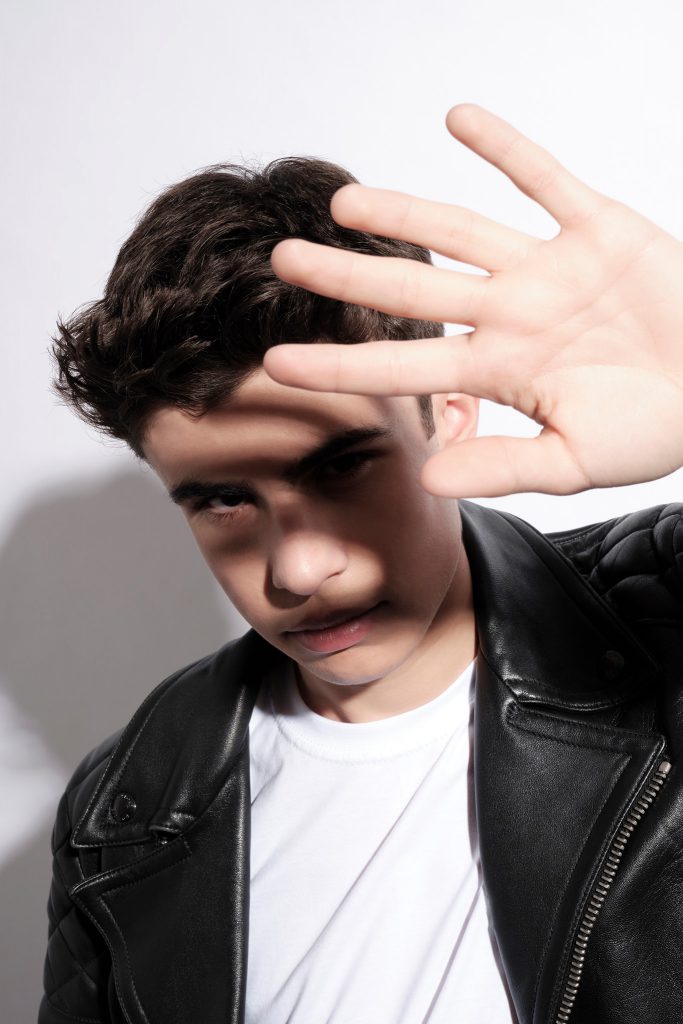 Moving into the present, after you became the youngest artist signed to Armada you released "Loco" in 2019, and more recently dropped "Get It One" earlier this year. Both tracks are sure-fire house heaters that will get anyone's feet moving on the dancefloor. What was the production process like on these tracks?
"Loco" was my first project. I listened to a song on the radio, I don't even remember which one but it was not a club-style one, and I got inspired and started working on "Loco."
My creative process can be very different from time to time. It depends on the mood, on the songs I am listening to in that period…
"Get It One" is a project that has accompanied me in the last couple of years. Its first idea was born back in 2019 and then laid in my PC for quite a while. I used to go back and have a look at it but it was never the right time. Then in November 2020, I decided to complete this project, maybe because it was the right time to conclude a 'passage'. "Get It One" in fact for me represents the 'passage' between the 'little' Federico and the new and older Federico. My sound is in there. My heart is in there.
You also have a new single on the way, "Hold Me" with The Melody Men, that's due to arrive on June 25. What was it like working with that trio to bring the track to life? Did the ongoing pandemic cause any issues in your collaborative efforts there?
"Hold Me" is a song I started working on in June 2020 during the first lockdown. Then I looked for the most appropriate vocal until I found the best one I loved. The rhythmic project was an inspiration that I had during the never-ending lockdown days. When the three elements all came together; piano riff, vocal and rhythmic, I thought it was the right time to propose it to the Armada crew. It is a 122-bpm track and it has got a more pop rhythm compared to my previous projects. It is clubby but radio-friendly at the same time. I love its drop and the hook.
For me this was the first time that I worked with other artists, it was my first collaboration. Obviously, it would have been much better to work in person but also through FaceTime it was still a great experience. But now I can't wait to go back to the studio with them and meet her in person!
Over the past few years you've also hosted a radio show on Italy's m2o radio station. Can you share what it's felt like to be able to broadcast your music to others in your home country, as well as the rest of the world who tuned in via the internet?
Since I always listened to the radio since when I was born actually, this was a real dream come true. When I was very little the radio mixes were always part of our family life, in the living room in the car road trips. Having the possibility to be 'on the other side' of it is truly unbelievable.
And then M2O is the most important radio in Italy at present for this kind of music, all young Italians listen to it. All my friends too.
It is so emotional to be there and to be live every time! Also, in the pandemic period, the radio and the web really saved me! I miss the crowd so much, I miss events so much and the radio and streaming events have kept me connected to those.
For other artists who are just now beginning their careers, what has been the biggest piece of advice you've received so far?
The best thing that I can say is that nothing is easy… keep on trying and never give up. When I started most people were joking at me, thinking it was just a temporary love. Technically some people did not believe in me, someone did even go under the decks to check whether I had a pre-recorded set… and when I first started to approach the production, everything seemed confusing and complicated. But never give up. Whatever makes you feel good … follow it as much as you can.
What are some of your goals for the rest of 2021 and the next few years as the scene begins to re-emerge from the chaos of the pandemic? Are there any dream festivals you'd like to play or artists you'd like to work with?
I am so much looking forward to it! I have so many projects in my mind…For the moment, the most important thing is that we can go back to a sort of normality, we can have festivals and clubs back open! Tomorrowland, Ultra Music Festival, they are all dreams!
And in terms of artists… I have so many dreams and ideas… hope to get back to you soon with some amazing news.
Finally, since the summer season is upon us, what's your favorite way to relax and keep cool during the high temperatures? Do you enjoy days at the beach or spend time lounging by the pool?
Summer to me is the beach and sun. This summer I will be in Sardinia with my parents and friends, a couple of weeks on a sailing boat and spend the rest of the time at the lake. We have a house at the lake and there in the basement, we have a space with a great acoustic! I look forward to spending some time there focusing on my production. That place is so special and relaxing to me.
---
Follow Federico Gardenghi on Social Media:
Website | Facebook | Twitter | Instagram | SoundCloud | YouTube