Daymaker is a whirring, 13-track ride of funky cuts and groovy basslines from the mind of Flamingosis that are a true treat for the summer months.
---
After slowly releasing lead singles "Wild Summer," "Cosmic Feeling," and his LP's namesake "Daymaker" over the course of this last year, Flamingosis has finally unveiled his debut LP, Daymaker, in full. This album is a wondrous journey through lush soundscapes found within its 13 dynamic tracks, making for the perfect electronic exploration of time and space ahead of the summer months.
Ripe with prime production techniques, Flamingosis flexes his innate dexterity as a producer in his debut. Not to mention that Daymaker features a plethora of big-ticket contributors ranging from keyboardist Borahm Lee of Pretty Lights to hip-hop funk duo Recess and even Jeff Franca of Thievery Corporation for good measure. It's a star-studded feat to mark a debut for the ages, and further proves the prowess that Flamingosis brings along with him wherever he goes or whoever he works with.
Flamingosis' Daymaker is available now on all platforms. Stream it now or buy your own copy of the album on exclusive, pink vinyl via his merch website.
Stream Flamingosis – Daybreaker on Spotify:
---
Daymaker is the sonic amalgamation of everything we've grown to love about Flamingosis wrapped into one beautiful 47-minute package.
Opening Flamingosis' LP is the short but sweet "First Light," which is best characterized by its wobbly synth patterns that properly set the stage for "Daybreak," which follows soon after. Fusing soothing instrumentation with groovy percussive elements, the titular track perfectly captures that serene feeling that he brings with his unique soundscapes.
"Is It Love? (Remix)" arrives next and utilizes sweltering guitar riffs to compliment its synth-driven melodies to create a track best suited for dance floors and summertime escapades alike. The album's first single "Wild Summer" carries similar tones with its reggae-infused, kick-back-oriented vibe. Transcending the confines of typical electronic musicianship, Flamingosis substitutes DAW-made sounds for funk-laden rock and does so brilliantly.
Echoing the same prominent tropical themes that propelled the first four tracks of Daymaker is "Return To Oasis," a groovy tune with slight hip-hop influences. It's nearly impossible to keep from bobbing your head or tapping your foot to this one – seriously. Electric piano chords and eclectic shaker-made melodies create a reflective atmosphere in "Make It Happen," a buoyant four-and-a-half-minute journey through that you can only imagine being played on a sunny, coastal drive with the windows down and the sea breeze grazing your face. A summer-tinged single crafted from organic melodies, this tune is a sure-fire standout on Daymaker.
Kicking off the second half of the LP is "Sunnyvale," a sweet yet electrifying heater. Sultry vocal chops and a punchy kick put listeners into a trance as buttery smooth electric guitar serenades the senses before launching into "Breakdown." Climactic in nature, this track is brimming with beautiful progressions varying in intensity that help guide the album past its midpoint.
Then, in a sentimental turn of events, Flamingosis errs on the romantic side for "Since I Met You."
"Since I Met You" is an introspective song that comes directly from the heart of Aaron Velasquez as he spills emotions out into the world – if you weren't swooning for his sounds yet then this track will do the trick. The vibrant, captivating, and bright instrumentation carries into "Aurora" seamlessly as this tune induces imagery of mystical lights in the sky. When you close your eyes and listen to this one you can't help but have thoughts of The Northern Lights stir up inside your mind.
The album's title track, "Daymaker," implements a vast array of organic strings and brass alongside its effervescent percussive profile. Featuring a compelling visual accompaniment, the music video takes the viewer on a unique visual journey through the city from the viewpoint of a frisbee. This is the ultimate feel-good summer visual.
As the album marches towards sunset, "Avenue of the Fireflies," the LPs penultimate single, is a swift departure from laidback sounds.
Substituting calming guitar-driven instrumentation for heavy percussive peaks and in-your-face synth work, "Avenue of the Fireflies" is an ode to a New York City summer night. And for the final send-off, "Cosmic Feeling" concludes Daymaker. This unforgettable composition is characterized by its sweltering symphony of strings and soulful singing, simply put, it's a magical end to this stunning debut album from Flamingosis.
---
Flamingosis – Daybreaker – Tracklist:
1. First Light
2. Daybreak
3. Is It Love? (Remix)
4. Wild Summer
5. Return To Oasis
6. Make It Happen
7. Sunnyvale
8. Breakdown
9. Since I Met You
10. Aurora
11. Daymaker
12. Avenue Of The Fireflies
13. Cosmic Feeling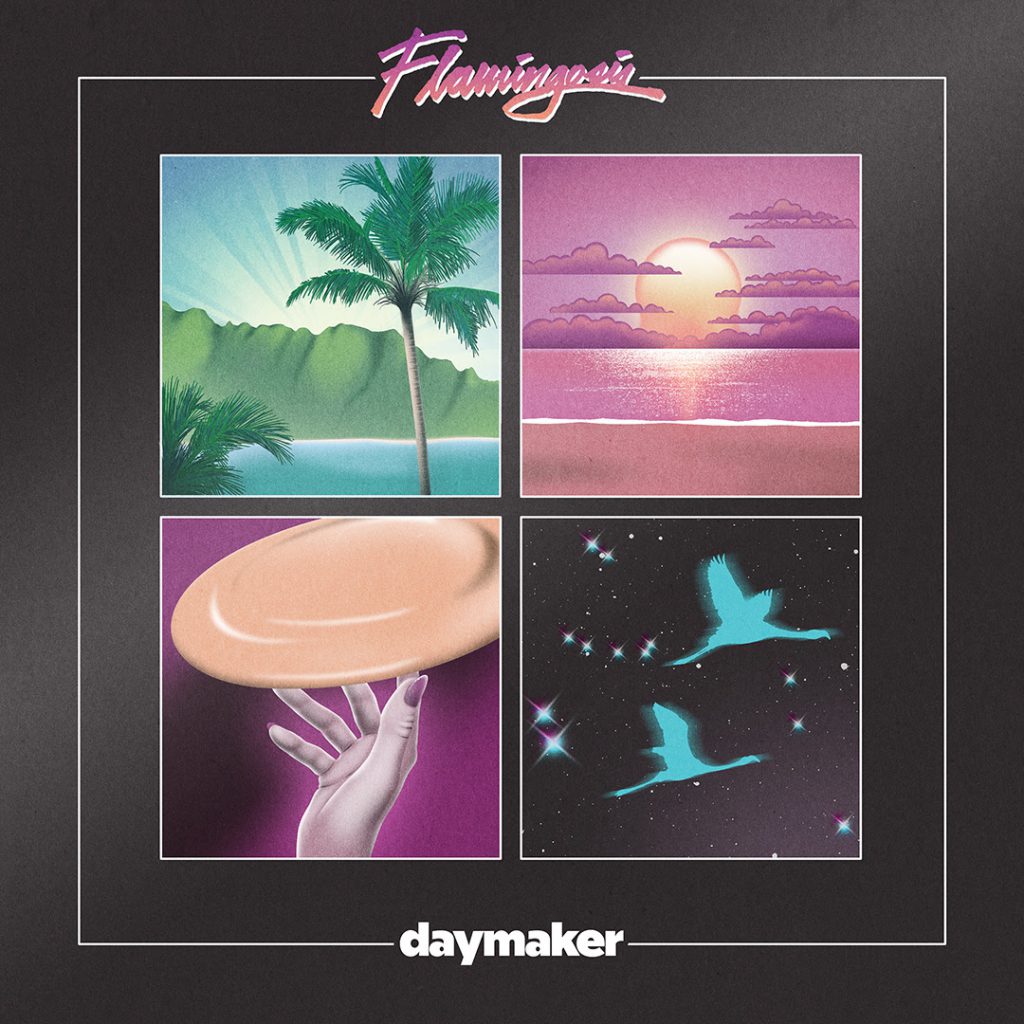 ---
Follow Flamingosis on Social Media:
Website | Facebook | Twitter | Instagram | SoundCloud | YouTube