Nick Martinez continues to show signs of greatness as he rides a wave of releases that show off his dark soundscapes in style.
---
While much of the dance music scene is dominated by light, airy beats that put a smile on your face, the darker, subterranean realm also rears its head in genres like midtempo, industrial bass, and techno to change that smile to an evil grin. The two sides of the spectrum act as an electronic yin and yang, and as the scene continues to reemerge from the fallout of 2020 artists like Nick Martinez are looking to help further showcase that balance.
First falling in love with electronic music nearly a decade ago, Nick Martinez set off on a path to begin producing and playing beats of his own soon after. Born in Ventura but now residing in sunny San Diego, he's continued to hone his chops in the studio and the result has been some impressive releases in the industrial bass and midtempo realm that included a flurry of releases in 2020 such as "Breathe," "The Death of Sound," "My Distorted Reality," "I Wanna Feel That Again," and "BlvckSheep" among others.
Now, with the new year in full swing and the return of shows continuing to pick up momentum, Nick Martinez is looking to dominate the scene with his electrifying sound filled with dark, ominous tones. Already dropping tracks that include "One Way," "Machine," and "A New Order" earlier this year, his most recent release "Simulation 0001" further proved he's one to keep an eye on as we all dive deeper into 2021.
Looking to pick the mind of Nick Martinez and dig into his dark, dynamic sound, we caught up with the rising star to chat about his new releases and plenty more. So listen to his exclusive guest mix below and read on for the conversation!
Stream EDMID Guest Mix 277 || Nick Martinez on SoundCloud:
---
Hi Nick, thanks so much for taking the time to chat with us today. Before we get into your more recent work, let's dive into your history a bit. Can you share some of your first musical memories? Who did you listen to growing up?
So I've always been really interested in technology and as I grew a love for speakers and sound equipment emerged so in middle school I was part of our AV club and would play music for school dances and events. That was really when my love for music was born. As far as what I listened to it was pretty all over, I listened to a lot of Green Day, Linkin Park, and Drake.
You cite artists like Skrillex and Avicii as some of the first you listened to in the dance music scene back in 2012. How did the artists who exploded during that time, and the vibe of that era as a whole, influence you as an artist?
I think the main thing that they influenced me to do was to start learning how to produce. I knew that I wanted to produce but I didn't really have any clue what I wanted to make so I would just listen to music as a way to study genres and learn which ones spoke to me more. I think that era was an explosion for so many different styles that it allowed me to pick elements from various genres and expand my interests
What pushed you to the darker side of dance music and the industrial bass/midtempo sound specifically?
As I began producing I'd try to recreate or remix some of my favorite tracks and I always found myself wanting to make tracks harder and darker so when I started on originals it just kinda happened. I've always felt that dark music had more power over positive melodic music, a lot of melodic music to me seems very forced and surface level and just never spoke to me as much as a song filled with pain and passion.
As far as making mid-tempo, I discovered Gesaffelstein in maybe 2015-16 and it just spoke to me. His music and his presence is second to none in my opinion, and it was the first time I really listened to an artist and was like yes this is my vision for myself. Once I started making mid-tempo I noticed that I liked producing so much more because I was no longer trying to make music for others and I was making music for myself. 
Let's bring it up to the present and talk about some of your recent tunes. You dropped "Simulation 0001" back in May and teamed up with Mellie Melody on the track. What was the production process like on this one? Can you walk us through it?
Yeah, so Mellie has always been someone I've wanted to work with. I feel like her voice pairs really well with my music so she sent me over a couple of sample vocals and I found one that really spoke to me so we just ran with it. I basically used her lyrics to inspire the track and got to work making the song.
In this track, I wanted to show that I can make a track with dark melodics filled with tension and not just a track with a heavy drop. At this point, I still didn't have a clear idea for the song until one day at work I came up with the idea of a Black Mirror track where someone is trapped in a simulation gone wrong. Once I had a clear idea everything began to fall into place, Mellie did a great job writing lyrics that make the listeners feel like they are right there with her. 
You've also released a flurry of tunes including "Machine," "One Way," and "A New Order" this year as well. Is there something specific you do when sitting down in the studio to put yourself in that dark, industrial mindset? 
At this point, it's just what I do. The main question is just if I'm making something slower and more traditional mid tempo like 'Machine' / 'A New Order' or if I'm going to do something more dark synth / industrial electro like One Way. I'm always trying to push myself by learning new genres and techniques so that I never get too comfortable. I pretty much only listen to dark genres so I'm constantly coming up with ideas for new tracks, and if I'm ever not in the mood to produce I try to watch tutorials or work on branding so I'm always keeping industrial music on my mind.
While shows were put on pause you pressed on in the live streaming realm to craft up some fantastic sets. Was it weird transitioning to playing in front of a camera and a small crowd? Do you feel it helped you grow as a DJ at all or is crowd energy something you really missed?
It was really hard at first to DJ in front of a camera because the crowd is where I get my energy from. It seemed like I was just practicing in the studio and when I do that I'm very focused on my decks and music selection so I almost standstill. I think this caused a few of my first livestreams to not reach their full potential, but thankfully my girlfriend Carrington has really helped me get comfortable dancing around in front of a camera.
Another thing that contributed to that is I had just bought CDJs which was a big change from my controller, but I'm really thankful for all of the livestreams because they helped me get fully comfortable playing on CDJs in a serious situation.  With that being said I cannot wait to be playing live again. I miss it so much.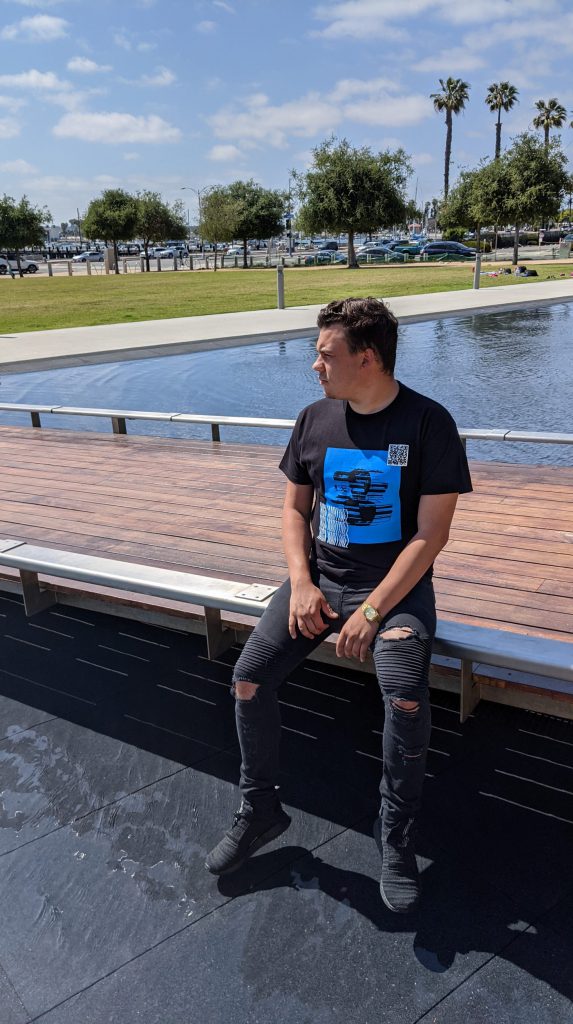 As a rising artist in the scene, what has been the biggest struggle you've faced so far? 
I think the biggest struggles for any young artist is getting people to give you a chance, and building a brand that people relate to and are interested in. I've spent a large portion of this pandemic working on marketing myself as a serious artist and building a community that relates to my vision. It's hard to take time away from making music to focus on branding but it's so important. You can make the best music in the world but if nobody sees it you are never going to be anything more than a bedroom producer.
Building off that, what's the biggest piece of advice you've received during the beginning of your journey that has helped you grow?
I'd have to say splitting time between music and branding, and always focus on learning more and getting better. There's a common trend with every artist that blows up and it's that they have incredible branding, that makes everyone who discovers them an instant fan. For the last two years, my main goal has been to build a brand that people wanted to be a part of and support. I'm not close to where I want to be yet but I believe I've laid the groundwork to build a brand around myself and industrial music that will be infectious to everyone who stumbles across me.
You also recently moved to sunny San Diego to make it your new home. What prompted the move, and what has your experience been like so far living here?
It's been great! I have a lot of friends from college who live down here, and so when I returned home to Ventura, CA after college my goal had always been to move down here, and then after I met Carrington she moved down to San Diego so I knew I had to get down there. Thankfully I was finally able to make the move in November and I've been loving it ever since! We both cannot wait to get to experience everything now that it is starting to open up.
Finally, now that you're living in America's Finest City, have you found a favorite spot to grab a burrito yet for a late-night bite to eat?
You know I'm still searching for a place better than my hometown spot, Corrales, but I am lucky enough to live next to Chuys and Adalbertos so whenever I need a good burrito it's not too far away. If anyone has recommendations I'm all ears! 
---
Follow Nick Martinez on Social Media:
Website | Facebook | Twitter | Instagram | SoundCloud | YouTube | Audius