Kill The Noise, Delta Heavy, Blunts & Blondes, Eprom, and plenty more will be joining Zeds Dead at Deadrocks VII this summer!
---
Bass lovers in the beautiful state of Colorado can already begin to feel the rumble coming from Red Rocks. Why? Because Zeds Dead is set to return to the iconic venue for another round of their renowned Deadrocks show on July 2-3. Since its debut edition, this showcase of Deadbeats' finest artists has been a highly-desired experience for fans to flock to, and while last year couldn't go on as planned they've brought the heat for 2021.
Tickets for Deadrocks VII had previously sold out when the 2020 edition was postponed and the fervent Zeds Dead fanbase has seemingly held onto those tickets as few have surfaced since. And the Deadbeats Backyard Jamboree that was announced for July 4 saw tickets fly as well. But today, those who have patiently waited for more details on the upcoming edition are in for a treat as the duo dropped the lineup – and true to form it is filled to the brim with some of bass music's finest.
While Zeds Dead will be taking the stage both nights, they've enlisted the help of a dynamic range of artists to play in support. The first night will feature sounds from Blunts & Blondes, Delta Heavy, Zeke Beats, Sippy, and Chomppa. Then, the duo looks to Kill The Noise, Eprom, GG MAGREE, CHEE, and Cozway to deliver the finishing blow on the second night. It's safe to say that this two-night affair will be brimming with stunning tracks that will hit you right in your gut and make you headbang the evening away.
Tickets for Deadrocks VII are sold out and limited re-sale tickets are available via AXS. Please use caution if you plan on attending the show and purchasing a third party ticket from another source.
---
Deadrocks VII Lineup: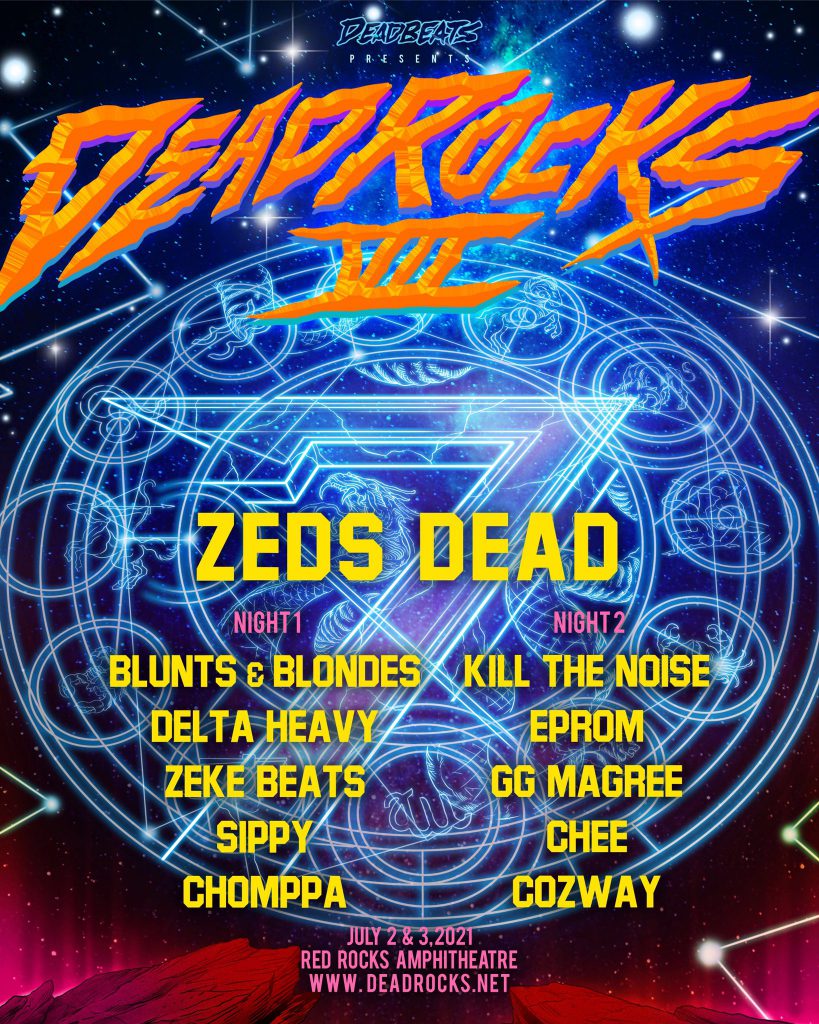 ---
Deadrocks VII – Lineup By Day:
Night 1
Zeds Dead
Blunts & Blondes
Delta Heavy
Zeke Beats
Sippy
Chomppa
Night 2
Zeds Dead
Kill The Noise
Eprom
GG MAGREE
CHEE
Cozway
---
Follow Zeds Dead on Social Media:
Facebook | Twitter | Instagram | SoundCloud | YouTube | Twitch
Follow Deadbeats on Social Media:
Website | Facebook | Twitter | Instagram | SoundCloud | YouTube | Twitch