dela Moon and AIRGLO deliver a defiant one-two punch of drum and bass and techno on "Chain-Melted State," their new tune on Play Me Records.
---
The brilliant artists, dela Moon and AIRGLO, have joined forces to take listeners on a triumphant journey through gritty soundscapes and fast-paced basslines on their new tune "Chain-Melted State." This track on Play Me Records shows the creative power behind these two artists, who are more like great warriors brandishing their finest weapons in the face of their worthy opponents. The analogy seems fitting as, after all, conflict within society isn't an inherently negative part of our human experience – without it, there is no fuel for the internal flames that push us forward.
With that in mind, "Chain-Melted State" is a much-needed sonic embodiment of that defiant attitude as it moves between DnB and techno in a way that leaves anyone who tunes in salivating for more. The track feels like a modern take on the sound of '90s rave culture and the genres that laid the foundation for US dance music culture.
After a nice ambient lead-in, listeners are thrust into the frying pan of Neurofunk influenced DnB. This section uses a minimal drum pattern that carries a silky swagger to it and displays it against a backdrop of complex plucks that provide the perfect contrast to each other. Combined with AIRGLO's sustained, textured horn elements that seem to be a signature of his, this bass-heavy opening leaves no room for misinterpretation.
We're out of the frying pan and into the Acid fire as we move into the Techno portion, and there's no doubt deal Moon is steering the wheel here. Despite the change, none of the angst is lost as the pair expertly layers in 303s with fast syncopation, preserving the track's attitude and style while switching up BPM and sonic elements. We bid our farewell to "Chain-Melted State" with a final DnB portion, and we couldn't have asked for more.
When you listen to this song, you are transported to that ineffable emotional state we're now all too familiar with, especially with the year we've all had. It's that feeling, you know, the one where you've really just been going through it, but you also know you've turned the corner and finally slain the demons at the door. Now you're impatiently waiting to burst through the other side fists swinging. There's no looking back now.
The theme of "Chain-Melted State" is adventure and unity. Despite its feisty surface, the message is pure. It represents a hopeful outlook on our ability to co-mingle elements that we once believed could only exist as mutually exclusive realities. Sometimes, all it takes is a trusted friend and some new perspective to be able to bask in the thrill of something new. And maybe sometimes, all it takes is a multi-genre song that even purist DJs will have to rinse. As AIRGLO puts it, 'bridging genres is the best way to help people on both sides discover each other and potentially convert to the other side.'
Whether you're planning on spending this summer at every rave and warehouse you can squeeze those combat boots into, or road-tripping across the country Tokyo Drift style, this is your anthem. Hopefully, this is just the beginning of what we will be hearing from this powerhouse duo and we can't wait to watch out for what else is in store from Play Me Records.
Pre-save "Chain-Melted State" so you don't miss the big release on May 28! But for now, you can enjoy an exclusive preview of the track below.
Stream dela Moon & AIRGLO – Chain-Melted State on SoundCloud:
---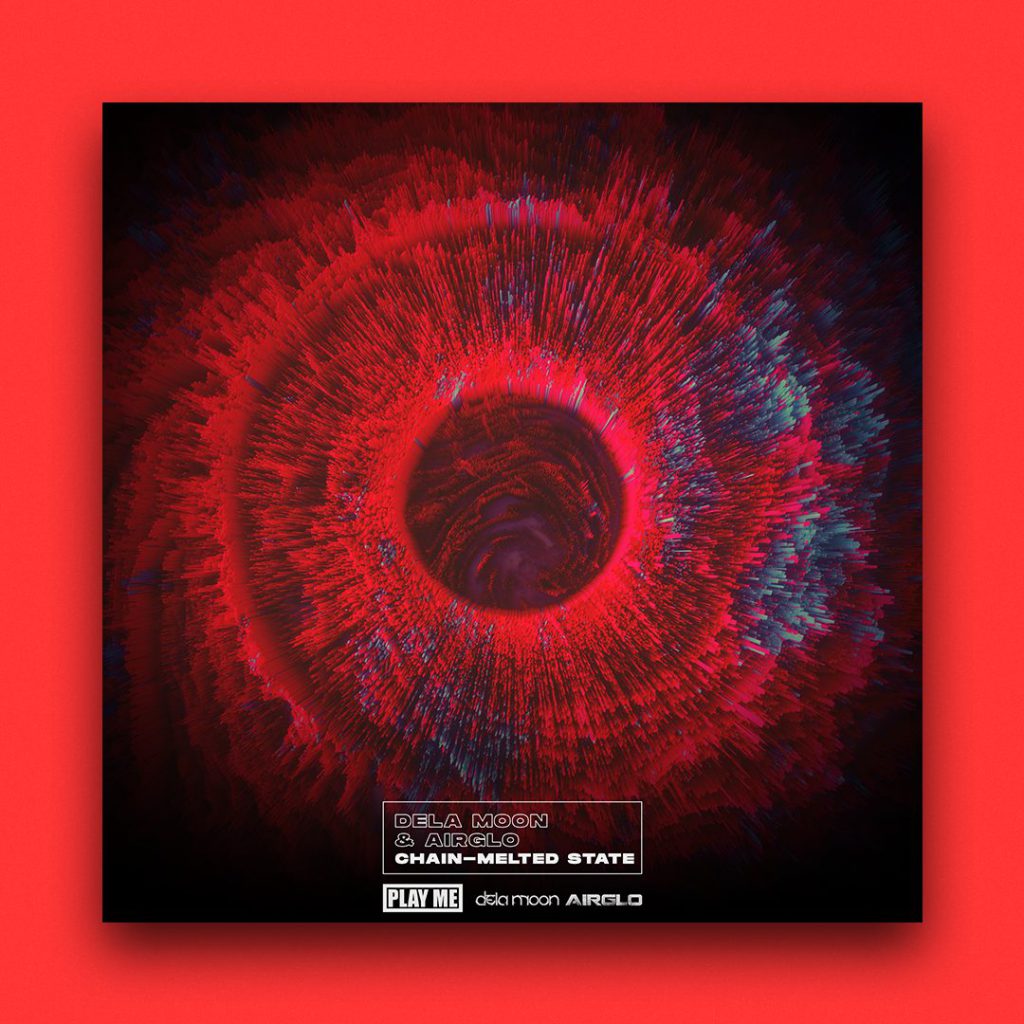 ---
Follow AIRGLO on Social Media:
Facebook | Twitter | Instagram | SoundCloud
Follow dela Moon on Social Media:
Facebook | Twitter | Instagram | SoundCloud
Follow Play Me Records on Social Media:
Facebook | Twitter | Instagram | SoundCloud