Rising industrial techno artist KILL SCRIPT released his debut EP, FIRST CONTAKT on Night Mode – and doesn't disappoint.
---
Whether you're a long-time techno fan or just now getting into the scene, there's no denying the talent and appeal that KILL SCRIPT brings to the genre. He reimagines the industrial side of the underground genre by introducing elements of sci-fi cinematography and animations that create a unique experience for fans.
After releasing his first single, "STASIS" on Night Mode in November last year as part of their Cyberpunk compilation, KILL SCRIPT went on to deliver a 90-minute mix dubbed TECHNOSCAPE001 that is permeated with pounding techno originals and remixes. Those who have been following this new project have also been teased with remixes of tracks like deadmau5′ "Ghosts N Stuff" and Tiesto's "Love Comes Again" as well. Now, he can now add two more heavy hitters to his discography with the release of "CONTAKT" and "GRIEVE" on his debut EP, FIRST CONTAKT.
Lead track "CONTAKT" begins with a dramatic buildup to get listeners hyped for the six-minute journey they set off on. Once the beat drops, it's game over as KILL SCRIPT's industrial techno vibes are at their peak in this release, inviting fans on a rollercoaster ride of feels and hard-hitting techno as they traverse through the song. When you're immersed in the depths of this track it's easy to imagine yourself in the middle of a techno warehouse event, surrounded by friends and strangers with strobe lights flashing and an overwhelming feeling of happiness rushing over you.
The second track, "GRIEVE" takes a darker turn from the uplifting vibes found in the previous one. The captivating voice and cryptic melody highlight the track's spooky undertones and mysterious ambiance. It's almost as if you're trapped in a haunted house, searching for an exit that you simply cannot find. It's a prime way to close out the EP and establish his presence as a multifaceted techno artist.
FIRST CONTAKT is the perfect introduction to the KILL SCRIPT project. After months of waiting for his debut and excitement building over the countless teasers, fans can now breathe a sigh of relief, enjoy these two techno releases, and be invited into the industrial world of his creation. It really is only a matter of time before he catches major traction, and we're already looking forward to the next time we can make "CONTAKT."
Enter the universe of KILL SCRIPT by listening to FIRST CONTAKT via your favorite streaming platform, and let us know your thoughts on the project in the comments.
Stream KILL SCRIPT – FIRST CONTAKT EP on Spotify:
---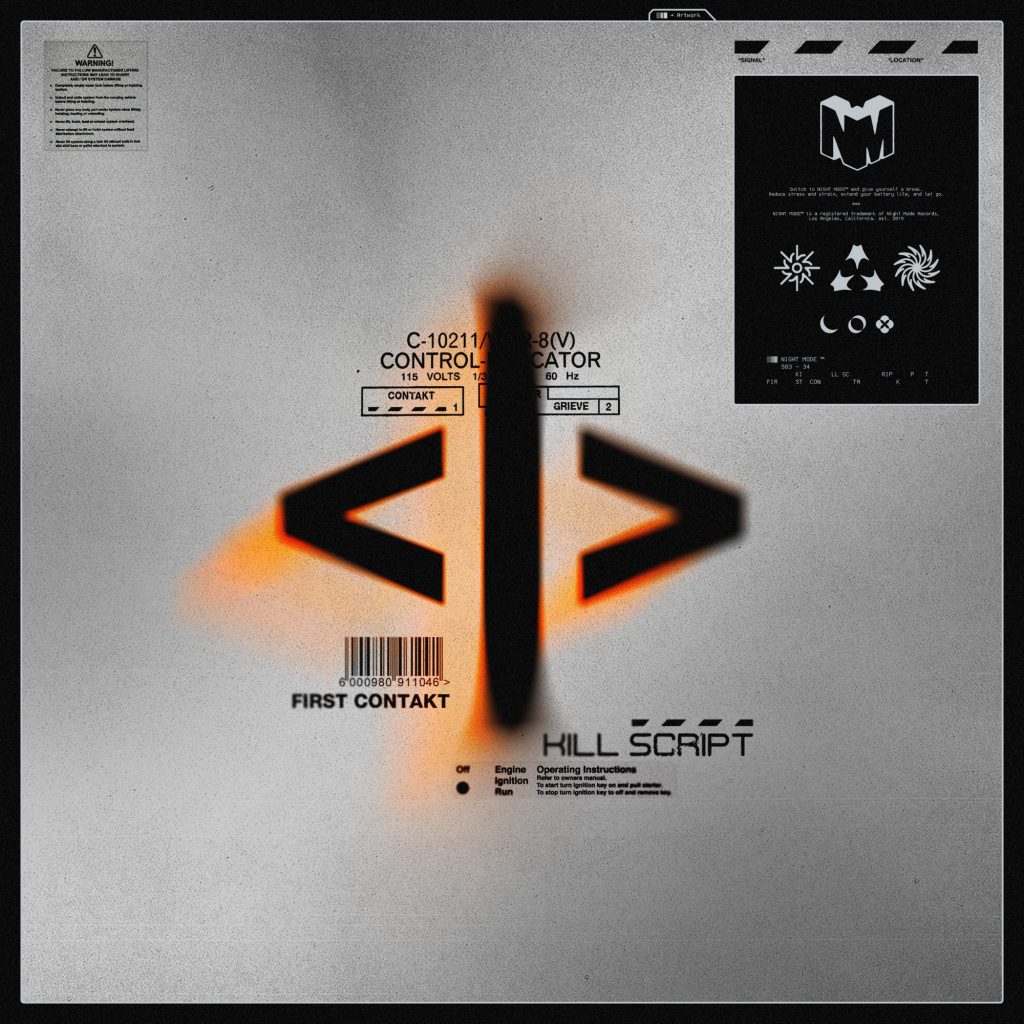 ---
Follow KILL SCRIPT on Social Media:
Website | Facebook | Twitter | Instagram | SoundCloud