Paul Oakenfold documented his ascent to Mount Everest's base camp for a DJ set, and SoundTrek: A Music Journey To Mount Everest is out now.
---
As one of the scene's most legendary electronic artists, Paul Oakenfold needs no introduction. One of his greatest feats came in 2017 when he embarked on an expedition through Nepal and the Himalayan Mountains for a world-record-breaking live DJ set at the base camp of Mount Everest. Now, the documentary capturing this incredible journey, SoundTrek: A Music Journey To Mount Everest, is available to stream on FlixFling.
Those who tune in will follow Paul Oakenfold and his team 18,800 feet above sea level for a behind-the-scenes look at the "highest concert on earth." This would be the first SoundTrek event combining epic experiences across the world with music and philanthropy focused on resonating change and bringing awareness to regional issues at the forefront. The three-hour performance garnered more than three million viewers during the live stream with proceeds going toward Supporting Nepal's Children and Youth Music.
Joining Oakenfold on his ascent was SoundTrek is Executive Producer Josh Heffler, who partners with FlixFling to bring unique, concert experiences to life. "Not only is SoundTrek an amazing concept to entertain people, but I really got behind it because I had the opportunity to directly help underprivileged people in numerous locations," said Heffler when asked about their mission.
Mark Brimblecombe, owner of Singapore's Attica Nightclub and co-creator of SoundTrek also joined the pack, as well as Equinox Gym trainer Johannes Mahmood, who led stretching exercises and daily workouts before and after each hike. Leading the way was world-renowned mountaineer, Kenton Cool, and to capture it all was internationally recognized and award-winning cinematographer Mark Fisher of Fisher Creative.
This adventure of a lifetime is not one to miss! Watch SoundTrek: A Music Journey To Mount Everest on FlixFling. And make sure to check out Paul Oakenfold's Mount Everest: The Base Camp Mix, a full-length album mix capturing his Mt. Everest set.
---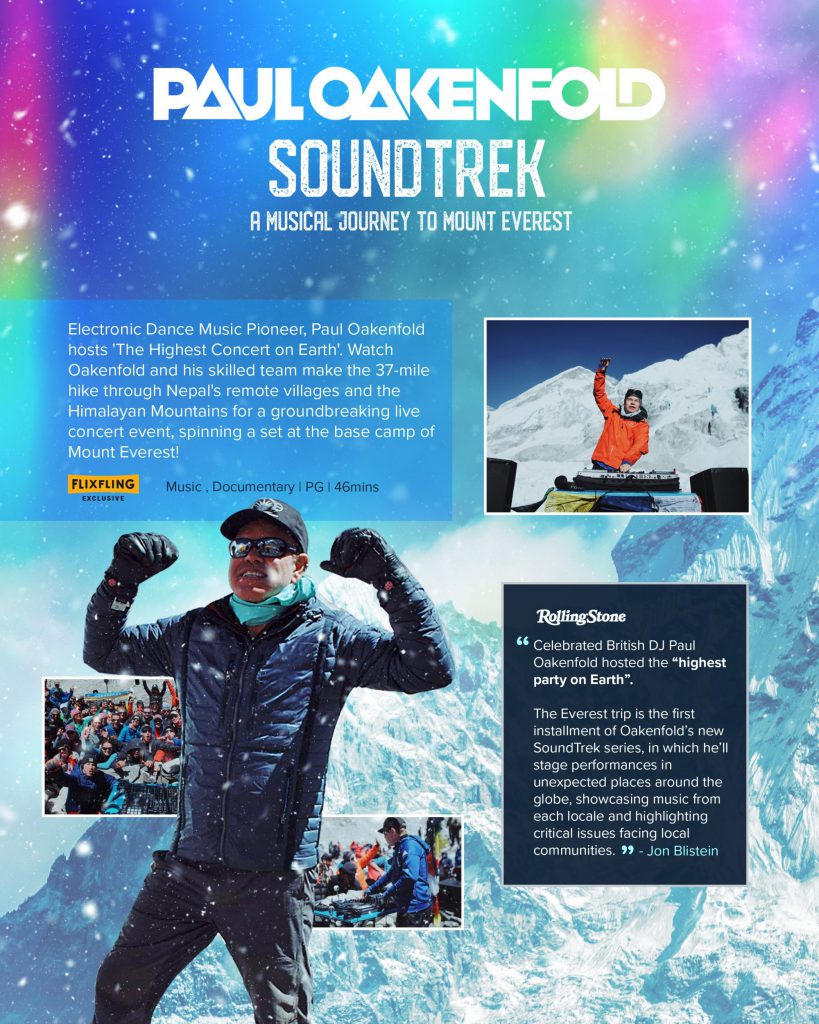 ---
Follow Paul Oakenfold on Social Media:
Website | Facebook | Twitter | Instagram | SoundCloud | YouTube