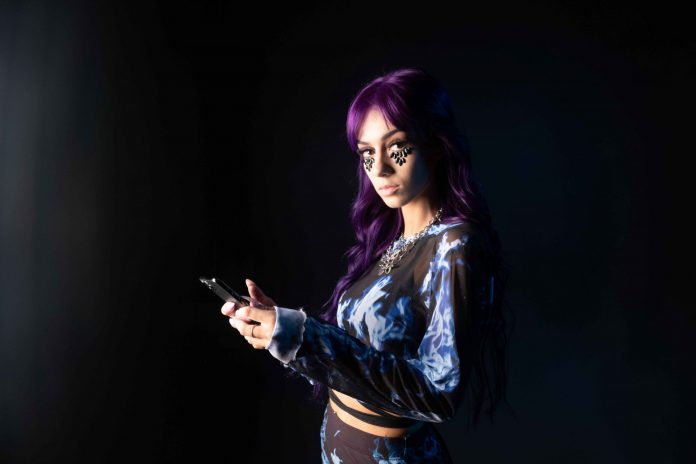 Breakout singer-songwriter Aviella gets candid and talks early inspirations, Downtown Love, Aviella Winder Day, and what's to come.
---
At only 23-years-old, singer-songwriter Aviella is already a quintessential pop star. The New York native has spent nearly a decade creating music after picking up a guitar and hasn't looked back since. With unwavering support from friends and family, Aviella's dreams of making it big were quickly becoming a reality. After leaving New York for California's greener pastures, Aviella rapidly rose through the ranks, lending her lush vocals and unique songwriting skills to the likes of Slushii, QUIX, Luca Lush, ARMNHMR, and more. It's no surprise dance music mainstay Steve Aoki took notice.
Soon after discovering Aviella's other-worldly talents, Steve Aoki signed the young creative to his Dim Mak label in 2020. Now, Aviella sits on a wondrous catalog of hit singles, and a breakout debut EP by the name of Downtown Love. Not to mention, her single "tell me what you're thinking" resonated with audiences across North America so deeply, that it earned Aviella her first #1 Billboard Dance/Mix Show Airplay chart and #1 US Dance Radio Mediabase single.
Following on the heels of her recent Downtown Love EP, we sat down with the captivating songstress to discuss her early inspirations, her signing to Dim Mak, and her future. Dive into our chat below, but first, make sure to check out the release on Spotify or your favorite streaming platform.
Stream Aviella – Downtown Love EP on Spotify:
---
Hi Aviella, thanks so much for sitting down with us to chat today. Before we dive into your new music this year, let's turn back the clock a bit. Who were some of your earliest musical influences and what led to you finding a love for dance music?
Hey! Thanks so much for having me! I'm super excited! I grew up with music always playing in the house/car/etc…I've always enjoyed lots of different genres. Some of my earliest musical influences include Boyz II Men (a fave of my dad's), Metallica (another dad favorite), Christina Aguilera, Britney Spears… I also volunteered by singing at my local nursing home when I was young, and learned lots of oldies music to perform which I enjoyed!
I really found a love for dance music before I actually knew what "dance music" was. I started a YouTube channel when I was around nine years old and posted covers! Looking back now, I realize a lot of those covers were actually EDM songs that I stripped down to create an acoustic version with just my guitar! 
Last year was a rough one for everyone in the music industry. Looking back, what were some of your highs and lows of the tumultuous year?
Personally, I feel very fortunate to have experienced many more highs than lows throughout the past year. I signed with Dim Mak at the end of Summer 2020 and was able to announce it on my birthday which was a super cool moment. Since then, I've had the best time releasing my own original songs and being able to share my music and story with the world. 
Of course, as much as I'm extremely excited about all that's happened, I miss the in-person connection of being on stage performing and I'm hopeful that I can get back to that soon!
Moving to the present, this year you delivered your debut EP, Downtown Love, and it beautifully explores motifs of love and relationships. What was the production process like behind this release? What was it like working with Steve Aoki and the Dim Mak label to bring this EP to life?
I had the opportunity to work alongside amazing writers and producers for this project and the whole process was super unique! The sessions were a bit different from pre-Covid times, and the songs were created over Zoom and through text/email correspondence! I recorded all of the vocals in my lil' bedroom studio! It's always been important to me to create music that means something to me and has an important message that I want to share with my listeners. 
Working with Dim Mak and having Steve Aoki's support has been absolutely amazing! I've really enjoyed being able to have so much creative freedom and direction with my ideas, and I'm so thankful to have such an amazing team.
Your track "tell me what you're thinking" blew up and hit #1 on Billboard Dance/Mix Show Airplay. It was clear the single needed its own set of remixes so, how did you decide which artists would put their spin on the track?
It's still so surreal for me to read "#1 Billboard Dance/Mix Show Airplay." It's a dream that I've had since I was so young coming to fruition, is the most fulfilling feeling and I can't wait to share more with the world. 
I've been listening to SiriusXM Chill and Diplo's Revolution and have been super inspired by the remixers who change the mood of a song. So the label helped reach out to curate an awesome group of artists to flip the song in completely different directions and I'm so thrilled with the result!
I really enjoyed being able to have a "hands on" experience throughout the creation of the remixes and being a part with notes from start to finish was great! Also, fun fact… in addition to their "tmwyt" remix, the Disco Fries actually co-produced "Downtown Love"!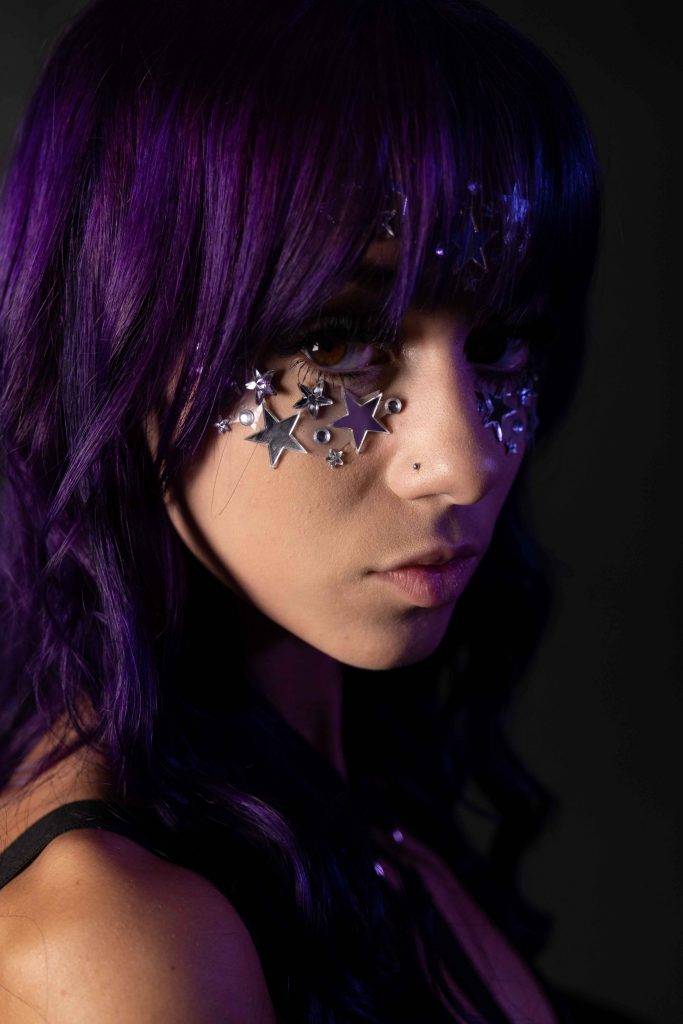 Over the years you've worked with artists ranging from Barclay Crenshaw and Luca Lush to Ray Volpe and Sawyr. Has there been one artist you've felt that you meshed with the most? Building off that, is there an artist you hope to work with someday in the future?
Each collaboration has been a different experience and I've really loved them all for different reasons! Most of the time in the past, I'd receive a track from a producer and I would create the lyrics/melody/topline and record it all myself and send it back.
One of the very few in-person sessions was actually with Pixel Terror and it was fun to work in the room with them on our song "Enigma" – which was actually added to Rocket League and Fortnite. I also worked on a song with Slushii ("All I Need") where he detuned my vocal and turned it into some really rad vocal chops, so hearing the final product was exciting!
I would love to work with Steve Aoki, Diplo, Sonny Fodera, Kaskade, Imanbek, MEDUZA, the list goes on lol! I can't wait to see where my music takes me in the future, and I'm really looking forward to future collaborations!
You've also performed at some of the biggest venues in the United States, including Madison Square Garden, The Shrine, The Roxy, and more. Are you someone who gets a bit nervous before taking the stage at these iconic venues? Is there anything you do to hype yourself up confidence-wise before performing?
I actually never feel nervous before getting on stage! I feel like I truly thrive off the interaction between me and the audience, and I genuinely feel most at home when I'm performing. 
I've always enjoyed incorporating many different aspects to my performance – whether it's guitar, piano, or even my LED whip recently! I always like to keep things upbeat and feeling like a party.
You seem to have quite the passion for community service and giving back to others, so much so that your hometown of Rochester, NY commemorated your acts of kindness with its own special day on June 30. How do you plan to spend your big day next month?
Being presented with a Proclamation from my hometown with having a day named after myself is something that I will forever be grateful and appreciative for! Aviella Winder Day is always a strong reminder to me to continue giving back to my community, to spread kindness, and keep teaching others how they can make a change and be a positive light as well. 
There have been a couple times since moving to Cali that I've actually been back in my hometown visiting when June 30 comes around, and those days are always very special! This year, I'm laying low with my family. We'll be at Disneyland a few days prior so I'll probably pick up an "I'm celebrating" pin to commemorate!
Finally, what's on the horizon for Aviella throughout the rest of 2021 and beyond? Should we be expecting some performances or new music this year?
Oooh, I love this question! I'm looking forward to live shows returning and can't announce anything yet…but I'm super excited for both performances and new music!
I'm planning to release more singles and a second EP with Dim Mak starting in the summer! Thank you so much for this opportunity and for being along with me on this journey <3
---
Follow Aviella on Social Media:
Website | Facebook | Twitter | Instagram | SoundCloud | YouTube