Yvng Jalapeño gets experimental and heavy on his latest EP, Lunatic, featuring four diverse tracks that offer something unique on Bite This!
---
Yvng Jalapeño is an Aussie native with an eclectic creative palette. He isn't afraid to take risks, try new things, and experiment with his sound. Rooted in bass music, this rising star in the scene continues to challenge himself and push the boundaries – and that's why it's not a surprise that his latest release, Lunatic, is supported by Jauz's Bite This!
The four-track EP is a catalog of incomparable sounds yet delightful to the listening ear. The opening track, "Losing Myself" featuring wilo wilde consists of a downtempo melody with a complicated collection of sounds. Together, the sounds blend together beautifully yet offer this out-of-body experience, especially because the beautifully haunting vocals provide that touch of delicacy and eloquence.
"Clockwork" with Jayceeoh and "Lunatic" featuring Peytn offer that sweet mix of hip-hop influences. "Clockwork" offers intensity with a funky, complex drop – you can hear the intricate and technical production by Yvng Jalapeño and Jayceeoh on this one. Then, the self-titled track "Lunatic" changes pace and features the fast, slick flow of Peytn. The melody is easy and smooth and provides the rapper a moment to shine. The drop is magnetic and heavy, and the closest comparison to the sound is reminiscent of SNAILS. Overall, it's packed with energy and definitely takes the winner as the banger on the EP.
The closing song "Another Day" sees wilo wilde return for another round, and this tune is truly dynamic. The track itself is more melodic, chill, and unconventional, which only further reinforces the notion that you can't put Yvng Jalapeño into a specific category. He's diverse with sounds all over the spectrum, and that's good because you'll never know what to expect. There's just something special about Yvng Jalapeño that makes him an easy add to lists of artists to watch, and now that he has Bite This! backing him the sky will be the limit.
Stream or purchase Lunatic on your preferred platform, and feel free to share your thoughts on this EP in the comments.
Stream Yvng Jalapeño – Lunatic on Spotify:
---
Yvng Jalapeño – Lunatic – Tracklist:
Losing Myself (feat. wilo wilde)
Clockwork (feat. Jayceeoh)
Lunatic (feat. Peytn)
Another Day (feat. wilo wilde)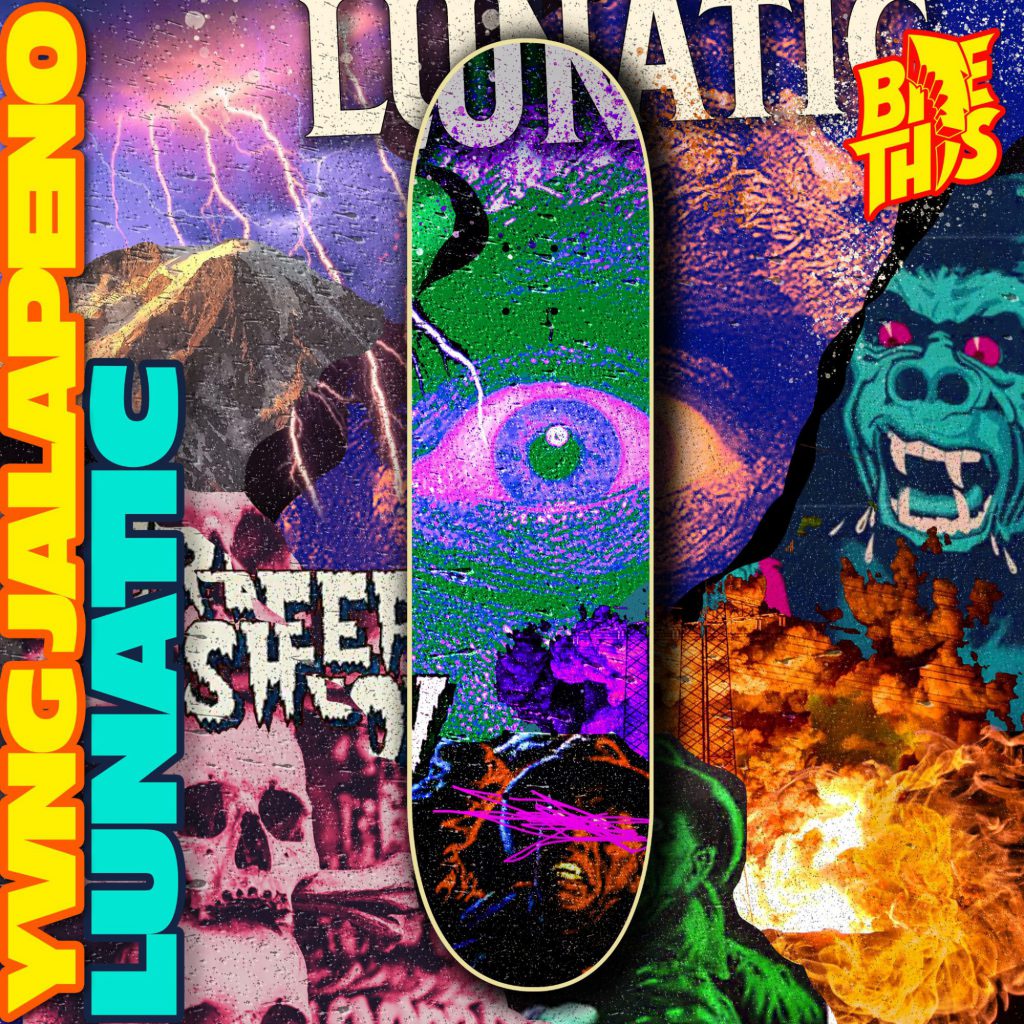 ---
Follow Yvng Jalapeño on Social Media:
Facebook | Twitter | Instagram | SoundCloud