Insomniac Founder and CEO Pasquale Rotella is hosting an AMA on Reddit to answer questions about EDC Las Vegas, Beyond SoCal, and more.
---
It's become an annual tradition for Insomniac Founder and CEO Pasquale Rotella to host an AMA on the r/electricdaisycarnival subreddit ahead of each year's edition of EDC Las Vegas. Over the year's he's answered questions that the community had ranging from which stages would be getting a fresh look to what would be in store for the future of Insomniac as a whole.
Today, under different circumstances surrounding the recent postponement of EDC Las Vegas to October, he has joined the subreddit for another round of questions. At 2pm PT, Pasquale Rotella began answering questions that had been asked over the past few days on the thread. The first question he answered was about Okeechobee returning in 2022, to which he responded: "Yes, and very excited about it. If you have not been, it is one of the most beautiful venues in the United States."
Pasquale Rotella then offered up an answer to the top-rated question on the AMA, which Reddit user u/O_RRY asked, "How do you plan on taking responsibility for the millions of dollars your fans lost in nonrefundable flights/hotels that they lost because of YOUR guarantee?" In his response, he stated that the question was based on a misconception and that "I've never moved forward with a show unless there was a clear path for the show to take place. EDC in May was no different." The full response can be found below.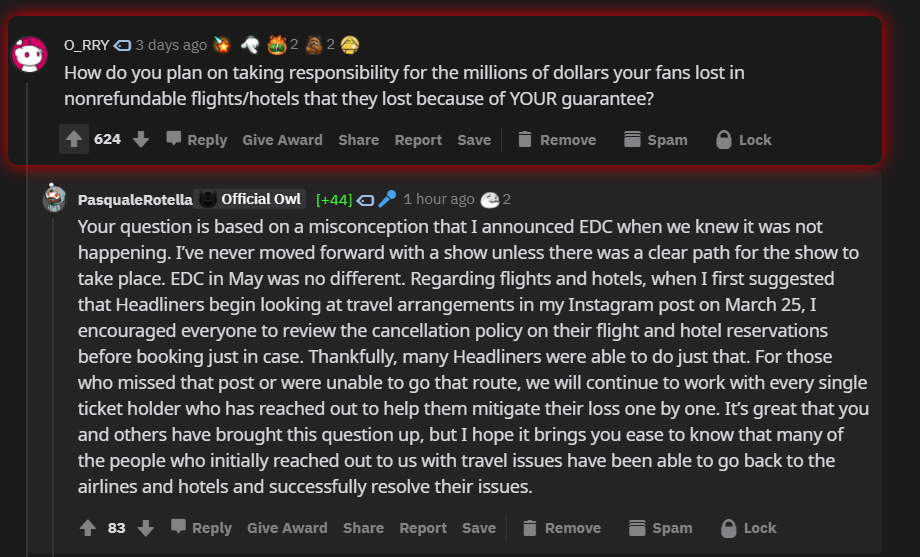 Pasquale also clarified that the county board members who voted on requiring the 60% vaccination that forced the postponement were aware of the impact it would have on EDC Las Vegas. "They were aware of the impact it would have on EDC taking place, which is why it spawned an hour long discussion amongst the commissioners," he said.
Those who were wondering about being refunded the full amount for their ticket to EDC Las Vegas will be pleased to hear that they will be "receiving full refunds including service fees." While the question surrounding the requirement of proof of vaccine or a negative COVID test was answered with Pasquale stating "It will depend on the COVID safety protocols required in Nevada at the time of the show."
Many EDC Las Vegas attendees were also concerned about the high winds that have made an impact on the festival in 2012 and 2019, to which he responded "The chance of strong winds is actually higher in May and June than it is in October." And at least one stage has been mentioned so far with the hardstyle haven wasteLAND retaining its design for the upcoming edition.
For those wondering about EDC Las Vegas 2022, details on that edition will begin to be announced in September of 2021.
Other festivals that have been touched on so far include the status of Escape and Beyond Wonderland SoCal.
Speaking for many who were curious about the state of Insomniac's Halloween festival, Escape, u/PunchPilot836 asked if that festival was still a go for 2021. Pasquale Rotella said, "EDC Las Vegas has moved to October, and Escape Halloween sound systems are a full go! Hope to see you at both!" He also responded to a question from u/vaultdweller1223 about a potential return of EDC Chicago, stating "It'd be great to come back, but there are no plans as of now."
The other major news that surfaced during the AMA included the postponement of Beyond Wonderland SoCal from June to August. More details can be found in our post on this update. As for the debut of Beyond Wonderland PNW that was slated for June, it will be moving to October 1-2, 2021. "If we are still unable to have the show at that time, it will be moved to June 2022," said Pasquale. "We are planning to do multiple events in the Pacific Northwest in 2021, including Halloween and New Year's Eve shows. Stay tuned!"
He also spoke about the upcoming Day Trip Festival which is slated for this July. Pasquale said, "Yes, California is set to open by June 15, but we don't yet know exactly what that means. Venues like Dodger Stadium reopening to the public are a good indication that the County is moving towards reopening with conditions. In the event we have to move Day Trip, it will be on October 9, 2021." Audiotistic Bay Area will be officially postponed to November 20-21 as well due to the same concerns.
EDC Orlando is still intended to move forward on its originally planned dates as well and will be "produced at the highest level and no elements will be sacrificed." Pasquale also teased that the lineup would be released independently and arriving earlier than in the past.
Nocturnal is still scheduled to take place on its originally planned dates. As for why camping passes haven't gone on sale, this is what Pasquale had to say: "Due to the pandemic, the county has yet to issue the camping permit as it normally does, which is why passes have not gone on sale and there is only a waitlist available at this time." If the event cannot happen on its normal dates, they'll be postponing to 2022 with refunds available to those who have passes.
The status for EDC Portugal is still yet to be determined. Pasquale stated that on May 10 they'll be making an announcement whether it's a go. He also said: "I realize this is not a lot of time, but this is the current state of affairs in the EU. We are working with government officials on a comprehensive testing program. If the show is postponed to 2022, you will have the option to transfer your ticket or request a refund. You will also be entitled to a refund if your country of origin is refused entry into Portugal."
This is an ongoing AMA so make sure to check back for more answers on future Insomniac Events and other aspects of EDC Las Vegas 2021.
---
Connect with Pasquale Rotella on Social Media:
Facebook | Twitter | Instagram
Connect with Insomniac Events on Social Media: