After the 35th edition of the Winter Music Conference was postponed due to COVID, the show will go on in 2021 as a virtual edition.
---
After undergoing notable changes in 2019 and then having to postpone the 35th-anniversary edition from 2020 until now, Winter Music Conference (WMC) will return with a virtual edition for 2021. Branding the new virtual conference WMCV, the event will take place online May 20-21, 2021. The core conference will be delivered on May 20 via Hopin, a virtual events platform that recreates much of the IRL conference experience including presentations, exhibitor booths, audience interaction, and networking opportunities. That evening boasts a happy hour hosted by 5th Dimension on Twitch, who will also be hosting the May 21 celebration of electronic music.
WMCV will bring keynotes, panels, networking, exhibitors, music, and more to a diverse audience tuning in around the world. In partnership with The Magnetic Agency Group and VRJAM, the content will focus on rebuilding, rethinking, and innovation, a definitive nod to the industry upheaval as a result of the pandemic. Delivering fresh content and getting the industry thinking about new solutions is key to reinvention and growth in the coming years, so WMCV couldn't come at a better time.
Some of the panels to note on May 20 include everything from NFTs and Virtual Events to those hosted by brands like Pioneer DJ and Discogs. There will also be several discussions about utilizing platforms like Viberate, how the scene can rebuild post-pandemic, and how artists can be successful with Spotify.
With the global accessibility to WMCV, there is an opportunity to get more people involved in the underpinnings of electronic music, an important aspect of the continued success in the scene. The time is now to create new channels and reach new audiences, something that has been accelerated by our forced pandemic isolation.
For more information and to acquire passes to WMCV visit WinterMusicConference.com and check back for programming updates as they are announced!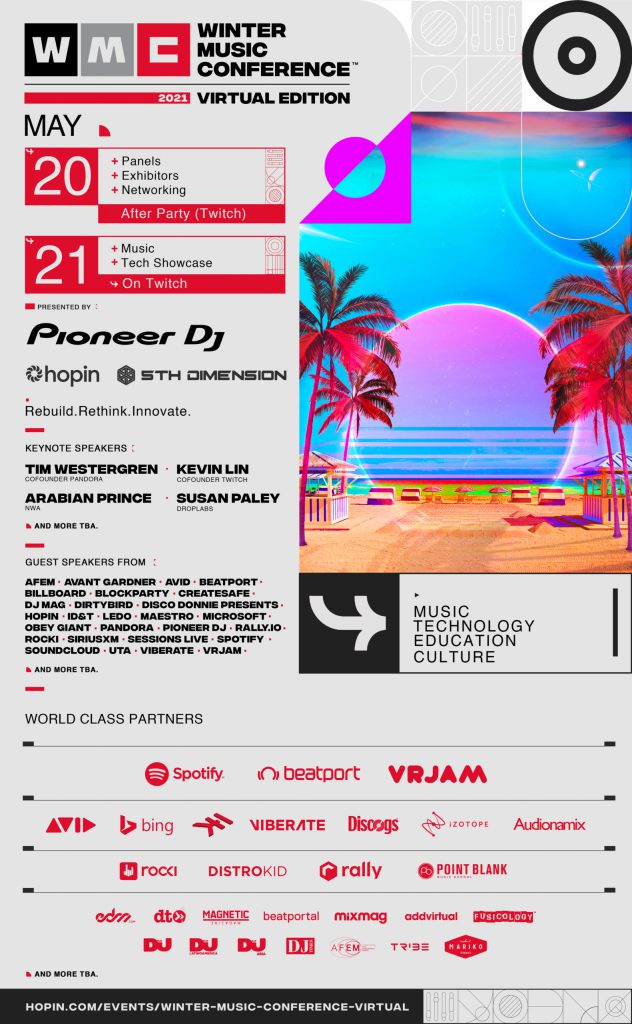 ---
Connect with Winter Music Conference (WMC) on Social Media: