Festivals totems take on many meanings but only one is quite literally a Good Sign. We spoke to the founder to dive into their mission and more.
---
Eric Dennis didn't set out on a mission, instead, his mission and his story seemed to get written around him in stages. About a decade ago he created his first "This Is A Good Sign" totem and brought it to a festival. The sign was as much an inspirational message for himself as it was for all others to see. Having come out of a tough time in his life, he simply wanted to be surrounded by friendly people and positive vibes. Little did he know what was to come.
To some, the message is simple and clear. Yet despite such a seemingly obvious mantra, resistance may have been inevitable. Some question the message and try to dig into who was benefiting from it, but in the end, when a message is presented without ulterior motive, it will ultimately be well received. And that's just what Dennis did for the past decade, and continues to do today.
RELATED: Why PLUR is Important and What it Looks Like on the Dancefloor
Aside from totems, he sees "This Is A Good Sign" as a potential cause marketing vehicle, but only for events and initiatives that align with his mission. "If it can help others by reducing fear or hate, I've achieved my goal," said Eric, reflecting on the project as a whole. To this end, he's partnered with a local food truck to offer "pay what you can" meals and is actively seeking similar partnerships.
While "This Is A Good Sign" has gotten plenty of exposure over the years, as we emerge from our pandemic slumber Eric Dennis believes the time is right to get his message out well beyond its current base. So when the opportunity presented itself, we jumped at the opportunity to catch up with him and dive deeper into their mission.
---
---
Hi Eric, thanks for talking with us today! Let's start from the beginning – when did you start the Good Sign concept and what were you hoping to accomplish at the time?
I started it in 2010 in St. Augustine, Florida, where I was living at that time for about a decade. I just went through a divorce and some health challenges and some topsy turvy stuff in my life. I was hoping to accomplish a countermeasure in society toward fear-mongering and manipulation of people. I saw that for years and years and suddenly this light came on and I just couldn't unsee it after that. It was then that I decided I had to do something. So that's what that's where this was born and then it just evolved from there.
I personally experienced Good Sign for the first time at ABGT250. I remember seeing all the totems and one said This Is A Good Sign which was nice to me because the meaning was just so clear.
I'm glad to hear that! That's not always the case. Some people kind of question it and ask "What's the motive?" It's a symptom of this over-competitive nature we have in society. So it's good to hear a nice refreshing perspective from somebody who just kind of gets it and it makes you feel good. That's the intention and that's what encourages me to keep growing this further.
Speaking of growing, how did you expand this beyond yourself and what was the initial reception by others?
The initial reception was really good, which kind of fueled me to continue doing it. I've never been an artist or creative person at all yet creativity was coming out of me at that point in my life. I started playing the bass right around the same time this all started and people responded really well. It was my first artistic creation and that motivated the growth of the signs kind of organically. People always wanted more of the signs and the stickers we were passing out. The most interesting thing I found was the way people responded from their own perspective of what is good to them. 
Some would ask, "what is this?" I couldn't answer that, so I would ask them, "what is a good sign to you?" People would then start to list off different things like, "I was at the beach today," or "I just did my first half marathon," or something as simple as, "I'm above ground!" That's what drove it, the understanding that it's different for everyone.
Then I decided to find large groups of open-minded people and that's when I started going to outdoor music festivals more often. I went to Bonnaroo for the first time and that was kind of an eye-opening thing for me. I just continued to do that for the past 10 years. I decided to spread it through a grassroots effort with all the people at music festivals. Just carrying the sign myself it got adopted and grew that way.
Beyond the obvious viral growth from festival-goers and like-minded individuals, what sort of corporate support have you received? What sort of licensing or partnership arrangements are you proud of?
Our greatest partnership is with Smart Sign, those guys are great! People can buy full-size street signs there with a Good Sign logo on them. We've had about a dozen different licensing partners. And in San Diego, we support a food truck that allows people to pay what they can. If they're hungry, they can get a meal and we give out these Good Sign cards with the details of the food truck on the back. It's got all the info including a QR code that goes right to their menu. So it's a dual purpose and we're supporting them because we believe in their cause. You know, it's not just a food truck slinging hamburgers. It's associated with a cause and that's an important part of our brand.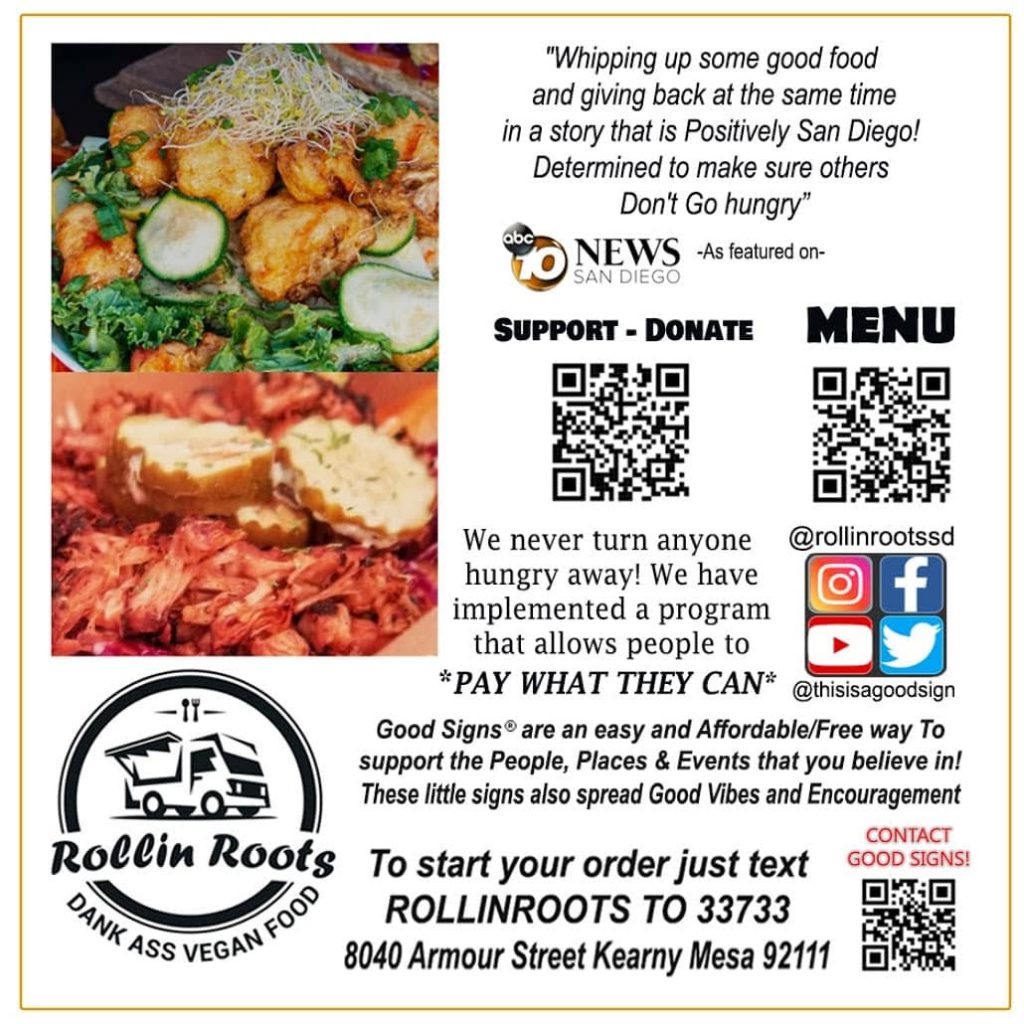 In the early days, did you expect that you'd grow into a viable socially responsible marketing brand that does these sorts of partnerships?
I honestly didn't know what to think at first, but I knew it was something significant and that it would turn into something impactful. I believe it's done that, although it's got legs to do so much more with the right partners. For example, another great use for these things is actually promoting festivals. So if you can imagine when you've been to a festival, where people are passing out everything they can for another show, but most of those flyers go straight in the trash. With this, people save the Good Sign and the promotional flyer goes home with them, too. It's like a little gift yet it only costs the amount of printing and whatever profit I can charge to subsidize other causes. 
In the years before the pandemic fundamental changed the festival and live event landscape, what Good Sign accomplishments were you most proud of?
In late 2010 Jon Stewart put on the Rally to Restore Sanity and/or Fear and I carried a Good Sign. It was the only one we had made at the time and it was a big one. It was huge. CNN took the pictures of me standing in the front row, where I was standing since 4 AM, with no sleep after driving from Florida. The sign just looks enormous in the pictures! I think it's the angle at which they took it or the way I was holding it or whatever it was, but those photos are just really cool! We also showed up in the UK Observer on the inside front page and it was just such big-time exposure. Out of thousands of signs at that event, my sign was pretty much the only one that got noticed. 
Making it out to the mainstream media was a big deal. As far as accomplishments, I don't know if I consider a lot of press coverage to be an accomplishment by itself, but it gets the word out and that was important. I only wish I could steer the coverage to go beyond the tagline and add the hashtag #Encouragement. That's our word. That's our mantra.
So let's talk pandemic times – we're obviously in uncharted waters that are being steered by something so much larger than ourselves. What was your initial response in spring 2020? How did you adjust throughout the past year?
I have mixed feelings and I try to keep a positive frame of mind. Things were highly politicized but there's also a lot of good that came out of it. Some people are closer to their families or simply appreciate time together with others more than before. 
I don't want to get too controversial but as far as the Good Sign goes, we try to remain very neutral. While we do support causes and cause-based initiatives, we like to show up and support causes that people believe in. Basically, we want it to be an anti-fear-mongering tool. What it does is bring people together, while fear-mongering creates division. So we are this beacon of light for positivity that also connects like-minded people. 
In my book, anything humanitarian-related, whether it's hunger relief, or homeless relief, or poverty relief, those are close to my heart. Those are the types of things that I like to get involved with. But overall, it's kind of its own cause, if you will, because we're trying to spread it to do more good with uniting and collaborating in general. 
After more than a year of the pandemic, the world is slowly opening up, yet full scale festivals are likely still somewhat out of reach. What's your take on 2021 as it pertains to Team Good Sign?
Last year I gave away 10,000 free signs because I just felt like it was something good to not only grow the brand but offset some of the negativity going on in the world. So more of that for sure, more giving away free signs. 
I had some health issues and some pretty harsh medical treatments for the past couple of years. That made things a little more difficult for me to attend festivals and do different things I wanted to do because I was focusing on one thing – staying alive. So I did that, and that's a good sign!
Then I finally relaunched the website in October of last year after my last surgery. I just want to continue to promote the brand this year. And I'd like to form more collaborative partnerships with music festivals and artists as well. 
Aside from getting back to festival life, what are you looking forward to in our post-pandemic world? Where do you hope to take Good Sign this decade?
I walk outside a lot and I see people crossing to the other side of the street to avoid each other and I guess I'd look forward to people walking on the same side of the street together again. And for our young people to be able to see clearly what is happening and to just get together and enjoy each other!
---
Follow Team Good Sign on Social Media: