Renowned producer Baauer has announced BopFest, his very own livestream festival featuring Good Times Ahead, X&G, and more!
---
After the world went into full-on lockdown mode last March due to the pandemic artists in the dance music flocked to streaming platforms to stay connected with fans and keep their skills behind the decks up to par. One of those artists was Baauer who found a home on Twitch, used the platform to give fans a look into his life, and continued to embrace that community with unique experiences for his fans. Now, he's celebrating a year of streaming with his very own virtual music festival, BopFest.
Taking place on Saturday, April 10, BopFest won't just feature sounds from bhBRETON, Good Times Ahead, X&G, and of course, Baauer himself, but also a flurry of others as well. Winners from his Twitch beat battles, also known as "bop battles" grace the lineup as well such as Kyyhky, RamonPang, and Sim Fane. Others on the bill include Mike Snatchers, Bopcorn (Aspen Laws x 2Wasted), Adrobski, and waalder to name a few. In addition to the beats, BopFest will also feature other treats for those who tune in including everything from comedy sketches to unannounced special guests.
Speaking about the upcoming livestream, Baauer said, "I am so proud and happy that the community came together to make this event happen, and I'm inspired by all their talent." And if the past year has been any indication, BopFest is sure to be a jampacked experience his fans won't want to miss.
So make sure to RSVP on Twitch so you know the moment that the show begins and follow BopFest on Instagram and Twitter for the latest updates including set times and more!
---
BopFest 2021 Lineup: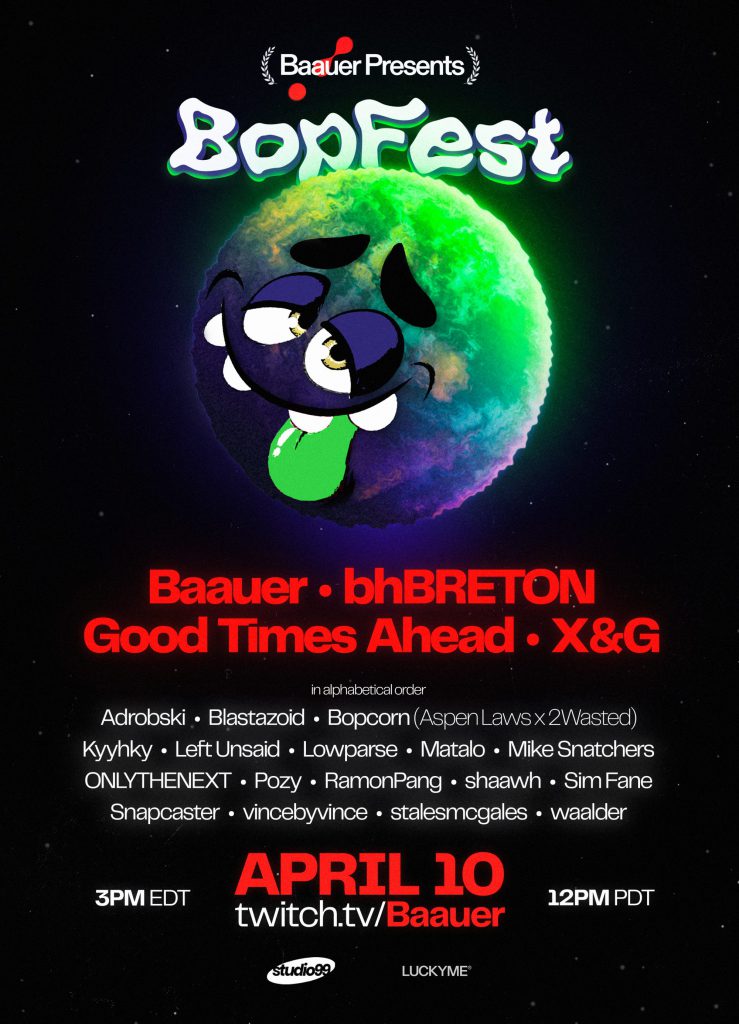 ---
BopFest 2021 Lineup By Artist:
Baauer
bhBRETON
Good Times Ahead
X&G
Adrobski
Blastazoid
Bopcorn (aspenlaws & 2wasted) 
Kyyhky
Left Unsaid
Lowparse
Matalo
Mike Snatchers
ONLYTHENEXT
Pozy
RamonPang
Shaawh
Sim Fane
Snapcaster
stalesmcgales
vincebyvince
Waalder
---
Follow Baauer on Social Media:
Website | Facebook | Twitter | Instagram | SoundCloud | Discord | Twitch