While Daft Punk may have called it quits, artists from the Hood Politics crew are keeping their spirits alive forever with a flurry of remixes.
---
There aren't many artists in the electronic music scene who have had the impact or lasting legacy that Daft Punk has created for themselves. From the onset of their careers, the French duo looked to shake things up while simultaneously staying true to their artistic intention and letting the music they produced speak for itself. But while they may have called it quits just two years short of spending a full three decades as Daft Punk, other artists they've inspired will carry the torch into the future.
While there have been a number of tribute performances, remixes, and edits of their original work, artists in the Hood Politics Records family all came together to put their spin on some of the classics. Out now for your listening pleasure, Hood Politics Presents: Daft Punk Forever sees tunes including "Human After All," "One More Time," "Get Lucky," and "Around The World" get twisted from artists like DONT BLINK, House Divided, Galo, Victor Bari, BINGEWATCH, and more.
Centered mainly around the sound of tech house, these fresh cuts are filled with dancefloor energy that will have anyone grooving to the beat in no time at all. While each of the remixes has its own qualities that make it pop, there were a few that really stood out as something special. Leading the charge on the compilation is House Divided with their cut of "Human After All" which is absolutely stunning as they layer elements from the original over a booming beat that marries the sounds of the underground together in perfect unison.
The cut of "Around The World" from Broken Future and Stund is another jam as they keep the signature vocals but offer up a beat that is absolutely shuffle-worthy and will have anyone busting a move. Nutty, DJ Susan, and Scones' take on "One More Time" is another standout for the energy they bring along with it, while BINGEWATCH chops up "Harder, Better, Faster, Stronger" into a delectable tasting of tech house. And it's impossible to ignore the cut from Kai Zen as he takes "Epilogue" and makes it a solid addition to any playlist for those late-night drives with an unknown destination.
Listen to Hood Politics Presents: DAFT PUNK FOREVER below, download your favorite remixes for free, and let us know which one stood out to you the most in the comments.
Stream Hood Politics Presents: DAFT PUNK FOREVER on SoundCloud:
---
Hood Politics Presents: DAFT PUNK FOREVER – Tracklist:
Human After All (House Divided Remix)
Around The World (Broken Future & Stund Remix)
Revolution 909 (DONT BLINK Remix)
Harder, Better, Faster, Stronger (Roxe Remix)
One More Time (Nutty, DJ Susan, Scones Remix)
Harder, Better, Faster, Stronger (BINGEWATCH Remix)
Aerodynamic (Rick DietZ Remix)
Face To Face (Galo Remix)
Get Lucky (Victor Bari Remix)
Face To Face (CYBOY Remix)
Get Lucky (UNDERGRNDCTRL Remix)
Epilogue (Kai Zen Remix)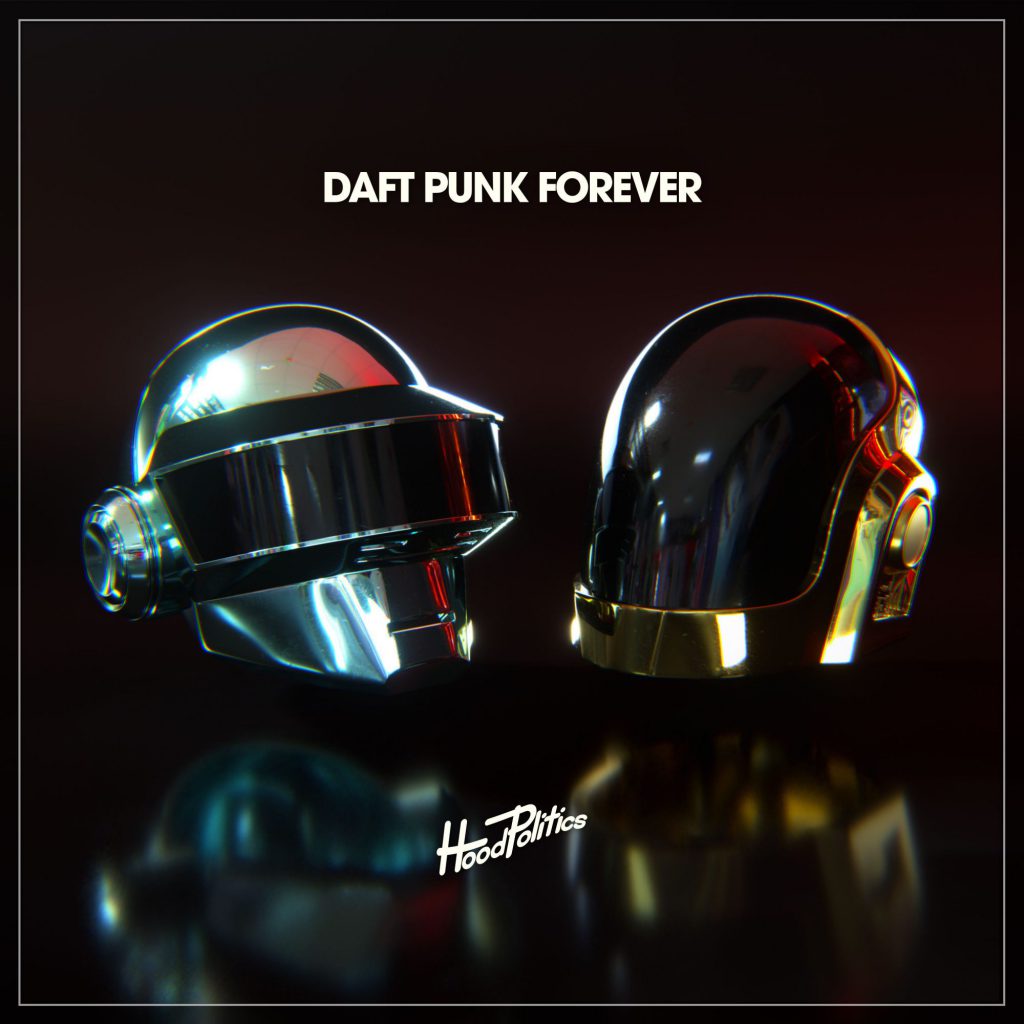 ---
Follow Hood Politics Records on Social Media:
Facebook | Twitter | Instagram | SoundCloud | Beatport