Rising star ODEA looks to the future with the release of his latest single "VOICES" and the launch of his new imprint, NITEFALL Records.
---
Since first emerging on the scene, ODEA is an artist who has explored the sounds within the bass and house music realms to create music that popped and further propelled his career forward. In 2018, he released a remix for RL Grime's smash hit "I Wanna Know," which gave him extra momentum to build a platform and he's continued to blossom into an unstoppable force within the dance music scene.
In 2020, ODEA took a break from releasing music after dropping, "Streets." But despite the break from delivering music to the masses, he never stopped producing and instead took the time to grow as an artist. Now, after craving music for quite some time, ODEA has finally unleashed what he's been cooking up in the studio with the release of "VOICES." This tune pushes the envelope with nuwave and trap while simultaneously making you feel as if you're in a feature-length scifi movie with its epic cinematic intro.
Apart from flinging fans into the future with his original work, ODEA also seamlessly mixes genres to perfection in his sets. He takes future bass, trap, house, and even some drum and bass to create a new sound and vision, proving that he's a gifted and versatile producer.
After the release of "VOICES," ODEA swung by and we had the chance to pick his brain about the new tune, the future of his newly minted label NITEFALL Records, and plenty more. So download or stream the tune on your favorite platform and read on to get to know a little more about this rising star in the scene.
Stream ODEA – Voices on Spotify:
---
Hey ODEA! Thanks for taking the time to chat with us today. Since day one, you've been a versatile producer, experimenting within the realm of bass, house, and midtempo. Can you share what initially drew you to these specific styles?
Before we get started, thanks again for this opportunity! I consider versatility to be an important element that helps define my style. I feel a lot of this comes from my wide taste in music. A lot of the music I listen to varies stylistically, some of which is very high in energy, while others are much more melodic. This versatility shines through in the music I produce. 
In 2018, you released a massive remix for RL Grime's "I Wanna Know." Arguably, this solidified your platform as an artist and put ODEA on the radar. What's the story behind this remix and how it finally got to see the light of day as an official release?
When I heard the original, I knew I had to put my own spin on it.  I was absolutely hooked on how good the vocals were and they had me so inspired that I wrote the whole first draft in one day. With a little luck and patience, RL [Grime] reached to me later in the year and asked if I wanted to make it an official remix and I was very excited.
Moving to the present, congratulations on your latest release, "VOICES"! What's different about this new direction for ODEA and what went into the production for this new tune?
Over the past year, I've felt like I've honed in on what I truly want my sound to be. I've been embracing my love for big melodic songs and Voices is the first big step towards this direction. 
Along with your newest release comes the inception of your own label, NITEFALL Records. What's your vision for this new label? Is your intent for this to be a home for your own productions or other artists as well?
We have a creative vision for NITEFALL, but in the short term, it will be the home for my own music. We're excited to expand the label to other artists eventually, but the desire to establish NITEFALL was to give me the control and direction I need to build the world around my music the way I see it.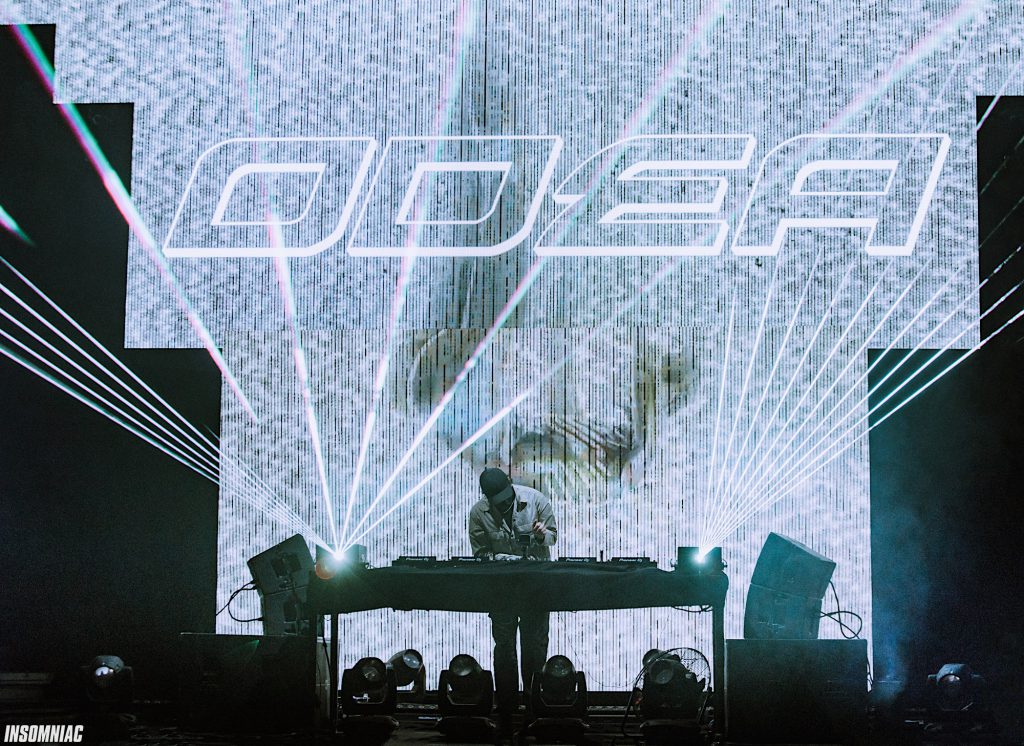 Beyond the music, something that has really stood out is the imagery you pair with your work to create an added level of immersion. Where do you draw inspiration from on that front?
Imagery and music go hand and hand. They compliment each other and help communicate the atmosphere and vision of what the project means to me. When producing a song, I think of both elements as if I'm producing a movie score. This adds that second layer of immersion to my music.
Last year saw the entire industry shift to digital platforms like Twitch and YouTube to keep dance music lovers satiated. What was your experience like playing on InsomniacTV? Did it differ from a normal performance for you?
It was exciting and definitely one of my favorite experiences! Ironically, the last show I played pre-covid was at the same venue the livestream was filmed at. Playing in front of a camera instead of a live crowd is a different experience, but whenever I'm on stage it's still easy to get lost in my own world and absorbed by the music.
Aside from the pandemic last year, what has been the biggest hurdle you've faced so far in your career? Were you able to overcome it?
The last year was a transformative one. Music production is, by nature, an isolated exercise full of self doubt and reservation. Overcoming these two hurdles were some of my biggest challenges. It's a constant struggle. But I've been very proud of the new direction my music has taken, and I can't wait for everyone to hear it this upcoming year.
Looking forward to the rest of 2021 and beyond, what are some of your goals that you hope to achieve in the near future?
I can't give it all away, but the next year will be an exciting one. I have a lot of plans for the direction I'm taking NITEFALL and I'm looking forward to the opportunity to perform at festivals to bring my music to new crowds.
---
Follow ODEA on Social Media:
Facebook | Twitter | Instagram | SoundCloud | YouTube | Twitch