As we crawl nearer to normalcy, Drumcode Festival is looking to take over the island of Malta this September with a lineup of techno greats.
---
The pandemic is nearing the end of its stranglehold on the events industry, and music lovers near and far can only look forward to new chances to dance together under the sun and night sky. While the summertime sizzle of lasers, neon lights, and moody forests might not be fully back this year, as autumn rolls in the change skies mean new opportunities. And Drumcode Festival Malta is looking to ready the troops for a mid-September feast of the finest of techno and tech house under the sun-kissed skies of the Mediterranean isles.
After the announcement of their initial lineup last year, they've delivered even more artists while simultaneously upping the attendance limit with increased hotel capacity and extending the festival to four days in duration. For talent, Drumcode calls upon some of the world's greatest. Mixing with Drumcode mainstays like Adam Beyer, Bart Skills, and Layton Giordani are names such as Richie Hawtin, Kevin Saunderson, ANNA, and Monika Kruse.
Unique to this edition, and making their Drumcode Festival debut are fresh off a new album Kölsch, Berghain's main man Marcel Dettmann, and Russian Anastasia Kristensen. There are new talents too – Sandra Mosh and Clara Cuvé to name two – that will join the energy of the four-day music festival.
While the chance to travel to Malta in September might be limited for many around the world (who knows what lies ahead in 2021 and international travel), Drumcode is happy to welcome all the fans they can for this edition. For more details on Drumcode Festival Malta, make sure to RSVP on Facebook and head over to Pollen for details on tickets and packages. Deposits start at 10€, while the total price for the festival starts at 249€ including accommodation.
---
Drumcode Festival Malta 2021 Lineup: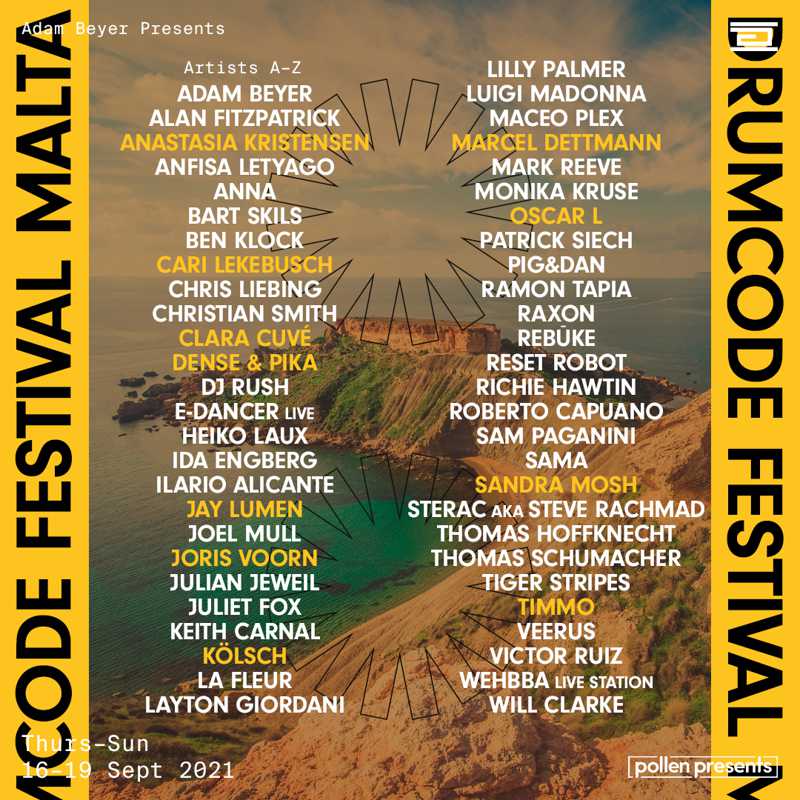 ---
Drumcode Festival Malta 2021 – Lineup By Artist:
Adam Beyer
Alan Fitzpatrick
Anastasia Kristensen
Anfisa LetyagoANNA
Bart Skils
Ben Klock
Cari Lekebusch
Chris Liebing
Christian Smith
Clara Cuvé
Dense & PikaDJ Rush
E-Dancer Live
Heiko Laux
Ida Engberg
Ilario Alicante
Jay Lumen
Joel Mull
Joris Voorn
Julian Jeweil
Juliet Fox
Keith Carnal
Kölsch
La Fleur
Layton Giordani
Lilly Palmer
Luigi Madonna
Maceo PlexMarcel Dettmann
Mark Reeve
Monika Kruse
Oscar L
Patrick Siech
Pig&Dan
Ramon Tapia
RaxonRebūke
Reset Robot
Richie Hawtin
Roberto Capuano
Sam Paganini
SAMA
Sandra Mosh
Sterac aka Steve Rachmad
Thomas
---
Follow Drumcode on Social Media:
Website | Facebook | Twitter | Instagram | SoundCloud | YouTube