Where Love Lives by Glitterbox is a raw, emotional look at the "victimized misfits" that created the welcoming house scene we all love today.
---
For those of us that appreciate going to clubs for house music today, we cannot forget that what is currently mainstream originated from those that were oppressed by that same mainstream. House music originated with underground black artists and clubs that catered to anyone willing to accept and love all the different lifestyles within. While Glitterbox founder Simon Dunmore is a white man, his love and consideration for free expression and beauty in art is pure and clear.
Glitterbox puts the marginalized in the spotlight forcing the mainstream to appreciate these people for who they are as people in addition to their performances. Dunmore also realizes that a club is nothing without a crowd that is fully immersed, stating "People being the stars of the dance floor, people wanting to lose themselves, people that are on the dance floor are what make great clubs." And we couldn't agree more.
So when Simon Dunmore announced that Glitterbox would be releasing a documentary called Where Love Lives, it caught the attention of many. Now released to the masses, it's a beautifully crafted message of hope, but what it does best is to strip away the sugar coating and give everyone a look at the desperation underlying the origins of the house scene.
In the first 20 minutes, we learn of three performers that nearly took their own lives. We learn how gender nonconformity and queerness threatened the very lives of these talented souls. We learn of the rejection that pushed many of these artists to the brink, forcing them to seek out fringe communities just to survive in daily life. And the beauty in this anguish is that they ultimately created not only a safe space for themselves but the house scene that so many more know and love today.
This documentary takes viewers around the world to different places that share a common bond and language in the clubs.
Despite origins in London, Glitterbox takes everyone on a journey to places like New York City and Ibiza to see how both the struggles and successes are the same regardless of language and culture. There's a nostalgic tour of NYC lead by John 'Jellybean' Benitez showing where all the original underground clubs were located. He shows how the times have changed since those locations have been razed and the scene grew into less sketchy neighborhoods. I personally had to chuckle upon seeing one location he pointed out and then realizing that I used to enjoy the dog run that was at that location in the aughts.
As a testament to the accepting culture house music has created, Fiorious says it best, "When everyone is dripping in sweat there's no class distinction, no economic distinction. You get in a room none of that matters at all." There's just no way to carry false divisions onto the dance floor under these conditions. Even better, free expression becomes the norm which sort of flips the outside world upside down. Tete Bang says, "(It's) one thing feeling free in yourself but (it's) another thing when people are celebrating your freedom."
Where Love Lives also isn't afraid to get down to the most basic points of desperation, survival, and mental health.
Billy Porter speaks poignantly about being a gay black man in the 80s – the heart of the AIDS epidemic. "We were dying, gay men first were dying of a plague and nobody cared." He also makes an observation, noting that gay men of his generation gave up on love because they were so afraid of falling in love with someone who might die a week later. He speculates that this resulted in the gay community being seemingly less loving and more hedonistic.
Thankfully, he and others in that community are now finding love and acceptance in the clubs. It's just a shame that it took decades to get to where were are today.
Learn more about the history of the scene by watching Where Love Lives: A Story of Dancefloor Culture & Expression on YouTube. Make sure you get the tissues ready because there's no doubt you'll need them.
---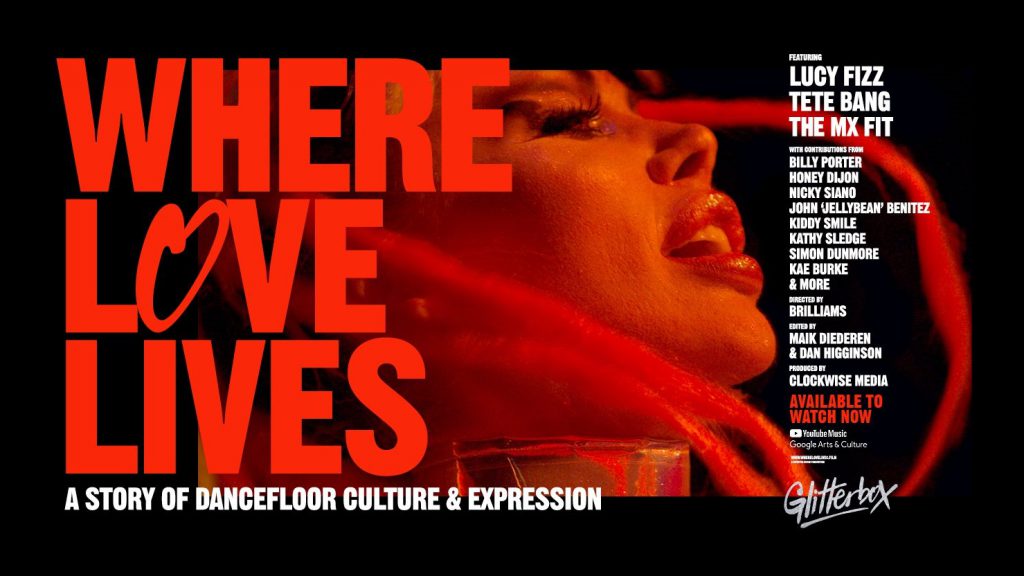 ---
Connect with Glitterbox on Social Media:
Website | Facebook | Twitter | Instagram | Soundcloud | Twitch