There will be a weekend full of ghosts n' stuff in Miami as Day of the deadmau5 packs multiple sets from the mau5 himself and more.
---
As we inch closer to safely hosted, live events making a full return, you can almost feel the excitement in the air. And what better way to welcome the scene back than by attending the massive Day of the deadmau5 in Miami during Halloween weekend? Fans have a lot to look forward to on October 28 – 31 as this experience is sure to provide enough thrills for all who choose to attend.
Kicking things off on Thursday, October 28 is sure to be massive 'Are You Not Afraid?' Welcome Party featuring TESTPILOT and a lineup jam-packed with special guests. Friday, October 29 will take the experience to the next level with an optional There Might Be Coffee' Party Brunch, a deadmau5 Pop-Up Shop for all your merch needs. On the music front, mau5trap Records will showcase some of the label's brightest talent, and deadmau5 himself will be rocking an unplugged sunset set. Hopefully, there will be a sampling of some of his favorite tracks from other producers along with classic deadmau5 sounds as a nice treat.
Day of the deadmau5 crescendos on Saturday, October 30 as the Pomegranate Pool Party kick starts the afternoon. What is sure to be one of the best events of the weekend, a lineup of top-tier talent hand-picked by deadmau5 himself will permeate the air. Later that evening, deadmau5 delivers the main event with his mind-blowing live show to truly cap off the spooktacular celebration all weekend long. October can't come soon enough!
Experience packages offered exclusively through Pollen will be coming online in the coming days, so be sure to stay locked in for the on-sale dates, exclusive info, and more. Enter your email to be the first with updates about Day of the deadmau5 this year as moar updates are not far behind!
---
Day of The Deadmau5 Weekend 2021 – Announcement Flyer: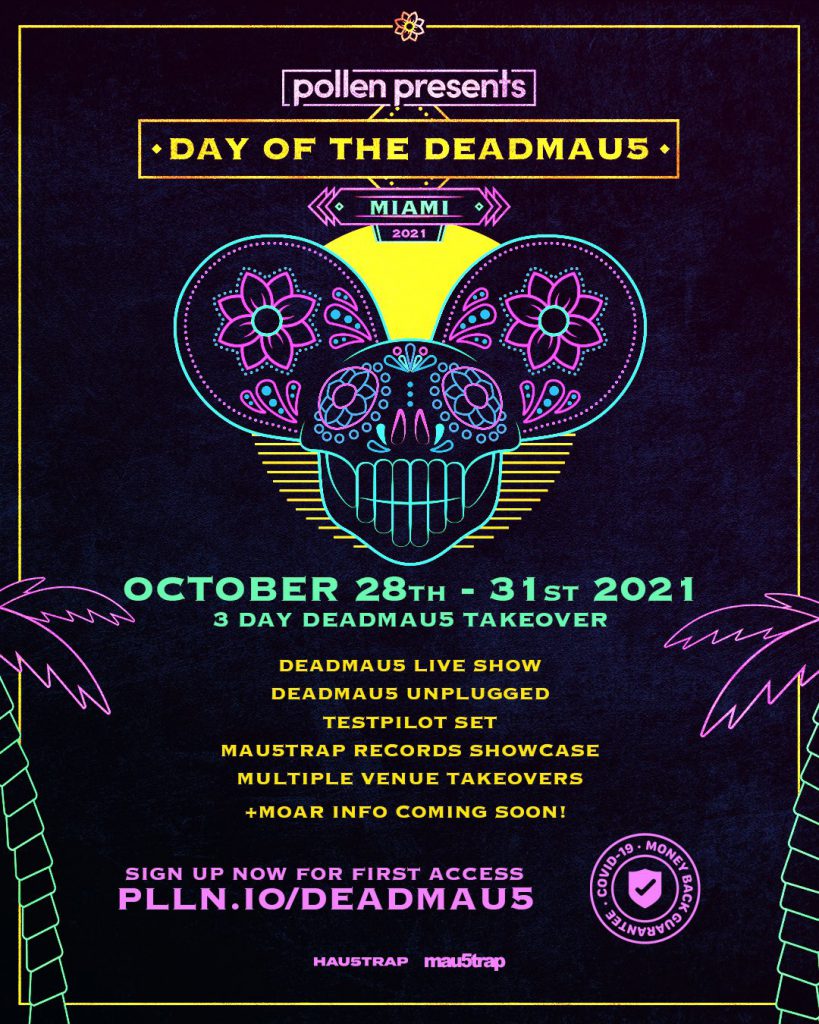 ---
Follow deadmau5 on Social Media:
Website | Facebook | Twitter | Instagram | SoundCloud
Follow mau5trap on Social Media:
Website | Facebook | Twitter | Instagram | SoundCloud | YouTube