Jacknife and The Bloody Beetroots bring the heat with a daring music video for their newest single "Jericho," via Musical Freedom Records.
---
There's something extremely special about producers who tap into the dark side of the dance music scene. Since 2006, The Bloody Beetroots pioneered a unique sound influenced by punk rock. Before Marshmello, The Bloody Beetroots mastered the art of mystery with a black mask reminiscent of Spider-Man and Venom.
The arrival of The Bloody Beetroots inspired a new generation of music creators and producers like Jacknife. An Aussie who produces dark, underground, downtempo music and has collaborated with Dr. Fresch, Malaa, and BIJOU since first emerging onto the scene. Recently, The Bloody Beetroots and Jacknife joined forces to collaborate on their newest single, "Jericho," out now on Tiesto's Musical Freedom Records, and today, they've unveiled the music video to pair with it.
"Jericho" is powerful, assertive, and simply vicious. If you're familiar with Jacknife and The Bloody Beetroots, this isn't a surprise. Parts of the song feel extremely retro and like you're in the midst of a hardcore video game. The melody sucks you in and dominates like no other especially when the drops occur.
The music video is a compilation of live sets, a tense protest, and hostile interactions with law enforcement. Set in black and white, the video shifts between different scenes faster than you can blink. A wide variety of elements populate the screen as Jericho pops up in bold letters across the screen followed by a series of symbols. From start to finish, the video's energy is running full steam ahead, and you will have to watch the video multiple times to catch every small detail. 
Most importantly, this video is socially conscious of the world that we live in. It's cool to see artists taking their influence and impact on folks in the community seriously. It's admirable, and we need more of that. Although music is an escape, music is also an outlet to spark change and provide social commentary on any given situation. Well done mates.
Watch the video below, and stream or purchase "Jericho" on your favorite platform. Don't forget to let us know your thoughts in the comments!
Watch Jacknife and The Bloody Beetroots – Jericho on YouTube:
---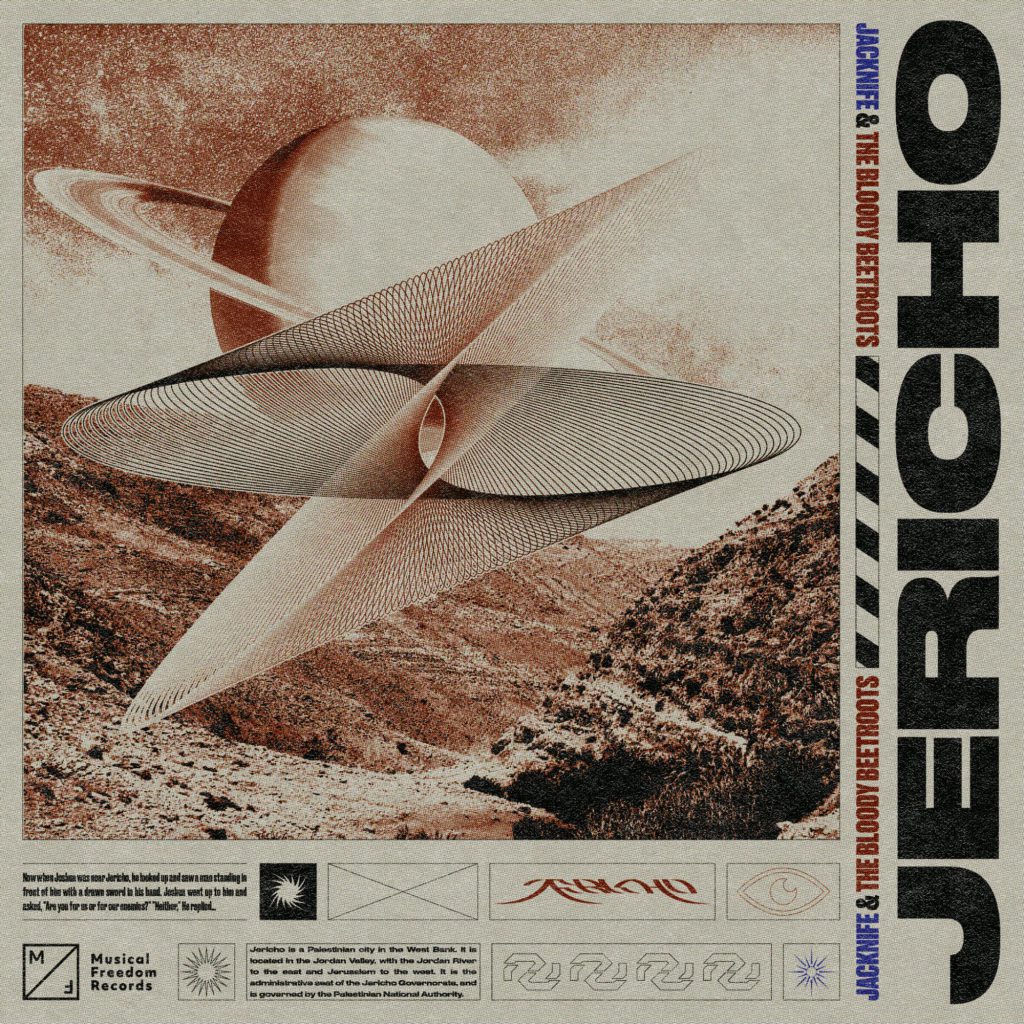 ---
Follow Jacknife on Social Media:
Facebook | Twitter | Instagram | SoundCloud
Follow The Bloody Beetroots on Social Media:
Facebook | Twitter | Instagram | SoundCloud