Life Is Beautiful sets its sights on greener pastures in September to make a return to Downtown Las Vegas.
---
Since first breaking onto the festival scene, Life Is Beautiful has become one of the most beloved to land in Sin City. Taking place each year in the heart of Downtown Las Vegas, the festival organizers were forced to cancel the 2020 edition due to the ongoing pandemic. But with their sights set on greener pastures, they've announced that Life Is Beautiful is anticipated to return on September 17-19.
Whether you're a fan of art, music, food, or comedy there's something for everyone at Life Is Beautiful. Past editions of the festival have featured massive artists ranging from The Weeknd and Billie Eilish to Justice and ODESZA while also boasting immersive art installations and culinary treats as well. Check out our review from Life Is Beautiful 2019 for a taste of the action.
The optimism does come with a sense of uncertainty though as the pandemic continues to be at the center of attention for many. Life Is Beautiful has posted a COVID-19 warning on their website, while also outlining refund options in the case that the festival is canceled or postponed. As with other festivals that are scheduled in 2021, please exercise caution when deciding to purchase passes.
The early bird sale for Life Is Beautiful will see 3-day GA passes start at $295, while multiple VIP tiers are also available for $635, $1,420, and $2,895 depending on amenities desired. All prices do not include taxes and fees. Head over to their website for a deeper dive into the different VIP tiers.
Early Bird Tickets for Life Is Beautiful 2021 go on sale at 10am PT on Thursday, March 4 via their website. Stay tuned for the lineup and more details.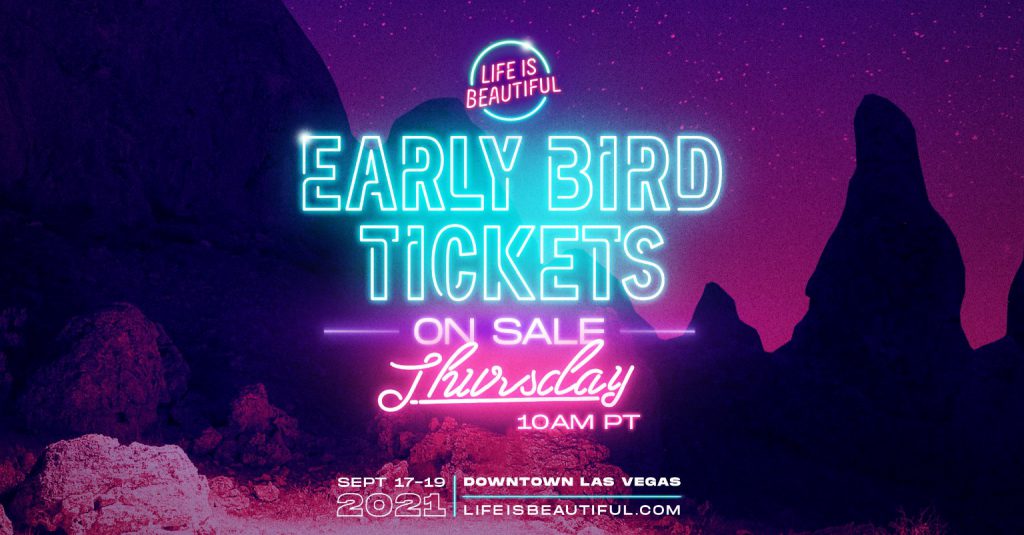 ---
Connect with Life is Beautiful on Social Media: