QOQEQA swung by to chat about his debut album on Kebrada, the rhythm used behind his tracks, and what his production process is like!
---
Paving his way into the electronic music scene all the way from Peru, Daniel Valle-Riestra aka QOQEQA is one artist that shouldn't go unnoticed this year with his production style that combines Latin folk and electronic music. Last year, he pushed the boundaries by creating tunes brimming with his culture's tribal music and groovy melodies, and he's continued to ride this wave by delivering listeners with his debut album, AxuxA.
Out now on Kebrada, AxuxA features 11 tracks and shows the world that QOQEQA's culture-enriched style. While he might not be the first artist to champion the blend of Latin elements in electronic music, when it comes to delivering listeners with sensational vibes and Latin folk, he's one of a kind.
Throughout his debut album, the spiritual sounds used come from his work with harmonica instrumentals and groovy breakbeats that are designed to get bodies flowing on the dancefloor. One track in particular, "Kshanti" proves rich in emotion as the track intends to evoke the feeling of patience and calm breathing. Not only does QOQEQA use sounds uncommon to the pulsing electronic realm, but he intends to get listeners a piece of mind with his rhythmic vibrations and melodic patterns. 
We had the chance to chat with this Peruvian artist and jumped at the opportunity. After the conversation, it's safe to say we're certain that QOQEQA will be up to some big things. So listen to AxuxA on Spotify or grab a copy on Bandcamp, and read on to learn more about this rising star in the scene!
Stream QOQEQA – AxuxA on Spotify:
---
Hello QOQEQA, it is a pleasure to be speaking with you today! We wanted to kick this interview off by diving into your history a bit, what got you into producing electronic music and who are some of your biggest influences?
Hola! Since I was a kid I was curious about instruments and sounds, later on, I learn how to use DAWs as a way to write music and explore the ideas in my head. About influences and inspiration, I think about all of my friends and producers who are pushing the boundaries of Latin music around the globe.
As a Latina who loves electronic music, I loved hearing your unique blend of afro, tribal, and Latin sounds. How did your upbringing and culture influence the style of music you make?
For example, I love to hear Salsa, which is on the radio at every taxi or restaurant in Peru, it teaches me so much in terms of groove, and to play with technique but really get lost in the rhythm. A very important experience around the music I produce is thanks to the landscapes of the places I've traveled around my country; they have all these different kinds of moods and instruments that join them.
The Andes is so melancholic, the strings instrument and panflutes make it a lot more gloomy, but I like it, so I tried to blend that emotional information in my compositions. That translates also in my Amazonian jungle experiences, psychedelics involved or not there are a lot of trippy situations in nature that makes me want to re-lived that through music, and the joy of the people there is so contagious that the music is very upbeat and colorful.
This year, you dropped your debut album, AxuxA, on Kebrada, and it's an outstanding 11-track album that holds true to your identity. What was your process like when creating this album as a whole? Was it created with the full release in mind or were these tracks separate projects?
It was 2018, just ended 'Animal Chuki' – a 5-year musical project I had in duo with a very good friend Andrea. At that time I remember having a couple of new tracks but they were very different from the music that was supposed to be released on Animal Chuki. I realized that I had to re-connect with myself, with the sound I wanted to share, and with the purpose behind all that. A couple of months of solitude went by, just producing and be present, I realized that I had like eight new tracks. I spoke to a friend Paz, Terror Negro Records chief, and he helped me envision this cut as an album.
At that time Rafael from Dengue Dengue Dengue told me about Kebrada and the plans for the future, proposed me the idea of the release on vinyl but I had to make another three tracks. I was traveling to Ibiza for a month, so before that, I went to a studio and record a lot of percussion ideas I had in mind. Later in the middle of that excursion on the island I open the computer, chopped the best percussion takes I made, and finished the album with a couple of very rhythmic tracks and an ambient one.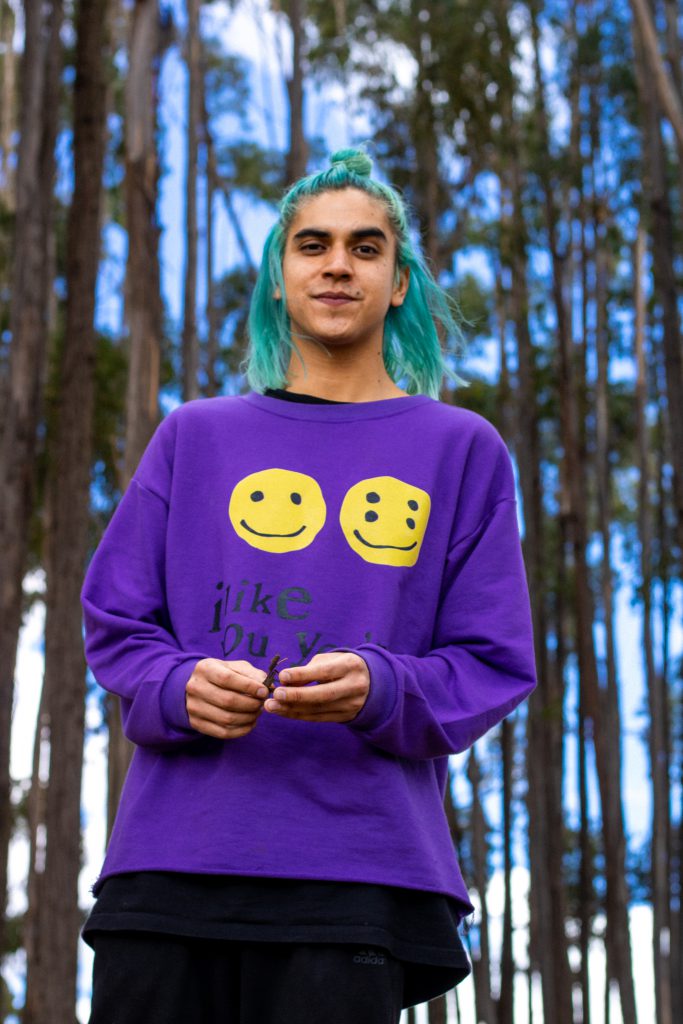 I absolutely love your evolving sound patterns found throughout your album in its entirety, but particularly in your track "Kshanti," what was your approach to this tune specifically?
It is one of my favorite tracks, the word 'Kshanti' in Sanskrit means patience. I remember through the creation of the track I was cultivating a patience mantra and put it to the test in my life, the crescendo pads in the track evokes that feeling of breathing. I recorded myself playing the Batas and then deconstructed the pattern to make a melodic but also rhythmic phrase.
As we dive deeper into AxuxA, the tracks intensify with faster breakbeats and a larger instrumental presence, while also incorporating natural elements. What instruments or tools do you use to develop your sounds? What led you to utilize sounds from nature in the album?
I think I have an addiction to sound textures, the roughness of the metal against metal, woods with mellow harmonics, field recordings of voices with natural reverbs, and I love some watery mirror delays. Some of the organic elements are real one-shots samples of skin instruments from the NN-XT VST of Reason. Some others are me playing acoustic instruments and ambient noises. I don't geek out enough in the synth selection; I think you have to put a lot of effort into the main composition, a journey through melodies, and progressions, later make a good stereo placement, and the right selection of reverb and delay functions are key.
AxuxA serves as your grand entrance into 2021, so how does it feel to be a contemporary artist pushing his limits at the start of this year? Do you have any advice for up-and-coming DJs looking to advance in the coming years?
I feel that you really got to have passion and love for what you do, also purpose and contribution ideas, give something back to your community and help it grow, so you can grow together and in a real way. Got to have an urge to express yourself and channel your emotions. If you really have it in you there is no pandemic to hold you, and advice: create your own language, be authentic, and produce music every day first in your mind and later on your equipment.
Now let's get to talking about the elephant in the room – the devastating pandemic. Last year was difficult for everyone, how did the global shutdown affect you on a personal and professional level?
It's a mess in the political realm but thanks to that I witness a lot of people went within and opened their minds and hearts to a spiritually evolving era. Personally, I never stopped making music and that save me from depression, also have the opportunity to travel to the Peruvian jungle and the Valley of Cusco to a couple of yoga retreats and share some meditation sessions through music.
Professionally also found some gigs around there, but the main obstacle was the manufacture of the vinyl, because of the lockdown in Berlin the factory closed for a while. Overall I think the time was right for the release, and here we are! The vinyl, Berlin was in a locked down state and the fabric shut down for a while. Overall I think the time was right, and here we are.
Other artists expressed that they gained experience and new hobbies that evolved their character in more ways than one— did you have any positive learning experiences that came from 2020?
Patience.
One final question before we send you off for the year. As we continue our journey into 2021, what goals would you like to achieve? Will listeners be graced with more music as we continue to unravel the remainder of the year?
Thanks for the interview, hope that everyone's doing fine. If you've listened to the QOQEQA album hope you enjoyed it and had a personal trip through that, reconnect and share with others some special time. Couples of mixtapes with the album tracks are soon to be released, thanks to the Kebrada team, love from Peru.
---
Follow QOQEQA on Social Media:
Facebook | Instagram | SoundCloud | YouTube