Kaivon guides his listeners with uplifting sounds and he spoke with us about his influences, current style, future dreams, and more!
---
Los Angeles-based artist Kaivon has created some true magic in the studio since first breaking onto the scene. In fact, much like carbon under the earth's crust, the pressure he asserts on his beats turns them into diamonds. His previous releases like "Reborn" and "First Breath" bring forth hope, healing, and enlightens listeners with powerful knowledge of the journey in life as experiences come full circle.
Kaivon's unique style has raised attention from industry tastemakers and fans alike, and most recently saw Insomniac look to him for the first release on their new label and festival brand Lost In Dreams. To help usher in the brand he crafted a tune with Nevve called "Whole Life" which is dripping with melodic bass sounds and packed full of emotion.
Although the past year has been stagnant for many in the scene, it hasn't stopped Kaivon from getting back into the studio. He's an artist who has a radiant willingness to share positivity through his work and show the world that there's a light at the end of the tunnel. So when the opportunity to chat with Kaivon presented itself, we couldn't help but jump at the opportunity. Listen to "Whole Life" on Spotify or your favorite platform, and dive into his mind by reading the full conversation below!
Stream Kaivon – Whole Life (Feat. Nevve) on Spotify:
---
Hi Kaivon, thank you so much for taking the time to chat with us today! To kick things off, let's dig into your roots a bit. What were some of your musical influences or practices that helped you carve out your own personal musical identity?
Hi, thank you for having me! I pretty much only listened to rap music up until I was about 17. I was a huge fan of Eminem, Kid Cudi, and Kendrick Lamar. I eventually was introduced to electronic music at Coachella in 2014 and it blew my mind. I saw artists like Flume, Martin Garrix, Adventure Club, and I just had an amazing experience and became a fan. I then started attending Hard Summer Music festival every year from 2014 to 2017 and saw artists like RL Grime, Zeds Dead, etc. After I went to Hard in 2015, I downloaded the software the day after to try and learn how to produce and that's where my production journey began.
As you grew as an artist you also attended Icon Collective. What was the most valuable skill that you learned and took with you on your journey leading up to the present day? Do you recommend that others attend classes as well?
I learned a ton at Icon. I highly recommend it to anyone who wants to take production seriously as a career. I learned how to find my voice and not to be afraid to take musical risks. I also learned that doing the homework and assignments wasn't enough, a lot of my growth occurred when I put in the hours outside of class to learn the craft.
Having played sets at festivals such as Soulstice and HARD Summer, the loss of events as a whole must have been devastating last year, but you did jump into some live streams to play. Was it strange going from live, in-person crowds to ones that were entirely virtual?
Yeah, it was definitely super trippy. I feel like we all now have a new appreciation for live events and how special they are. I miss them so much. Live Streams are cool but it's just way different playing in front of a camera compared to actual people. The people at a show are what make the show great and the reason I got into music was feeling that beautiful energy from everyone in a live setting as a fan.
If you could play any venue tomorrow with no restrictions where would you perform?
Honestly to come full circle and play Coachella after it introduced me to electronic music is the dream.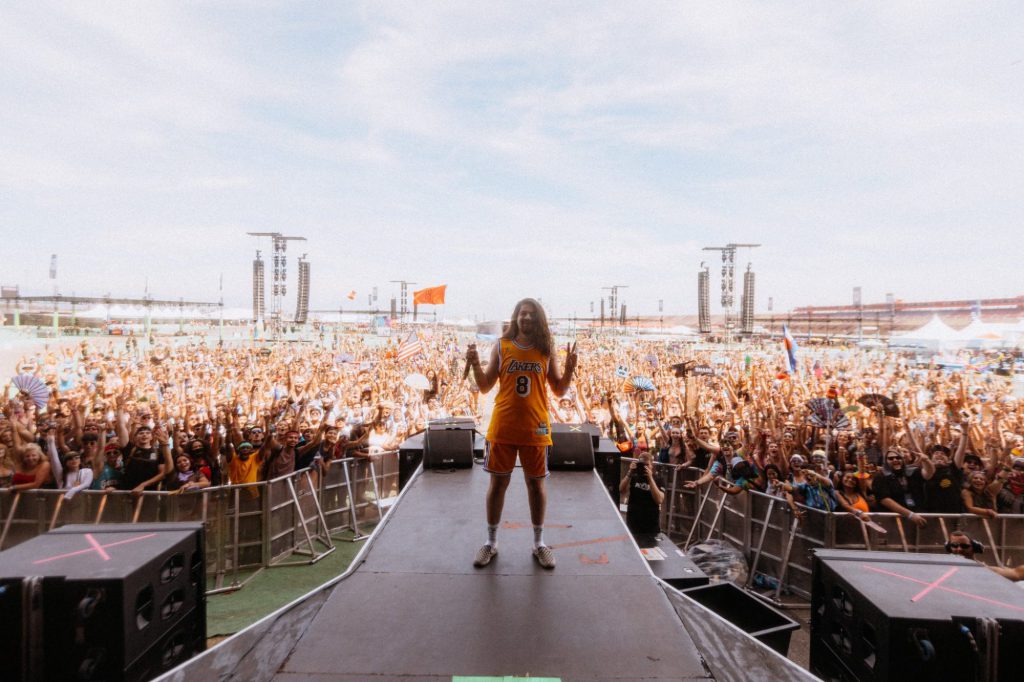 How did you stay uplifted during these challenging times during the pandemic? Has your music adapted with you during this time at home as a way to shape your sound?
It's definitely easier said than done. I've tried to make it a point to not get too down on myself when I'm not being as productive as I'd like as well as trying to dabble in new hobbies and old ones to spark inspiration and joy in life. I've been super into collecting all the retro video games and consoles I played as a kid which has been fun in a world that's surrounded by complicated technology. I've also started a side project where I'm singing 80's music in an attempt to lift people up and really challenge myself as an artist.
You recently teamed up with Nevve for a fresh tune called "Whole Life." What brought you together with her on this tune and did the pandemic present any problems when producing it?
My manager reached out to her and her team and she sent me a demo of a song she had written. I fell in love with the lyrics and feel of the song and built a song around it pretty quickly.
When I listen to your music I always love to pair the sounds with colors. This question is a bit more abstract to relate to your uplifting sound. If you could describe your music in only three colors what would they be and why?
I like this question. I would say purple, yellow, and pink. Purple because that's my favorite color and I feel like it just fits with more of my emotional deep songs. Yellow is a kind of magical color and pink sort of symbolizes love in a way that I try to convey through my songs as well.
As we adapt and shape through our challenges, what are your personal plans for your music this year? How would you like to see your music shape in the coming years?
My personal plans for music are to continue to release consistently and push myself to create things that haven't been heard before while also staying true to the sound that got me here. Also, hope to put out the first album sooner rather than later.
Thank you so much for your time! We can't wait to hear more of your lighthearted sounds to carry us through the year and into brighter days!
---
Follow Kaivon on Social Media:
Website | Facebook | Twitter | Instagram | SoundCloud | YouTube