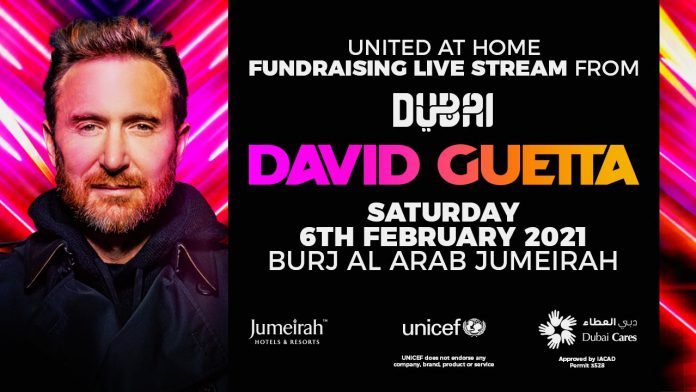 David Guetta is partnering with Dubai Tourism to bring the #UnitedAtHome livestream to the famous Burj Al Arab Jumeirah.
---
There is little doubt that David Guetta is one of the biggest artists in the music industry today with countless hits and legendary performances. In the face of the pandemic, he decided to use his platform for good by raising money for charities and spreading positivity with the #UnitedAtHome livestream series that has taken place in New York, Miami, and Paris.
After the first three #UnitedAtHomeLivestream's proved to be a huge success earning over 1.6 million dollars, David Guetta will once again prove the magnitude music has on spreading awareness. On February 6, David Guetta is continuing that mission by partnering with Dubai Tourism to host the next edition of #UnitedAtHome, this time taking place on the helipad of the iconic Burj Al Arab Jumeirah.
Proceeds from this livestream will benefit UNICEF and Dubai Cares' Education Uninterrupted. Education Uninterrupted is a campaign that was launched by Dubai Cares this year with the mission of tackling the impact of COVID-19 on the education of children and youth. Donations help low-income families who are unable to afford computers for their children, who then cannot join in on distanced learning from their homes.
Though we cannot stand side beside together in support, we are able to share a powerful moment virtually and create positive change in the world. Be sure to tune in on February 6 to watch David Guetta perform and donate to the cause.
Tune in to the Dubai Edition of David Guetta's #UnitedAtHome on YouTube:
---
#UnitedAtHome Dubai Broadcast Times (Local Timezones):
Dubai – 6PM
New York – 9AM
Los Angeles – 6AM
Paris – 3PM
London – 2PM
Cairo – 4PM
Moscow & Riyadh – 5PM
Mumbai – 7:30PM
Hong Kong – 10PM
Tokyo – 11PM
---
Follow David Guetta on Social Media:
Website | Facebook | Twitter | Instagram | SoundCloud | YouTube | Twitch