David Guetta continues his streak of livestreams with the third edition of United At Home that's set to take place in Paris on New Year's Eve!
---
Back in March, the entire dance community faced the start of a pandemic that challenged millions of families across the globe. David Guetta took it as an opportunity to offer a helping hand to those in need with United At Home. This charity livestream delivers his exceptional production in unique locations while raising funds for organizations that need help during the pandemic.
Kicking off his series in April with a poolside set in Miami, David Guetta raised over $750,000 for the World Health Organizations (WHO) and other beneficiaries. He followed with a monumental performance at New York's Rockefeller Center in the heart of the Big Apple, where he raised the total donations to over $1.5 million. Now, he's ready to perform the third edition of United At Home on New Year's Eve, this time taking place in his hometown of Paris to end 2020. 
Partnering with PS5 and Xiaomi, the stream is set to take place on New Year's Eve at 12 AM CEST (3 PM PT). Viewers will be graced with the beautiful scenery of one of the world's most beloved cities as Guetta carries everyone into the new year. The funds raised during this edition of United At Home will provide support for UNICEF and Les Restos du Coeur, one of France's largest charity organizations that deliver food packages and hot meals for families in need.
What better way to give back during the holidays with quality music and good vibes? Tune into the United At Home livestream to wrap up the year on YouTube, Twitch, and other platforms!
Watch David Guetta – United At Home – Fundraising Live From Paris on YouTube:
---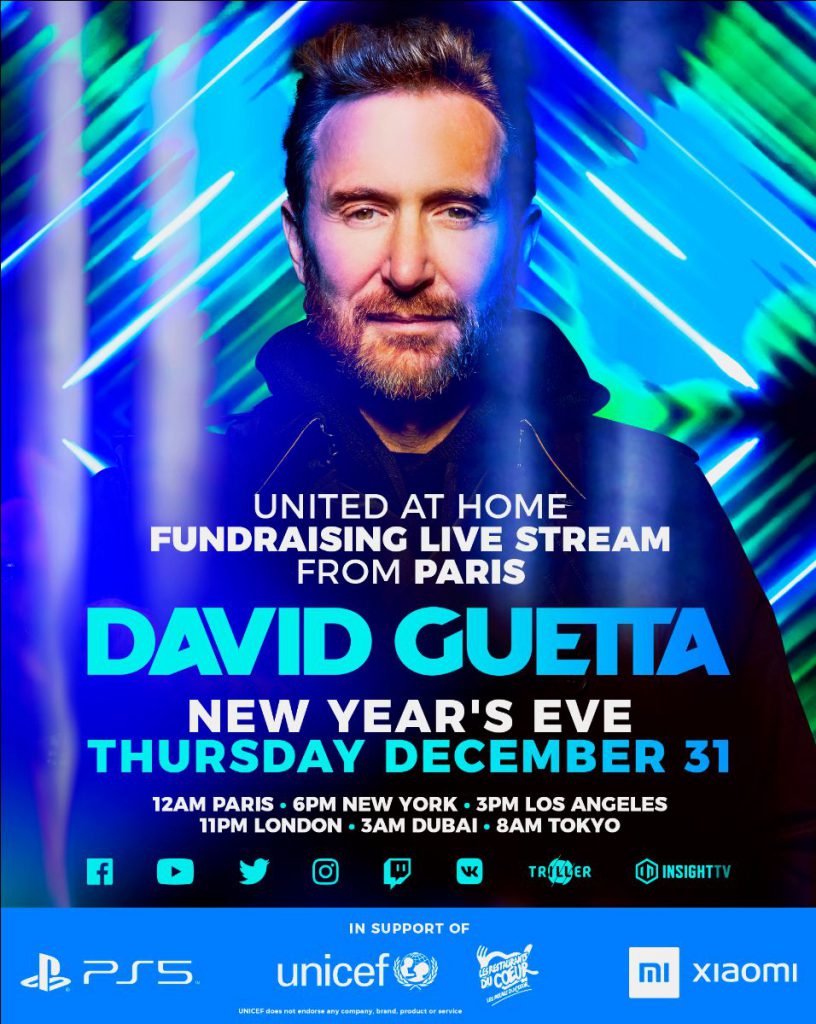 ---
Follow David Guetta on Social Media:
Website | Facebook | Twitter | Instagram | SoundCloud | YouTube | Twitch