Jay Robinson sits down to chat about his massive studio year, his latest release on mau5trap, and what's in store as we move into 2021.
---
Jay Robinson has never been one to place himself into a box when it comes to his ever-evolving productions. From acid and techno to progressive and melodic house, he's polished his masterful production abilities over the past decade, elevating him to a league of his own.   Over the years he's delivered massive tunes and remixes, played plenty of shows that have further proven that anyone catching his sets will embark on quite the adventure when he steps up to the decks.
Despite the ongoing pandemic shuttering the beloved live event scene, Jay Robinson has been hard at work in the studio. Most recently, he dropped his latest tune, "Euphoria," with vocalist Sara Sukkha on mau5trap in December, but 2020 also saw him flex his remix muscles as he delivered a stunning remix of deadmau5's "Pomegranate" as well. However, he didn't stop there, as he remixed Example's hit "What You Do," and impressed with the Control and LSD EPs on Night Bass.
Last year changed so much for members of the scene, but looking ahead into 2021, Jay Robinson has his sights set on even bigger releases, hotter remixes, and (so help us god) a return to live events. Dive into the mind of the effervescent producer by reading the interview below, and listen to his exclusive guest mix as he gets down to business with some tasty tunes.
Stream EDMID Guest Mix 253 || Jay Robinson on SoundCloud:
---
Hey Jay, thank you so much for taking the time to chat with us today, and hopefully you've been having a safe and happy holiday. Congrats on the latest release of your progressive house banger, "Euphoria" with Sara Sukkha on mau5trap. Can you tell us a little about how that track came to life? What was it like working with Sara on the tune?
Thank you so much, I'm really happy that this is the release that rounds off the year. It's a track I've had in the works since I was on the Cube V3 tour. I just wanted to make something that followed a single, simple arpeggiated lead. Then I had an idea for a really cool spoken vocal and reached out to Sara. Luckily she was into the idea, she's really easy to work with.
There is a significant number of remixes under your belt as well for tunes from artists including deadmau5, Idris Elba, and Example, to name a few. Can you talk about your production process when creating these remixes? Is there a specific "recipe" you like to follow or just let it flow organically?
Whenever I do a remix, I try to listen to the track and figure out which elements I can stitch together into a direction that I feel compliments the original. Sometimes it means only using a tiny portion of the original (which I'm sure annoys some artists). I can usually hear what I will do within the first listen of a track I'm being asked to remix, when I first started making music I just remixed everything and anything I could get the parts to, so a lot of my formative production years were spent recycling stuff from other peoples tracks.
You've shown huge diversity in your productions from acid and progressive house to bass and tech house. Do you have an all-time favorite to make, or is it just what comes to you at that moment?
It depends on how the track is being made, sometimes I have a clear idea in my head then I execute that idea in the studio, other times I might experiment and let myself just go with my mood on the day. I think I'm really hitting the sound I've wanted to make for years, Covid has kind of let me hit reset and focus my production on a different sound (for me). It's not drastically different from the direction I've gradually been heading in over the past few years, but it is a bit more "musical" and less aggressive than people may expect. I think the music I have coming next year is the best I've ever made.
Now that we are approaching ten months removed from in-person events, how has your production process changed now that you've had so much more studio time? What's your go-to way to keep the inspiration flowing?
I've reached a point with production where I don't sit all day every day just making music for the sake of it, I go into the studio with a clear idea of what I want to do or with at least an idea of how I want to experiment and what I want to experiment with. It's become essential for me to only make music when I'm inspired, my best work only comes when I'm fully motivated to create.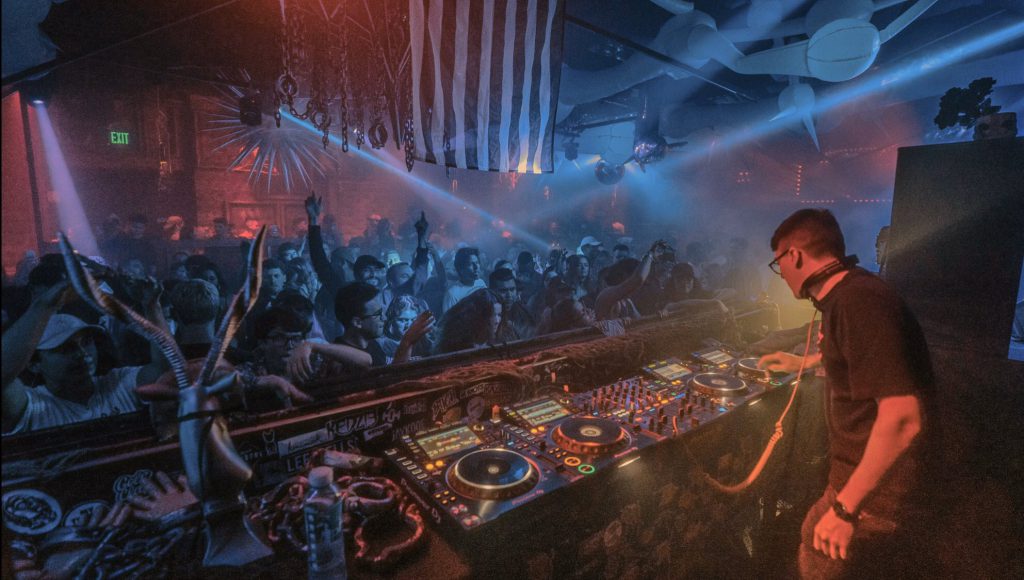 Throughout your career, you have had the opportunity to grace the stage at world-renowned venues such as Printworks London and Le Nuits Sonores in Lyon, France. What are some of your "bucket list" venues or events you hope to play?
My number one place in the world I want to visit or DJ is Tokyo, I was supposed to be there with my friend Jaxx da Fishworks before everything ended so hopefully that will be one of my first gigs back. I still really want to play Glastonbury, too. Hopefully when this nightmare is over it can happen.
Last year you had the opportunity to support the mighty deadmau5 on a handful of stops on the Cube v.3 Tour. What was it like to support such a massive show?
It was a really formative experience for me, in all the years I've done this I've never been able to be a part of something so massive and professional. It really opened my eyes to how hard people work on these shows. It was also really cool to meet so many people from all corners of the industry, there aren't many opportunities to do that where I live in North Wales.
With so much uncertainty surrounding live events lately, where do you think the scene is heading as we dive into the new year? Are you eager to get back out on tour?
I think the western world will be waiting for a long time yet, normality probably won't be with us for another year or so. It's time to really batten down the hatches and just survive until we can all be together again. I would give anything for shows to be back now, I think we all took our freedom to travel/dance/live for granted. Hopefully, we have a bit of a Renaissance after this and music really flourishes.
What are some of your goals you hope to achieve this year? Are there any upcoming releases you can reveal that are on the horizon?
I have an absolutely massive release early next year but I can't say too much about it yet, after that I have some of the best music I've ever made being released. At least that's how I feel about it anyway! Watch this space…
Finally, we've noticed you're pretty into gaming when not making music. What have you been playing recently?
This could be the longest answer of all if I don't rein it in a bit… I was lucky enough to get a PS5 and I've just finished Demon's Souls. I'm playing Immortals Fenyx Rising right now and I have to say I'm impressed, it's definitely scratching the itch that Breath of the Wild left. I'm going to attempt to finish Half Life Alyx over the Christmas break then I'll be on to Cyberpunk once it's been fixed!
---
Follow Jay Robinson on Social Media:
Facebook | Twitter | Instagram | SoundCloud | YouTube