STMPD RCRDS is celebrating the end of the year with their annual mixtape that showcases the tunes that graced the label throughout 2020!
---
Even though this year hasn't gone according to plan, it hasn't stopped Martin Garrix and STMPD RCRDS from pressing on with their mission of delivering electric beats to dance music lovers around the world. Now, as the final hours of 2020 tick away, the STMPD RCRDS team is looking back on the massive year of releases that have landed on the label with the release of STMPD RCRDS Mixtape 2020.
Much akin to previous editions, STMPD RCRDS Mixtape 2020 highlights the finest tracks that have found a home on the imprint. This year's mixtape clocks in at over 40 tracks from 50 artists that include everyone from 3LAU and Julian Jordan to TV Noise & Dillon Francis and WILL K.
In true mixtape fashion, it's also broken into two sides, and each is filled to the brim with some standout tunes. Side A brings forth songs including Matt Nash's "Lose It All," Julian Jordan's "Nobody Knows," and Syn Cole's "Rush," while Side B kicks it up a notch with Sidney Samson & Killfake's "Your Way," Moksi's "Fade Away," and Bart B More's "Round & Round." It's an absolute feast of epic beats that anyone who misses those mainstage festival vibes will surely be gravitating to.
Listen to Side A and Side B of the STMPD RCRDS Mixtape 2020 on Spotify or your preferred platform, and let us know which tunes from Martin Garrix and his label's family you loved the most this year!
Stream STMPD RCRDS Mixtape 2020 – Side A on YouTube:
---
Stream STMPD RCRDS Mixtape 2020 – Side B on YouTube:
---
STMPD RCRDS Mixtape 2020 – Tracklist:
Side A
Matt Nash – Lose It All
Zonderling & NØ SIGNE – Clouds
Brooks & Julian Jordan – Without You
3LAU – Apocalyptic
Julian Jordan – Badboy (feat. TITUS)
Seth Hills – Void
Dyro & Julian Calor – Warp Speed
Blinders – Side 2 Side (SWACQ Edit)
Blinders & Cesqeaux – Go Back (To The Oldschool)
Brooks – Say A Little Prayer (feat. Gia Koka)
Matisse & Sadko – Now or Never
Florian Picasso & GRX – Restart Your Heart
Syn Cole – Rush
Matisse & Sadko – Best Thing (feat. Matluck)
Justin Mylo – Still Around (feat. SMBDY)
DubVision – Sign
Aspyer – Saving Grace (feat. Madison Rose)
DubVision & Pontifexx – Stand By You
Julian Jordan – Nobody Knows (feat. Feldz)
Pontifexx, Düncan, 2STRANGE, Cammie Robinson – Rhythm In Me
Osrin – Left To Try (feat. WILHELM)
EAUXMAR – Nostalgia
CMC$ & Asher Angel – Nobody But You
Cesqeaux & Todd Helder – NASA
TV Noise & Dillon Francis – Booty Bust
Side B
Bleu Clair – Need U
CAZZETTE & Galluxy – Back & Forth
Josh Charm – Riot
LOOPERS – Fire & Rain (feat. IYONA)
Chew Fu & Bootsy Collins feat. Rev. Al Sharpton – JB's The Man (FRATTA Remix)
Sidney Samson & Killfake – Your Way
Silque – Not Lovin' It (feat. Alex Hosking)
The Subculture – Alive (feat. Nikki Ambers)
WILL K – Take It Off
Zuffo & R.Braga – In Love
Bart B More – Round & Round (feat. Alex Hosking)
Chemical Surf – El Tiempo
DJ DLG – Love
Rogerseventytwo – Artificial Love (feat. Abee)
Arno Cost & Norman Doray – One Night
Infuze – Appropriate Measures
Moksi – Fade Away (feat. Haj)
NUZB – No Rush
Bleu Clair & Ytram – Make You Mine (feat. RA)
Corey James & GVN – You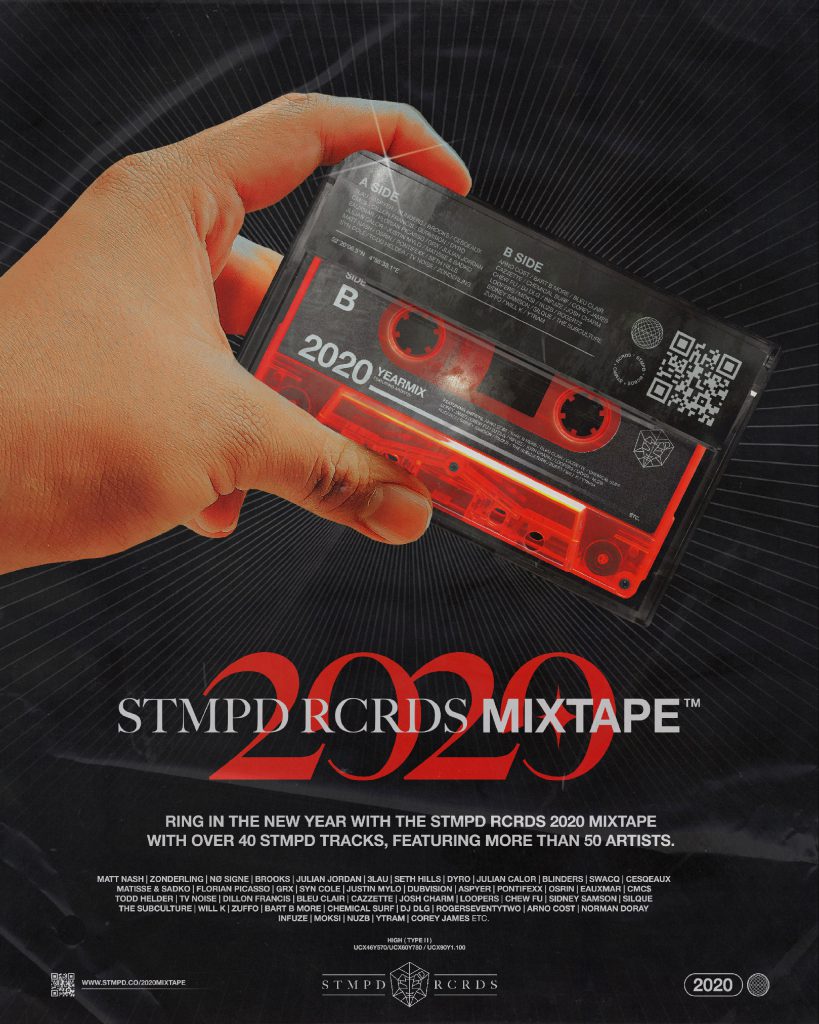 ---
Follow STMPD RCRDS on Social Media:
Website | Facebook | Twitter | Instagram | SoundCloud | YouTube