Dirtybird Live is going full-on Holidaze mode to close out the year with sets from Justin Jay, Boys Noize, Claude VonStroke, Codes, Mitch Dodge, and more!
---
Still haven't shaken your tail feather enough this year? Dirtybird has you covered! Although 2020 hasn't gone according to plan, their crew has kept everyone satiated with some unreal beats in the house music realm. And after the launch of Dirtybird Live earlier this year, they've continued to consistently broadcast fantastic sets and showcases from members of the flock, but now they have something special as the final days of 2020 take hold.
From December 26 to January 1, Dirtybird Holidaze will dominate the channel with some of the best artists in the scene that include everyone from Treasure Fingers and Boys Noize to Mija and Codes. There will also be a heavy offering of frequent faces on the label as well with Justin Jay, Sacha Robotti, Steve Darko, Worthy, and Ardalan taking over the virtual stage. Rising stars are prominently featured on the lineup as well including Mitch Dodge, Dipzy, and Black V Neck, while the b2b featuring MKJAY and Confesser will surely bring the heat.
Related: Want to dive into the history of Dirtybird as they celebrate 15 Years of funky beats and memorable shows? Check out our post that highlights some of their finest moments!
Of course, you simply won't want to miss Claude VonStroke, who will be kicking things off as Santa Claude, along with others including Shiba San, Wyatt Marshall, Rebuke, and Subset as well. If you were looking to spice things up a bit don't sleep on the So So Festive Cooking Show and stay tuned for other additions to the livestream like Yoga as well. Check out the full lineup and set times below, and head over to the Dirtybird Live website to catch all the action!
Tune in to Dirtybird Holidaze on Twitch:
---
Dirtybird Holidaze Livestream – Schedule:
---
Dirtybird Holidaze Livestream – Lineup: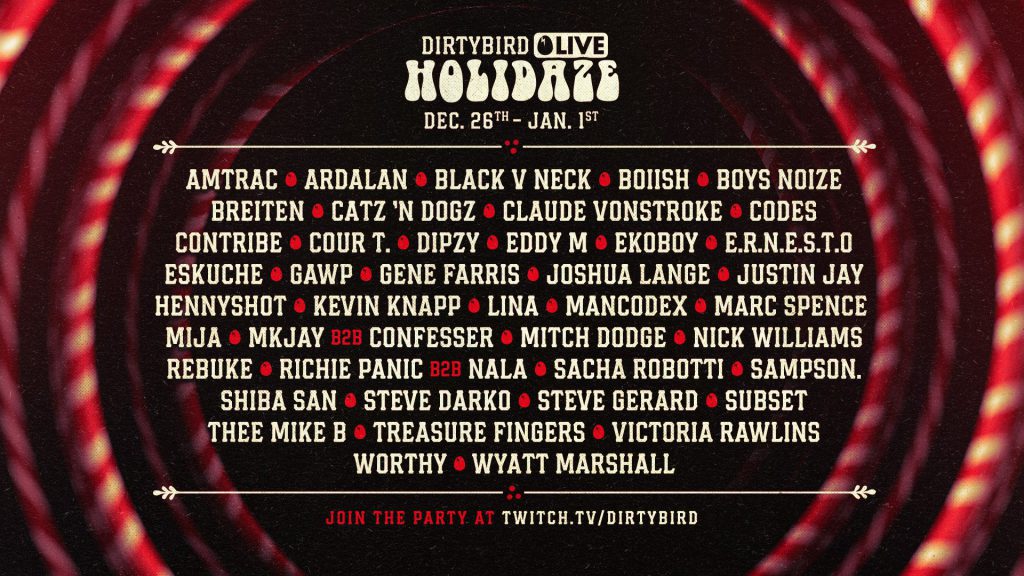 ---
Connect with Dirtybird Records on Social Media:
Website | Facebook | Twitter | Instagram | SoundCloud | YouTube | Twitch