After the launch of her Dance Music Journalism Masterclass, we caught up with Jordan Mafi to chat about her roots in the scene and more!
---
Since first making the transition from being a fan to a member of the music industry, Jordan Mafi has continued to prove that she can tackle and excel at any role that has presented itself to her. Driven by her passion for dance music and rave culture, she's done everything from being a freelance writer and Executive Editor at NEST HQ to Host on Insomniac Radio and Curator at Beatport. Now, after years of hard work, she's offering up the knowledge she's gained for others who aspire to become music journalists.
Launched earlier this month, Jordan Mafi's Dance Music Journalism Masterclass was born out of her desire to help journalists, both new and old alike, grow to become strong writers in the scene. She recognized that courses taught at Universities, including her alma mater San Diego State, did not prepare those who took them properly to tackle topics within the realm of dance music. So, she compiled her invaluable experience to create a one-stop-shop that's a perfect place to start.
Journalism is messy, it's the first rough draft of history, but this masterclass from Jordan Mafi is one that will help steer the growing dance music blog scene in the right direction. Covering everything from the ethics of journalism and writing about music to the art of interviewing and even maintaining a reputation online, it's a course that anyone who intends to have a career as a writer in the music industry should take.
After the release of this masterclass and realizing how immense of an informational treasure trove it is, we reached out to Jordan Mafi to discuss the state of the community, her own beginnings, and the spark behind the course itself. Head over to her website to sign up and take it, and read on for the full conversation with this multi-talented member of the dance music scene.
---
Hi Jordan, thanks so much for taking the time to chat with us today. Before we dig into your more recent projects, I wanted to kick off the conversation by diving into your history a bit. So let's turn back the clock, what (or who) were some of the initial influences that helped foster your passion for raving and dance music?
Thank you so much for having me! Oh man, I was just thinking earlier today about my first rave in 2010. I grew up in San Diego and I loved going to hardcore shows at venues like SOMA and Epicentre but I experienced my first rave when I was 13 at the World Beat Center in Balboa Park — this was back when all-ages events were a thing and I totally understand why these types of events were banned shortly after. [Laughs]
After that first time, I completely fell in love with rave culture and I was dying to attend more events. Events like Scream happened once a month, so I'd spend the entire month in between events making kandi, listening to all the hot new electro house and dubstep, and planning my outfit. I've always been obsessed with music, but those experiences as a teenager are the foundation of my relationship with dance music.
One glance at your socials will tell everyone that you truly love the harder styles of dance music. What is it about the high energy sound that you feel people might be missing out on? Why should dance music lovers listen to hard dance?
Funny enough, I couldn't handle hardcore when I first heard it and I especially never thought I'd be drawn to uptempo hardcore! I like to compare it to eating hot sauce: at first, you can only handle a little bit of heat — that's hardstyle — but then you can work your way up to something hotter — that's raw hardstyle and mainstream hardcore — until you're craving the hottest, most thrilling experience you can possibly get — that's uptempo and terror. I couldn't help myself from escalating to faster beats and higher energy and now, I can't imagine my life without hard dance music.
Whether it's hardstyle or hardcore, there's nothing like the energy of massive kicks on a loud sound system. Some of my favorite memories include dancing under the electric sky at EDC Las Vegas to a sunrise set from DJ Mad Dog and AniMe or even a cheesy happy hardcore set from Darren Styles. One of the most incredible things about the harder styles is the fans: I firmly believe these are the most dedicated people in all of dance music. When I traveled to The Netherlands to attend Dominator, the world's biggest hardcore festival, I was surrounded by hundreds of thousands of hardcore heads with their bodies covered in tattoos of their favorite artists and labels, dancing like it was the end of the world.
Your initial steps on the industry side of the scene came from your work as a promoter, internship as a booking agent, and DJ for KCR at SDSU. Reflecting on those years, could you tell that there was something about being "behind the scenes" that drew you deeper into the industry?
It's kind of crazy to think back to those days because I was painfully young and completely unaware of where my career would take me — I was only 16 when I graduated high school and moved on campus at SDSU which kicked off these other roles you've mentioned. I think at the time, I just so badly wanted to be the person that could make things happen within the music industry. Because of my passion for music, I wanted to be responsible for giving artists their moment to shine and I wanted to show other fans like myself different styles of music that they might just end up loving.
In 2018 you made the jump to OWSLA's media platform NEST HQ and quickly ascended to become their Executive Editor. Although it's now defunct, what was it like working with them during that time? Was there a moment that you can share that sticks with you today as truly special?
I'm still blown away that I managed to make this a part of my life and my career. I was a huge fan of the blog in college, so it was a trip to become a contributing writer and eventually move to Los Angeles to become the editor. Working at NEST HQ was both an exciting and unpredictable experience overall — I had the ability to put on for any artist no matter their genre or popularity and that's what I loved the most about it. Working for somebody like Skrillex was very rewarding and often challenging because I just wanted to do my best to represent the collectives of OWSLA and NEST HQ.
I have a billion silly little stories from our experiences in the office, but one moment I'll never forget is when our whole crew went to Skrillex's notorious Coachella after-party in 2018, just a few weeks after Avicii tragically passed away. Sonny cued up "Levels" and played the whole song in its entirety and a bunch of us cried and hugged each other, realizing that life is really damn short and it's moments like these that we need to cherish forever.
Since then, you've joined Beatport's team as a Curator who tackles numerous genres on the platform. Can you tell us a bit about what your day-to-day looks like? How do you dig for those gems others may have missed?
I am so grateful for my role with Beatport and I love keeping up with so many different genres. I'm the only curator in the United States and I'm also the only woman on my team; my teammates are all based in Berlin and they're fantastic curators!
My day typically starts very early (usually 7 a.m.) with meetings with my team since our time zones are so different. Once I'm all caught up with my teammates, I spend my days updating my genre pages with new content I decided to feature, creating Beatport charts with the best new music or themed playlists, checking in on all my high-priority releases, researching the newest trends in dance music thanks to blogs and Reddit, and creating content for Beatport's Instagram profile. I listen to absolutely everything that gets delivered to my genres on the store no matter how small the artist may be, so I can snag hidden gems like a pro at this point.
Building off that, is the sheer volume of music that drops each week ever overwhelming to you? What are your thoughts on the pace of the scene right now on the release front?
Whew, there is A LOT of music that comes in each and every week. Since I manage eight genres, I receive about 1,000 tracks each week in my genres alone. Things feel overwhelming when it's a particularly weak batch of releases and I can't seem to find a lot of music I like, but that just makes the weeks where so much good music comes in that much better.
I often see artists who release tracks every single week and I can't help but wish I could tell some of these artists to slow down — this scene is certainly not a race (despite the pressures that make it seem that way) and there's no need to stress yourself out by trying to keep up with an aggressive release schedule. True fans will wait for the right music.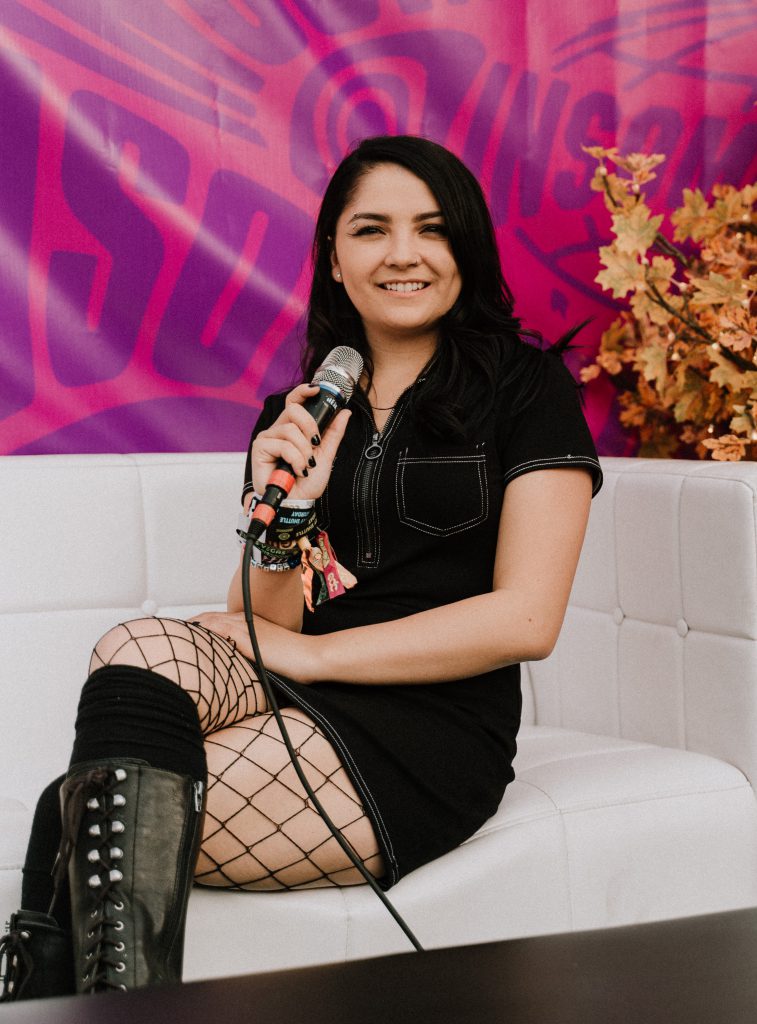 One of the most exciting things that you've shared recently is the launch of your new Masterclass that's focused on Dance Music Journalism. What prompted you to develop this course for aspiring journalists and those looking to hone their skills?
When I started writing this course, I had no idea it was going to be such a big project of mine — it's definitely the biggest project I've ever worked on and it was tough yet rewarding to do it all by myself. I started The Dance Music Journalism Masterclass with the goal of teaching aspiring writers (like myself before I started writing for NEST HQ) all the ins and outs of this industry and how this type of writing is so different from standard journalism. There were so many unspoken rules that I had to learn the hard way throughout my time at NEST and plenty of factors that I didn't even learn in journalism school, so I want to teach these lessons to aspiring dance music writers so they're totally prepared for a lucrative career in dance music journalism.
The Masterclass covers a number of topics ranging from industry terminology and writing about music to tips on how to properly interview artists and maintaining your reputation. If you had to choose one part that you feel is the most important for others to learn, what would it be and why?
It's so hard to choose one part, but I'd have to go with the section about journalism best practices. I know there's a lot of EDM bloggers who don't hold journalism degrees — which is totally fine — and haven't learned about the principles of ethical journalism and what it means to adhere to best practices. I've worked with people in my past who didn't know a thing about journalism ethics and there were plenty of situations where I had to step in to avoid serious consequences. Even though we're writing about dance music and things aren't always controversial, it's important to remember your writing should serve your community in an honest, ethical way.
This year has been filled with ups and downs, yet many of us continue to find new ways to press on in life. How have you stayed motivated throughout the pandemic, and what are some things that you're excited for in 2021?
The only thing that's kept me sane throughout this time is staying busy. On top of my day job, I'm also pursuing my master's degree in music business online through Berklee College of Music and I'm so fascinated with all my classes. In 2021, I'm looking forward to the return of live events and receiving my master's degree at the end of the year — this year has been so exhausting and disappointing in many ways, but I believe all of this heartache will be so worth it once we're back to living our lives as we did before.
I just wanted to say thank you again for diving into your history and current projects with us, it's been such a pleasure. But before we go, I have one final question. Who was the artist that stood out to you the most in 2020 and why?
Thank you so much for giving me the opportunity to talk about my career and my new course — I'm so grateful for this experience. I loved so many artists this year, but I was honestly the most impressed with Timmy Trumpet. He's seriously a jack of all trades when it comes to EDM and knows how to write a hit in so many different genres. In 2020, he experimented with faster tempos (check out "Falling" in collaboration with Nicky Romero) and released quite a lot of hardstyle as well — his music is my absolute guilty pleasure and I can't wait to see him perform when shows come back!
---
Connect with Jordan Mafi on Social Media:
Website | Twitter | Instagram | SoundCloud | LinkedIn