Looking for a great way to start the new year off on the right foot? DESTRUCTO has you covered with a special New Year's Day Sunrise Sermon!
---
Although New Year's Eve and New Year's Day have typically hosted massive festivals and stunning shows in past years, this one will be quite different as the pandemic continues to dominate the country. While a number of socially distanced concepts like drive-in shows have surfaced, many will opt to stay at home to continue to keep themselves and their loved ones safe as cases continue to rise. But just because you're staying in doesn't mean you can't have some fun, and DESTRUCTO is here to help further prove that.
Over the past nine months, DESTRUCTO has continued to prove time and time again that he has the right mindset when it comes to staying safe and keeping people grooving to the beat at the same time. Music heals, after all, and he's guided his faithful following to a state of bliss with a number of Sunrise Sermon sets over the course of the year to keep them satiated in their rave caves. Now, to help kick off 2021, the AMFAMFAMF founder has announced that he'll be playing a Sunrise Sermon set on New Year's Day at 5am PT on January 1.
Previously exclusive to his experiences like Friendship, each edition of the Sunrise Sermon that's happened so far throughout the pandemic has been an absolute treat whether broadcast from his own home on Easter Sunday or out in a remote location in the desert. Filled with funky tunes and house heaters, these sets show off the deep level of curation and passion he has for the scene as he dives deep into dance music. You won't want to miss out on this set if you're looking to start 2021 off on the right foot!
Set your alarms for 5AM PT on January 1 to catch all the action live on DESTRUCTO's Twitch channel so you can start 2021 on the right foot with some groovy tunes!
Tune in to DESTRUCTO's Twitch Channel to catch the Sunrise Sermon:
---
DESTRUCTO's New Year's Day Sunrise Sermon: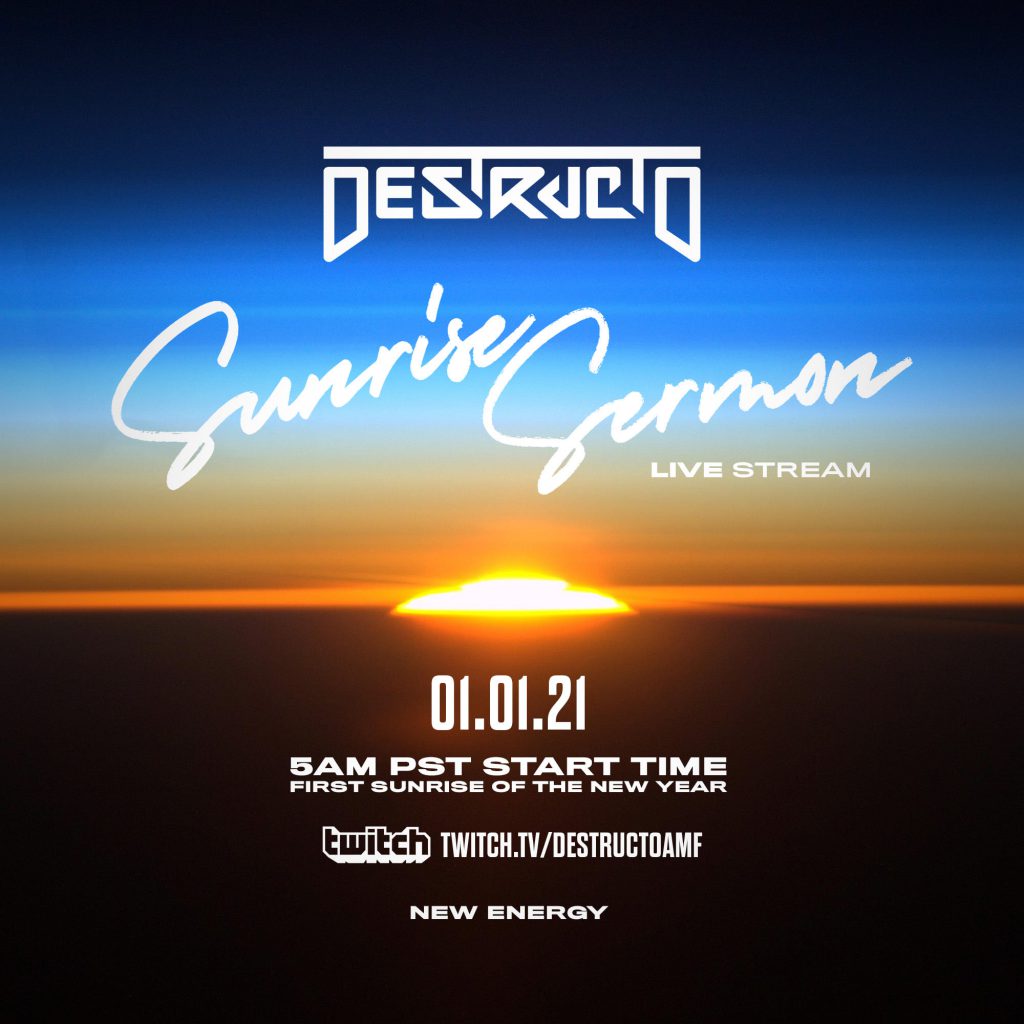 ---
Connect with DESTRUCTO on Social Media:
Website | Facebook | Twitter | Instagram | SoundCloud | YouTube