Gary Richards, aka DESTRUCTO, will be heading somewhere in the desert this weekend for the latest virtual edition of his Sunrise Sermon!
---
AMFAMFAMF Founder and ShipFam's fearless leader DESTRUCTO has helped keep the minds of many off the current, fairly depressing state of the world. Whether through his appearances during livestreams or new tunes like "This Is Our Home" with MISINGO and "Guest List" with Bruno Furlan and Dances with White Girls, his fans have danced away to his beats in the comfort of their own rave caves.
One of the things that also emerged over the past few months has been the continuation of his Sunrise Sermon sets in the virtual realm. A fan-favorite performance that takes place just before the sun pokes its head on the horizon, these special sets from DESTRUCTO have typically taken place at festivals like Shambhala or his very own FRIENDSHIP. During quarantine, though, they've taken place in his home and have even included some special guests like Boys Noize, Bob Moses, and Dita Von Teese.
Having already garnered thousands of views from his fervent following, DESTRUCTO has now announced the latest in the series. That's right, he'll be heading out to the depths of the California desert on August 9 to play from a remote location and give fans the spiritual experience they desire. Expect a set filled with highly curated tunes and some surprises as well throughout the course of its three-hour runtime because this is a livestream you simply won't want to miss.
Set your alarms for 4AM PDT on August 9 to catch all the action live on DESTRUCTO's Twitch channel and don't fret if you miss out because he'll be replaying it later that day from 10AM – 1PM PDT as well.
Tune in to DESTRUCTO's Twitch Channel to catch the Sunrise Sermon:
---
Destructo Sunrise Sermon – August 9: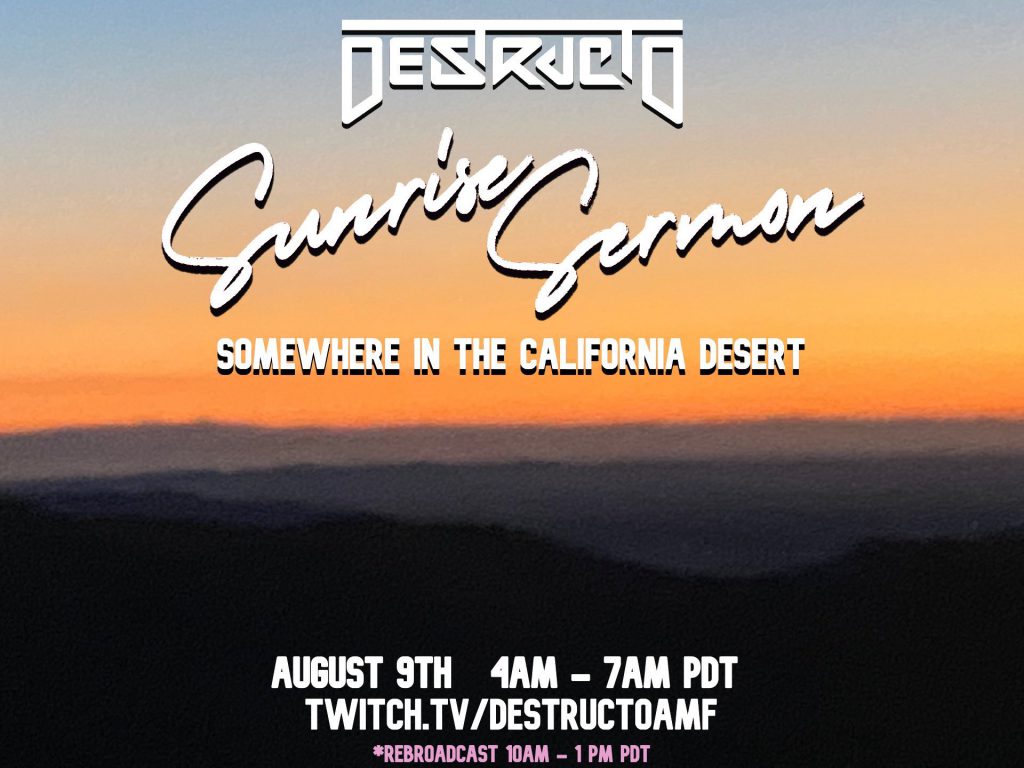 ---
Connect with DESTRUCTO on Social Media:
Website | Facebook | Twitter | Instagram | SoundCloud | YouTube