Accessible Festivals is raising funds with a virtual auction to support its mission of providing outreach to the disabled community.
---
Music festivals and live events should be accessible to anyone who wants to attend, and that's the exact mission that Accessible Festivals has carried with it since the non-profit formed. Providing outreach to the disabled community, they've worked hand in hand with industry leaders like Goldenvoice and Insomniac since 2014 to create an inclusive environment at festivals like Coachella and EDC Las Vegas while also hosting their own Inclusion Festival as well.
The most important aspect that Accessible Festivals and their team brings to the festival community is a roadmap for accessibility, which unfortunately is something that many companies have overlooked over the years. The resources that they provide are invaluable, but with the shifting landscape of the festival scene due to COVID-19, they need your help to continue that mission as access and inclusion for all is redefined.
Looking to raise funds and educate those who might be curious as to how they can make a difference, Accessible Festivals announced a series of virtual events and an online auction. From December 10-17, they will host workshops, conversations, and music experiences that can be found on Facebook and YouTube that dive into topics ranging from Improvisational Yoga Flow and being patient to a chat with Accessible Festival's founder Austin Whitney.
The ongoing live auction that's taking place on Bidding Owl features some fantastic items as well that those looking to give back can bid on. Auction items include passes to festivals like EDC Las Vegas, Lost Lands, Coachella, and Dirtybird Campout, a custom, hand-made studio desk from Lizaola Crafted, merch bundles, self-leadership coaching classes, and plenty more.
There's no better time to give back than during the holiday season, and the EDM Identity Team is in full support of Accessible Festivals and their mission. Check out the story behind how this non-profit came to be on YouTube and then head over to their website for more details and access to the auction.
Watch The Story of Accessible Festivals on YouTube:
---
Virtual Events Schedule: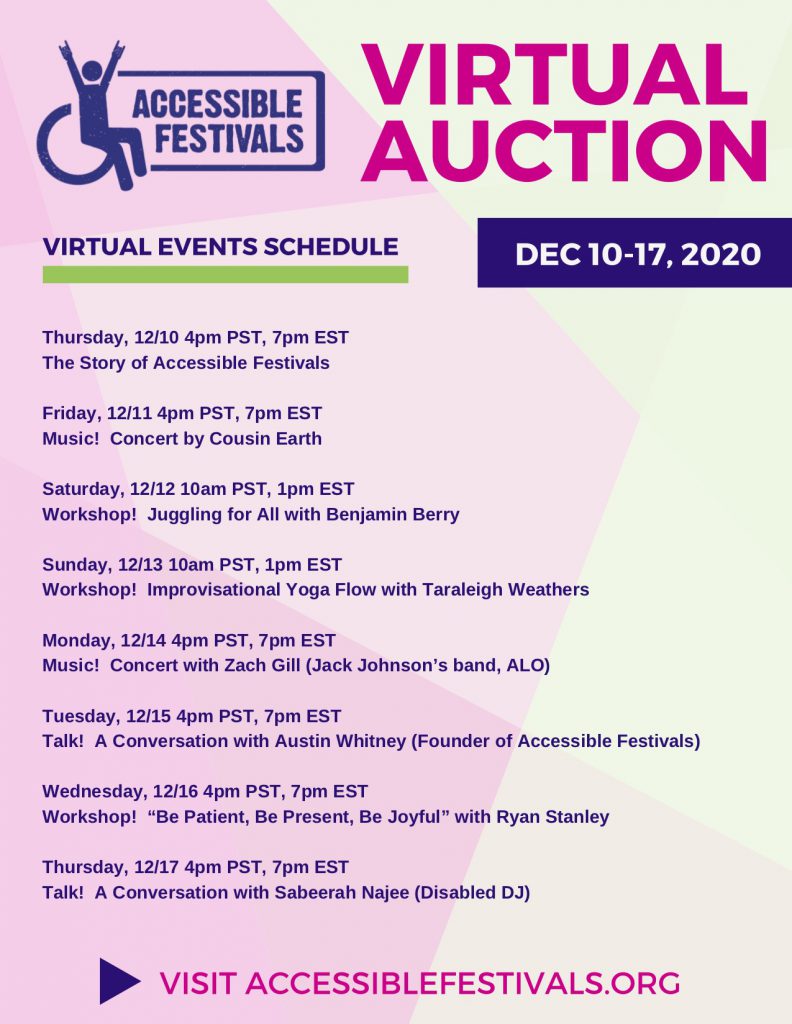 ---
Connect with Accessible Festivals on Social Media: