After the release of "Light Up Your Life," we caught up with LNY TNZ to chat about finding creativity in 2020, the FVCK GENRES label, and more!
---
Since first breaking onto the scene, LNY TNZ has solidified time and time again that he's a force to be reckoned with. The Dutch powerhouse has built up a massive audience that draws thousands to catch performances at iconic festivals including Defqon.1, Tomorrowland, and EDC Las Vegas. And he further continues to push the envelope on his label imprint, FVCK GENRES.
Even though 2020 hasn't gone according to anyone's plans, this year has been incredible for LNY TNZ. Throughout the year he's dropped four new EPs for hard dance lovers to feast their ears on with a number of singles as well. For his most recent release, he teamed up with Nyanda for "Light Up Your Life" which landed on growing American label Basscon Records and gave fans a much-needed boost to carry them to the end of the year.
Looking to gain more insight on "Light Up Your Life," his production process, how he's battled against the uncertainty of the year, and the growing FVCK GENRES imprint, we simply needed to chat with LNY TNZ. So listen to the track below or on your favorite platform, and read on for the conversation to get a deeper look at this heavy hitter in the hard dance scene!
Stream LNY TNZ & Nyanda – Light Up Your Life on Spotify:
---
Hey, LNY TNZ. Thanks for taking the time to sit and chat with us. You've had quite the year with four EP releases and six singles, and the latest, "Light Up Your Life," just landed on Basscon Records. Can you share what the production process was like for this release?
So basically, I went to Miami last November last year to meet up with the Kemist and Nyanda. The Kemist and I and are both from Jamaica, living in Miami. I did a few releases with The Kemist – "Fired Up," "We Don't Care," "Rebels of a Nation" – and the latest one was with Da Tweekaz on my FVCK GENRES label, "We Made It." I also recorded a bunch of vocals with Nyanda, and finally, I had some time during the pandemic to work on the track with the vocals.
We wrote the track in Miami, it was super cool, [there was] a great vibe with Nyanda. During the pandemic, I was like wow these vocals, they were always stuck in my head, even after not hearing them for months or weeks. Sometimes I just woke up in the morning, and I had the melody stuck in my head with beautiful vocals. I thought to myself, "I have to work on this because we have a diamond here."
I made three drops, and for two of them I thought they were awesome, but I couldn't pick. So I did an Instagram story for the fans, I said "Hey guys, I'm working on a new track. I have two different melodies for the drop. Please help me decide which one I'm going to use for the official release." And the fans picked the melody we have now, so I decided to go with the melody, and now it's here.
Throughout the year, you've solidified your versatility as a producer releasing everything from hardstyle to hard psy to future bass. What influences led to your dynamic sound, and when you're sitting down in the studio do you have a specific style in mind you want to layer in?
For me, my statement is "fuck genres" because I think it's all about music. It's about a feeling and it's not about thinking inside the box. So that's why I try to combine different elements from pop music, classical music, reggae music, and any music really. I like energetic drops, you know?
So yeah, is it an energetic drop? Is it hardstyle? Maybe if it's 150 BPM and the kicks are kind of wrong. But I like to make a pop song and then flip it into an energetic pop song which I could play at festivals and where the crowd is able to do a mosh pit. I noticed that a lot of girls like to sing along with the vocals so I think it's a perfect combination. The harder, energetic drops with poppy focus. So do I have a specific style in mind? I just want it to be something different and not like a typical hardstyle song or a typical pop song. That's why I like to cross over sounds.
During the pandemic, many artists have expressed creative struggles in the studio and a lack of inspiration. How did the stay-at-home orders affect your production process and passion for electronic music?
I was very lucky because at the beginning of this year in January and February, I was in Nashville and in Los Angeles, and I was writing a lot of music there. So I wrote, I think, 15 songs in two weeks. After LA I flew to Denmark and I also wrote some music there, like five tracks. So then when the pandemic kicked in, I was sitting on 20 demos. You know, full-on choruses with verses for actual songs. I just had to do the final production and sound design and everything.
All the creative, or most of the creative process, had been done already because the writing process was done already and recorded. I just had to do the final production process, which was really fun. I took my time to experiment and try some new sounds but still kept it close to the LNY TNZ sound. So, I did not have any struggles during the pandemic with a lack of inspiration. Basically, I'm finishing up a few of the tracks I wrote at the beginning of this year and I'm going to start doing new writing sessions already next month for new songs. Because of this, I've been super productive.
I'm happy I was able to be productive, and it's just a mental thing. You have to stay positive. The situation is what it is. We can't really change anything about us. We have to listen, unfortunately, to the government. You can laugh, you can cry about the whole situation, but it's not gonna change. We just have to stay positive. Hopefully, there's a vaccine that's going to help us soon and things can go back to normal again, hopefully as soon as possible.
You've worked with many talented musicians this year including Da Tweekaz, Ruthless, and Crude Intentions. Who is left on your list of dream artists to collaborate with?
So that's a good question. I've worked with a lot of artists this year, also with Mariana BO from Mexico, a popular, popular EDM DJ. She is in the DJ Mag Top 100 this year. That's good for her and super cool. I like to spread my music worldwide, so I work with international artists from different countries. In the past, I did a track with Waka Flocka and Diplo, which was super cool. I'd like to do some more stuff with maybe hip-hop artists, more reggae artists, so that's something I'm really open to. It's not like there's an artist I specifically want to work with, it's like whoever I feel like. If I like the music of someone and the vibe and the energy, then I'm always down to make something crazy and unexpected. Something new and fresh.
Here in the US producers mix hardstyle with genres like dubstep, trap, or drum and bass. However, it's controversial to some of the purist hardstyle fans. Considering that your mission is to say "fuck genres" and make whatever you want, what is your opinion on the growing hybrid hard dance scene in North America?
In my opinion, the typical fan, or most of the hardstyle fans in Holland, have tunnel vision. It's hard to convince them. If you try to implement different sounds in a hard subject, they're like, "Oh this is not hardstyle. This is like Mickey Mouse hardstyle or whatever, like baby hardstyle." They're really not so open-minded which I think is sad, because it's about music. It's not about a genre, or a BPM, or a typical kick or whatever. It's about combining different instruments, different sounds, elements, different anything, and trying to come up with something new and creative.
But what I really noticed with my music is that when I post something online, for example, on YouTube, I see a lot of comments from people who are not into hardstyle at all. They say, "Hey, I'm really not into hardstyle, but after listening to your music, I'm kind of open to it or appreciate it more." They get interested in it. So that's also my goal, you know? To have non-hardstyle people or people who don't have affection with hardstyle get interested. I think I'm doing great with that. Let's continue this and make the hardstyle community even bigger!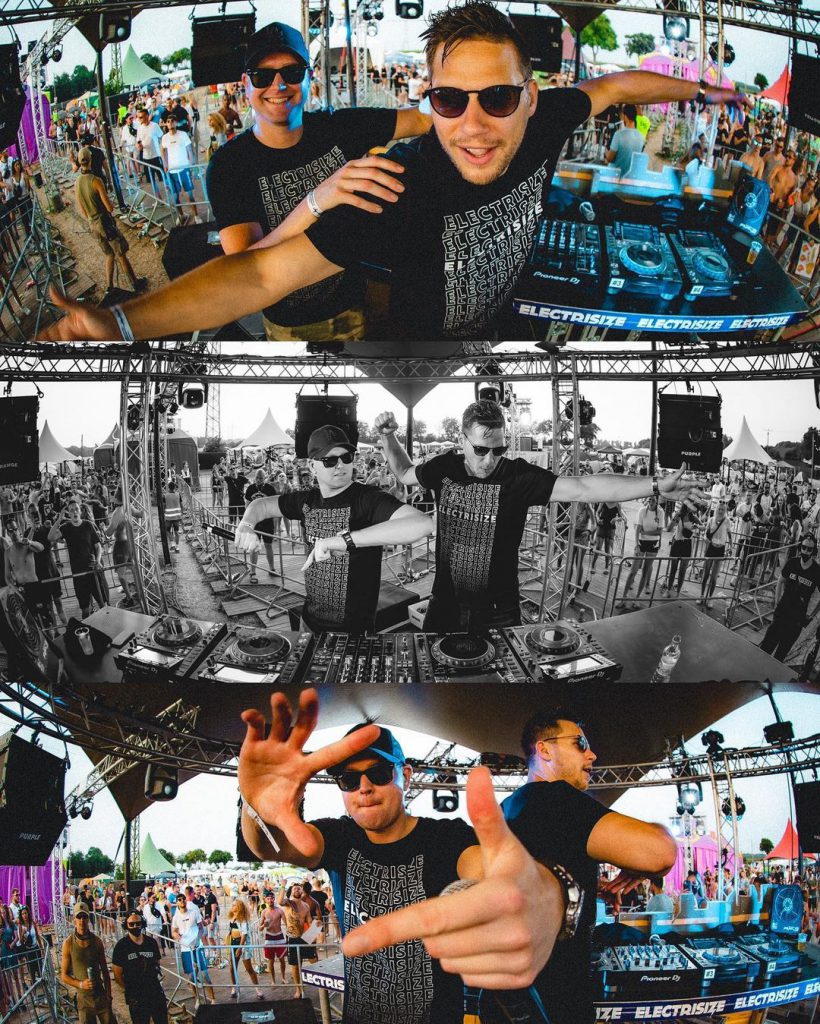 In July, you were finally able to get back on the decks with MC Jeff in Germany for Electrisize Festival. How did it feel finally being able to play in front of a live crowd again?
In Germany, they tried something different. There was a stage in the middle of big fields and six sections divided with 100 people allowed in each section. There were also six different entries and you were not allowed to cross. You were only allowed to be in one section so if something happened with the virus, they knew that there were only 100 people that could be infected.
It was crazy to be back on stage. Jeff and I, in the beginning, were super nervous because we were like "Hey this is crazy. It's been so long!" I was really, really happy to play a lot of new music which I had never played before. So that was a good tryout and we had a first reaction. It was awesome, so that gives me a really good feeling.
I wish more events were able to do this like how they did it at the Electrisize Festival. I don't know about legal stuff or governments but in my opinion, it was a really cool and safe way to organize something at least. I don't know if it was profitable for the promoter, but at least everyone had fun! It was something good in these crazy times, so I was really happy I was able to play three out of the four weekends, and hopefully, we get back to normal ASAP.
What piece of advice can you give to upcoming producers looking to make their way into the music scene?
I would say just never give up. Try to share your music as much as you can on SoundCloud, share it with friends, and then send it out to people. If you have any questions about music, there are tons of tutorials on YouTube to make your sound or your skills even better. Just don't give up. It's a long way but it's not impossible. And when you have that one track everybody likes, you can make even bigger steps. So don't give up and stay positive.
Finally, as the final month of the year is nearly upon us, what goals do you have for 2021?
My goals are just to stay positive and make more music, even more than this year. It's funny. This year was my most productive year ever. I released so much music. EPs and singles on my own label, FVCK GENRES, and different labels and the Basscon Records label. So for me, the goal is to release even more music and do different, crazy, unexpected collaborations. And I hope to be back at EDC and Basscon Wasteland soon. Thank guys, and thank you for having me. I hope to see you soon.
---
Follow LNY TNZ on Social Media:
Website | Facebook | Twitter | Instagram | SoundCloud | YouTube | Spotify