DropTalk shows the world what the underground bass scene is all about with the Shallow Grave EP. Make sure you turn this one up real loud!
---
DropTalk (half of the Denver duo Creature) is an absolute wizard in the studio who has consistently put out some of the thickest hybrid trap and experimental bangers like "Clap That" and "SNAKES." And if you are lucky enough to live in Colorado, you have probably caught his sets at The Black Box or producer showcase events for Sub.Mission. Now, he's proven that he deserves all the recognition he's received with his latest EP on Mean Mug Music, Shallow Grave, that's some of his best work yet.
The artists that have found a home on Mean Mug Music are always so fresh and different, and DropTalk is the perfect example of that. You can really hear how much he's excelled with his sound design over these last few years on Shallow Grave, as the three tracks on this EP all stand out from one another. Hopefully, this release also marks the beginning of some big things for the DropTalk project, so if this if you first time hearing of him, we hope it makes you a fan.
Listen to the Shallow Grave EP on your preferred platform, let us know which track was your favorite, and read on for my review of this epic bass-fueled release.
Stream DropTalk – Shallow Grave on Spotify:
---
Shallow Grave starts off smooth and slow with "The Dealer" but towards the end of the song he changes things up a bit with a nice little surprise.
DropTalk eased us into things with "The Dealer," starting off with some slower trap beats. As soon as the drop hit I felt like I was being pulled back in a slingshot and shot off into a stack of Hennessey's. The bassline in this was sticky like a jar of honey and the kicks were at the right level. In one of the last drops, he even switched it up and threw a little halftime goodness in there before going back to the original. I couldn't help but bob my head and whip my hair around to this, and now I just want to hear it on a proper system.
"Shallow Grave" gave me goosebumps. I loved that DropTalk had a slower BPM on this one, especially with the eerie vocal samples that you hear throughout it. It made for a solid deep, dark, and dangerous type of tune. This is the perfect track to hear late at night at a festival, dancing amongst the trees and getting down in the dirt. The drums and synths in this one had me feeling like my brain was being rolled out like a pile of dough. This was my favorite track of Shallow Grave, the slow deep bass hits my soul just right every time!
Bringing this masterpiece together is "Lesion," where he adds some very nice vocals that pair perfectly with the heavy tune.
As soon as I heard "Lesion" I felt like I was back at Electric Forest getting down at the Mean Mug stage as the rain came down and the sun came up. I love the male vocals that DropTalk placed throughout parts of the track, they just give it that extra bit of spice. Each drop hits hard and is paired with synths and spacey wobbles that pull you back and slingshot you back into "Lesion."
Each track on the Shallow Grave EP stands out in its own way and highlight new sounds from DropTalk. I know I'm very excited to see what is next on his journey, and hopefully, that means more releases on Mean Mug Music in the future as well.
---
DropTalk – Shallow Grave – Tracklist:
The Dealer
Shallow Grave
Lesion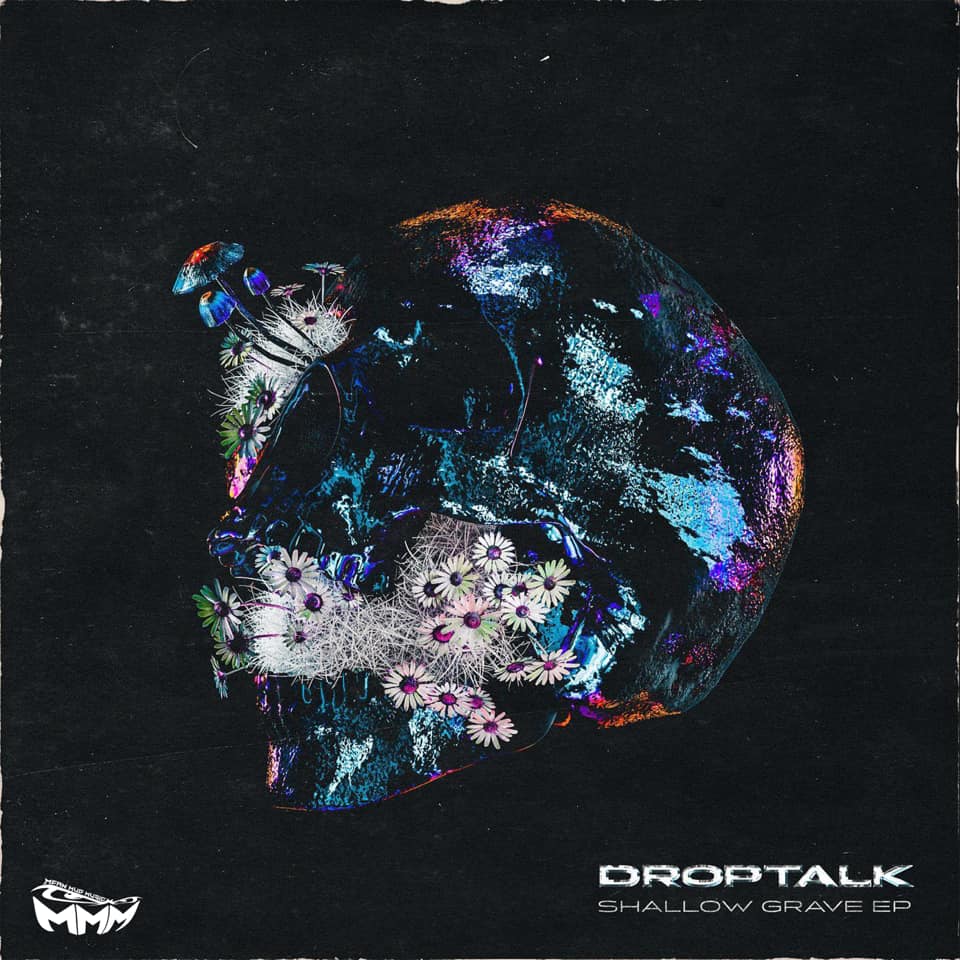 ---
Follow DropTalk on Social Media:
Facebook | Twitter | Instagram | SoundCloud | YouTube | Spotify