Couldn't get enough of the last EP from Supertaste? You're in luck! They've delivered five fresh remixes of the tracks off Breakup Disco.
---
The Brooklyn-based duo Supertaste is still feeling the praise from their recent release of Breakup Disco EP. Their feel-good, retro sound quickly landed spots in playlists curated by tastemakers and fellow artists alike as they gave listeners around the world something fun to dance their worries away to. Now, with a keen ear for a good beat and groovy flare of their own, Supertaste has looked to some fresh faces to put their spin on the tracks from the EP!
The remix pack of Breakup Disco includes five reworked versions from artists who reimagined the tracks and morphed them into their own unique style. Remixers include acclaimed producers QRTR (Dome of Doom), Devon James (RVDIOVCTIVE), and Hundreds Thousands, as well as powerful budding artists coten and All Smiles.
QRTR's remix of "Comedown" breathes synth and choppy reverb into this disco groove while Hundred Thousands pulls back the reins with a serene version perfect for the early morning hours. "When The Lights Go Out" is given a quicker pace with Devon James' touch of house to put your feet in a frenzy as well. All Smiles and coten each take a turn at remixing Supertaste's "Got Me Loose." Both artists retain the summery melody of the track while All Smiles focuses on the funkier side of the spectrum while coten finesses the beat to make the track even more memorable.
The original Breakup Disco EP gave us the soundtrack to mend a broken heart, and this remix album is the closure we've been looking for. Listen to all of the remixes now on all platforms and tell us which one stands out most to you in the comments below!
Stream Supertaste – Breakup Disco EP (Remixes) on Spotify:
---
Supertaste – Breakup Disco EP (Remixes) – Tracklist:
Comedown – QRTR Remix
When The Lights Go Out – Devon James Remix
Got Me Loose – coten Remix
Comedown – Hundred Thousands 6am Version
Got Me Loose – All Smiles Remix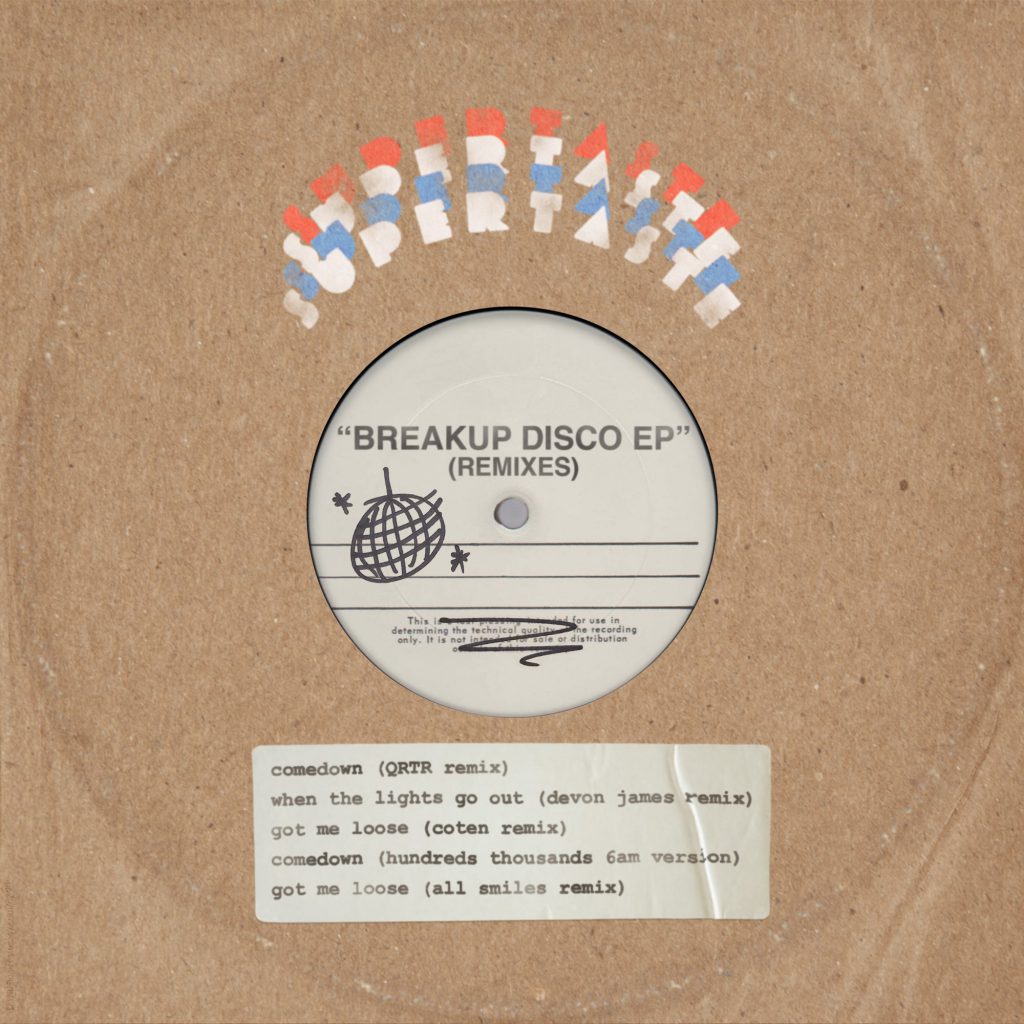 ---
Follow Supertaste on Social Media:
Website | Facebook | Twitter | Instagram | SoundCloud