Stay in the know ahead of the ReVibe Wellness Retreat this weekend by checking out the set times, map, and other essential info!
---
The time has almost come for ReVibe Wellness Retreat, the first-of-its-kind vertical, socially distant music festival. Set to take place over Halloween weekend at the Hilton DoubleTree Hotel in Myrtle Beach, the festival will feature two days of music, yoga, and mindfulness between two stages that guests can enjoy from the safety of their own balconies. In addition to the ReVibe festivities, guests will have beach access to soak up the sun and spookiness even more!
Hotel packages and single-day passes are still available for both the Frequency and Vibe stages. Ticket holders will have the option to purchase a Frequency Booth or Vibe Booth that will provide an opportunity for guests to view the action from socially distanced platforms near the stages. Single-day passes do NOT include a hotel room – these ticket holders will be assigned booths.
With an exciting weekend ahead, we've compiled all the essential information you need to know before you go. Check out our playlists highlighting each stage, and read on for the set times, venue map, and more!
ReVibe Wellness Retreat Essential Info:
Dates: October 30-31, 2020
Hours: Oct. 30 @ 12pm EDT – Nov. 1 @ 12pm EDT
Venue Address: 3200 South Ocean Blvd Myrtle Beach, SC 29577
Tickets: Purchase HERE
Facebook Event Page: RSVP HERE
---
Check-In and Check-Out
Ticket holders will receive an email with a form to fill out preferred check-in/out times. Book through the hotel if you would like to check-in early (Thursday) or check-out late (Monday). If you are planning on doing so, please note that when filling out the form sent out by the Revibe team. One person may check-in for your group. Make sure to grab the other members of your group's credentials at check-in and coordinate a location outside the hotel to meet up with your Vibe Tribe and distribute the credentials to each member. There will be no replacements for lost credentials.
---
ReVibe x Aftershock Food Drive
ReVibe and AfterShock have teamed up to host a food drive benefiting LowCountry Food Bank. Attendees can bring either food or monetary donations to enter a chance to win a Sweets Kendama signed by each headlining artist! Winners will be chosen at the event, and the prize will be delivered to their rooms. Give back to the local community of Myrtle Beach and bring your non-perishable food items & donations!
---
ReVibe Wellness Retreat 2020 Set Times:
---
ReVibe Wellness Retreat Venue Map: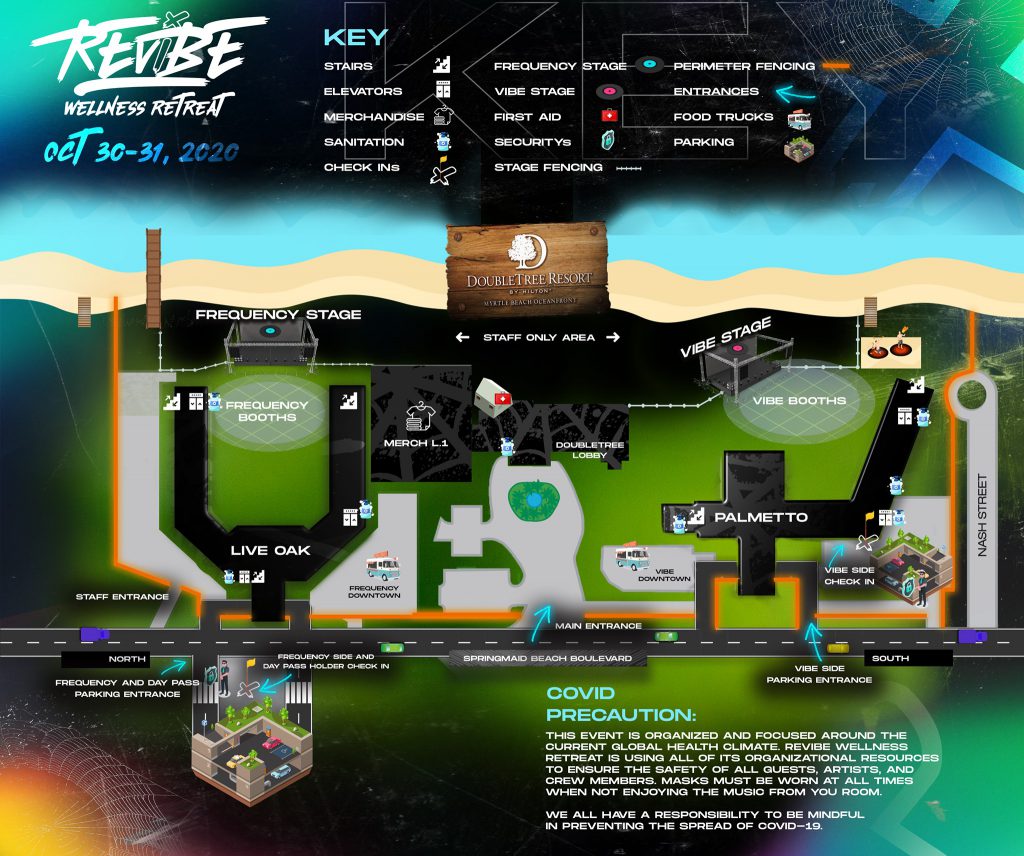 ---
COVID-19 Rules and Regulations
The ReVibe team has gone above and beyond to implement precautionary measures that will ensure the safety of guests during the festival. The festival will be entirely socially distanced and CDC-compliant – guests are expected to abide by the rules as follows:
When outside of your hotel room, a mask MUST be worn properly (covering your nose and mouth) at ALL times.
Guests are not allowed in each other's rooms. There will be security on each floor, ensuring you are getting off on the floor you are supposed to be on and enforcing the strict no room hopping policy. There is a no-tolerance policy as security will be stopping anyone seen trying to go from one room to another!
When moving through common areas, please respect the directional arrows and follow the traffic grid while maintaining 6 feet between other Vibe Tribes.
Sanitize/Wash your hands often!
If your crew purchased a Vibe/Frequency Booth, your Booth is reserved for those in your Vibe Tribe ONLY. No extra guests, no exceptions.
All guests are encouraged to take a COVID-19 test the week leading up to the event. If you're feeling sick, please do NOT come. Safety is the top priority and ReVibe will ensure an easy transferable ticket process if you need to transfer your ticket to a friend.
Temperature checks will be taken upon check-in and anyone exhibiting symptoms of COVID will be turned away.
All guests are required to adhere to the DoubleTree Hilton's hotel standards and policies on top of all ReVibe rules and regulations.
---
ReVibe Wellness Retreat 2020 Do's & Don'ts:
Prohibited Items
NO illegal substances or paraphernalia 
NO weapons of any kind
NO imitation weapons of any kind, e.g guns, knives, swords 
NO Liquor; Only 1 case of beer or 1 box of wine permitted. See "Beach Alcohol Policy" for more info
NO glass of any kind except handheld mirrors under 12"x12." No standup mirrors. 
NO glass vape juice bottles, plastic only. 
NO Glass lighting. Plastic tipped Christmas-style lights OK. 
NO pepper spray or mace 
NO fireworks, luminaries (sky lanterns), explosives or unsanctioned fire performance of any kind
NO inflatable furniture (Including those that do not require an air pump) 
NO tanks of compressed air, helium, nitrous, etc 
NO professional cameras/GoPro attachments/audio recording/video equipment. Point and shoot cameras only, no flash photography. No selfie sticks 
NO air horns or noisemakers 
NO laser pointers 
NO drones
NO sharpies, markers, paint pens or glitter (BIODEGRADABLE GLITTER ENCOURAGED!) 
NO chains or chain wallets
NO large purses or bags outside of your room once you have arrived
NO beach balls 
NO strollers
NO glow sticks
NO totems 
NO decorating the balcony rail (Nothing is allow to be attached to the balcony rail)
NO American Indian headdresses
NO threatening signs or apparel
NO unauthorized soliciting, advertising, handbills, posters, product sampling, giveaways, etc.
Permitted Items
YES hand sanitizer/disinfectant wipes 
YES reusable water bottles (empty) 
YES hydration packs/camelbaks (empty) 
YES single-compartment backpacks. Any larger bags should remain in your room until departure 
YES small purses not to exceed 13" x 15"
YES Fanny packs UP TO 16.5" x 6.5" x 4"
YES small blankets and beach towels 
YES chairs
YES gum 
YES ear plugs 
YES makeup 
YES chapstick and lip balm 
YES lotion/bug spray/sunscreen (sealed) 
YES eye drops (sealed/unopened)
YES wet wipes 
YES feminine hygiene items (sealed/unopened)
YES e-cig/tobacco vapes and mods 
YES disposable cameras 
YES mobile phones, external batteries and chargers 
YES kandi 
YES costumes are encouraged! Full face Halloween masks are welcomed, but for safety reasons, must be removed when walking throughout the hotel and at all security checkpoints.
YES #ReVibeYourRoom – but be respectful of the Hilton!
Room Decor + Costumes
Guests should feel free to get creative and decorate their hotel rooms to emulate that campsite feeling! Room decor, including tapestries, string lights, crystals, etc. is permitted as long as it is respectful of the Hilton and does not damage any property. See Prohibited Items above for room decor to avoid bringing.
Costumes are encouraged, provided that guests are mindful and respectful with clothing choices. 
---
Connect with Revibe Wellness Retreat on Social Media:
Website | Facebook | Twitter | Instagram | Facebook Event Page