1001Tracklists is celebrating the Top 101 Producers of 2020 in style with a massive party on Minecraft featuring fantastic artists!
---
As the world's leading database for DJ Tracklists, 1001Tracklists has become an invaluable source for anyone who loves dance music and is on the hunt for songs artists play during their sets. But aside from helping thousands of electronic music lovers find "that one song they need to hear again," they also compile annual rankings of the top artists in the scene.
Although the pandemic has altered the plans of many in the music industry, 1001Tracklists has continued on with their mission and looked to new ways to make this year's ranking even more special. That's right, after unveiling the 2020 list on October 28, they'll be taking over the virtual realm with a 10-hour showcase on October 30 that you simply won't want to miss!
Hosted on Minecraft, with a simultaneous broadcast on Twitch, the Top 101 Producers showcase will feature a bevy of top artists in the scene who will be throwing down epic sets to dance the day away while listening to. Massive names that stick out immediately on the bill include the likes of ARTY, Malaa, Oliver Heldens, Nora En Pure, and Nicky Romero, but that's just the tip of the iceberg.
Performances that will surely hit the spot will come from house artists like Noizu, Illyus & Barrientos, Low Steppa, and OFFAIAH, while Tinlicker, Matt Fax, Yotto, and Qrion will be throwing down immersive progressive beats to get lost in. Giuseppe Ottaviani will satiate the cravings for trance while Nitti Gritti is sure to bring his dynamic sound to the virtual stage as well. Check out the full lineup below for more surprises!
RSVP now for your chance to win some THX gear and access the party. The show starts on Friday, October 30 at 9am PT. And if you can't attend on Minecraft, head over to 1001Tracklists' Twitch Channel and follow them so you know the moment the stream starts!
---
1001Tracklists' Top 101 Producers Minecraft Celebration Lineup: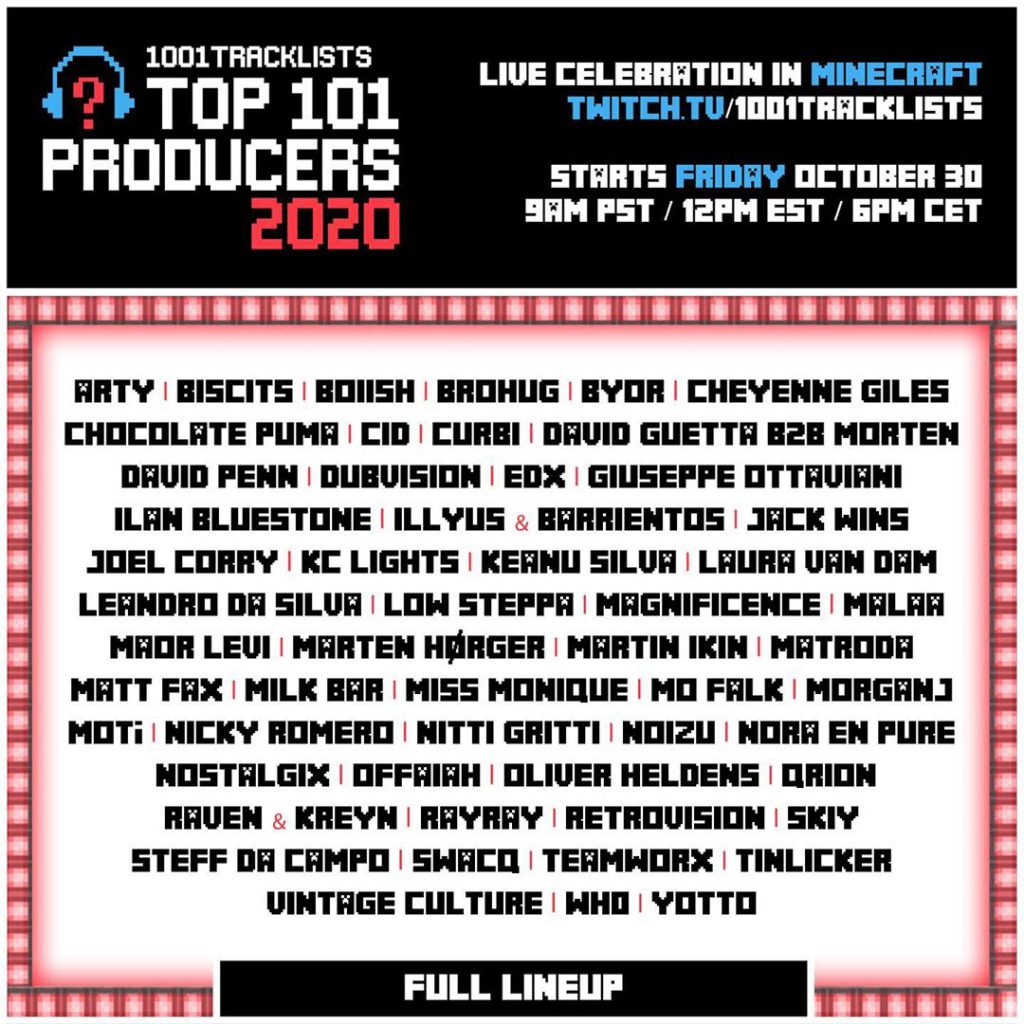 ---
Lineup By Artist:
Arty
Biscits
Boiish
BROHUG
BYOR
Cheyenne Giles
Chocolate Puma
CID
Curbi
David Guetta b2b MORTEN
David Penn
DubVision
EDX
Giuseppe Ottaviani
ilan Bluestone
Illyus & Barrientos
Jack Wins
Joel Corry
KC Lights
Keanu Silva
Laura Van Dam
Leandro Da Silva
Low Steppa
Magnificence
Malaa
Maor Levi
Marten Horger
Martin Ikin
Matroda
Matt Fax
Milk Bar
Miss Monique
Mo Falk
MorganJ
MOTi
Nicky Romero
Nitti Gritti
Noizu
Nora En Pure
Notalgix
OFFAIAH
Oliver Heldens
Qrion
Raven & Kreyn
RayRay
Retrovision
Skiy
Steff Da Campo
Swacq
Teamworx
Tinlicker
Vintage Culture
WHO
Yotto
---
Follow 1001Tracklists on Social Media:
Website | Facebook | Twitter | Instagram | SoundCloud | Twitch