The Psycho Disco crew has curated eight fresh house tunes that will teach anyone who tunes in a thing or two on PSYCH 404.
---
Since its inception, Treasure Fingers' Psycho Disco imprint has become a welcome home for some of the freshest sounds and styles in the house music scene. In fact, the Atlanta-based label is one that constantly shows they have their finger on the pulse by dropping massive releases from established artists and rising stars alike that will make you break a sweat wherever you might be listening from. Now, they've brought even more unique tracks to the forefront with the release of PSYCH 404.
Out now for your listening pleasure, PSYCH 404 features eight new tracks that will surely be rocking bodies in no time at all. Kicking off the compilation is rrotik with a remix of Treasure Fingers' hit tune "Bodyrocking," bringing it up to speed to 2020 while layering in spacey sounds and delivering a dominating drop along the way. Hunter Reid and Dipzy take the reins next with minimal sounds and a chopped vocal on "Rat Scat" which is a true shuffler's delight.
If you were looking to put your mind in the "Zone" then who better than Ocean Roulette to help you do so. He puts on a clinic with his latest tech house banger that features a wonky yet hypnotic beat that further pushes the boundaries of his sound. Up next is one of the personal standouts on the compilation, "24k" by E.R.N.E.S.T.O and Datatab. It takes listeners straight to the underground with acid tones that will make you wonder if you're still in your bedroom or better yet, where your mind has disappeared to.
Another stunner on the compilation comes from Contribe with "Most Basic," but don't let the title fool you because this tune is certainly not ordinary by any means. This track is perfect for those peak hours when the energy is driving your feet forward with its high pitched tones and distorted vocals. MISS DRE then turns it down ever so slightly with "Give It To Ya," featuring a fantastic bassline that will have your heartbeat thudding right along with it.
The penultimate track on the compilation comes from Teknicoz and Cody G who will definitely be "Gettin'" some love from those who dig tribal-infused tunes. The drums on this track are perfect for those dance parties in the jungle while its drop is a mind-melter for the ages. And Psycho Disco saved one of their best for last as Fantom Freq and KnightBlock show off their "Troublemaker" side with one of the best house tunes I've heard all year. Its booming beat was clearly made to energize your soul and bust a move on any makeshift dancefloor.
Listen to PSYCH 404 on Spotify or your preferred platform, and let us know which track you fell in love with the most in the comments below!
Stream PSYCH 404 on Spotify:
---
PSYCH 404 – Tracklist:
Treasure Fingers – Bodyrocking (rrotik 2020 Remix)
Hunter Reid, Dipzy – Rat Scat
Ocean Roulette – Zone
E.R.N.E.S.T.O, Data Tab – 24k
Contribe – Most Basic
MISS DRE – Give It To Ya
Teknicoz, Cody G – Gettin'
Fantom Freq, KnightBlock – Troublemaker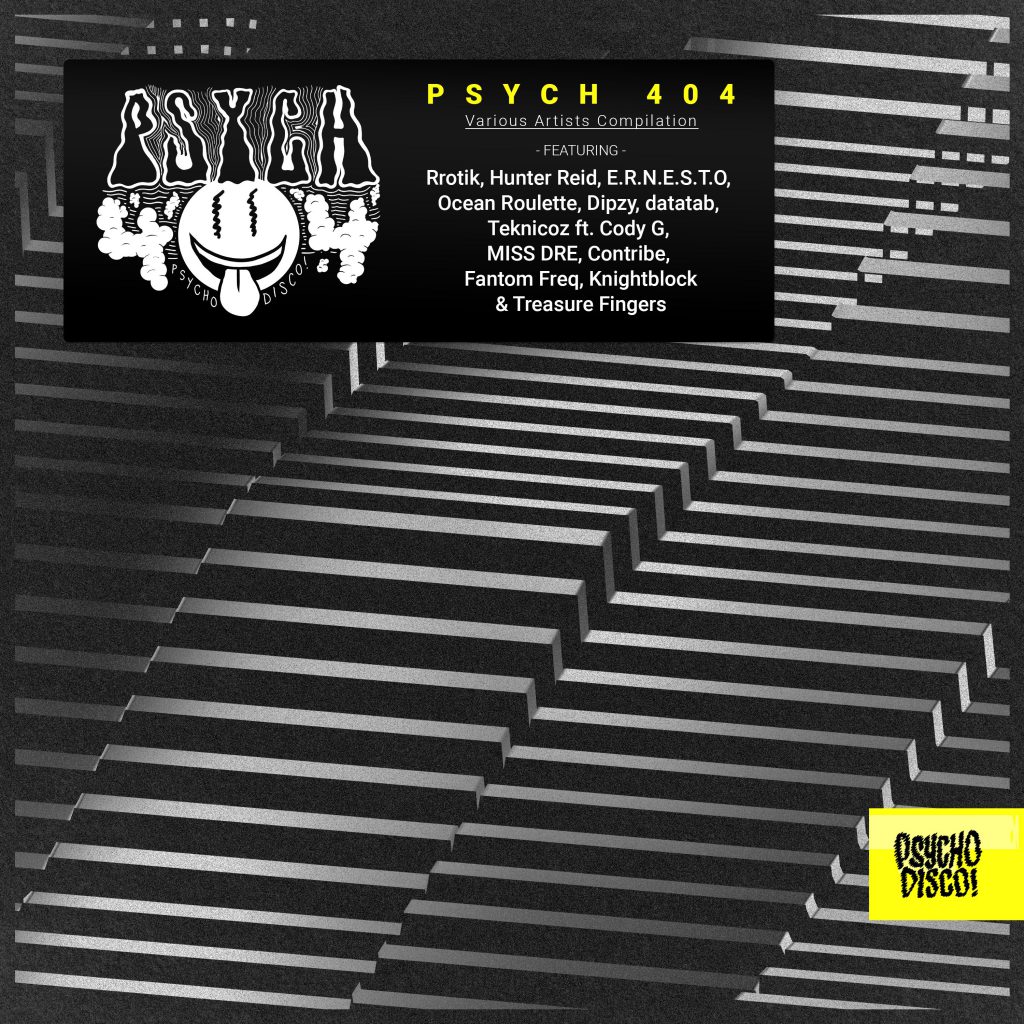 ---
Follow Psycho Disco! Records on Social Media:
Website | Facebook | Twitter | Instagram | SoundCloud | YouTube