Learn more about MOOVY as she chats about how her creative process changed throughout quarantine, her biggest inspirations, and more!
---
Based in Jacksonville, Florida, Abi Gristick, otherwise known as MOOVY, has been producing bass music for less than a year and is already turning heads and breaking necks. The 23-year-old producer first developed a taste for all things bass when she discovered NERO and Skrillex in middle school, but it wasn't until attending her first festival in 2018, EDC Orlando, that her life was transformed.
Riding the wave of that transformation, MOOVY began her production journey in October of last year and she's begun to deliver some heaters with tracks like "Glitch," "The Slab," and "Binx." She also recently unveiled "Spooky Spell" to mark the beginning of spooky season in the best way possible.
Few come to mind who can compare to her brain-bending soundscapes and deafening bass drops. Strapped with a background in music theory and experience performing several instruments, MOOVY is already steadily making headway with her glitchy dubstep and alien sound design – and this is just the beginning. Check out her exclusive guest mix below and read on for a chat with MOOVY herself!
 Stream EDMID Guest Mix 240 || MOOVY on SoundCloud:
---
Hi MOOVY, thanks for chatting with us today! After being introduced to your music through a friend a few months ago I was immediately hooked. How would you describe your sound and how has it developed since you first began producing?
I would say my current sound changes with almost every project I create. I started off wanting to produce heavier dubstep and in the year that I've been writing music, it has become more like I have envisioned. I know my sound is still evolving and will change but for now, I enjoy writing angry robot music.
"Glitch" is one of my favorite songs you've come out with for so many reasons. But with its alien robot ambiance and delectably dark and heavy energy, this tune is undoubtedly one of the craziest tracks I've heard in a minute. Can you talk about the creative process behind this one?
That was actually the first full song I released! I finished it about two months after I started producing. I really liked the glitchy noises I heard in other tracks and wanted to create an entire song based around those alien-like noises.
You've said you messed around with DJing when you were younger before dropping the hobby and eventually coming back to it after attending EDC Orlando. Were there any particular sets you saw that inspired you to make the return to music?
I don't think I could pinpoint a specific set that inspired me to write music, but the circuitGROUNDS stage as a whole blew my mind. I found my love for the heavier bass music from that and my want to produce music stemmed from the sets I saw there.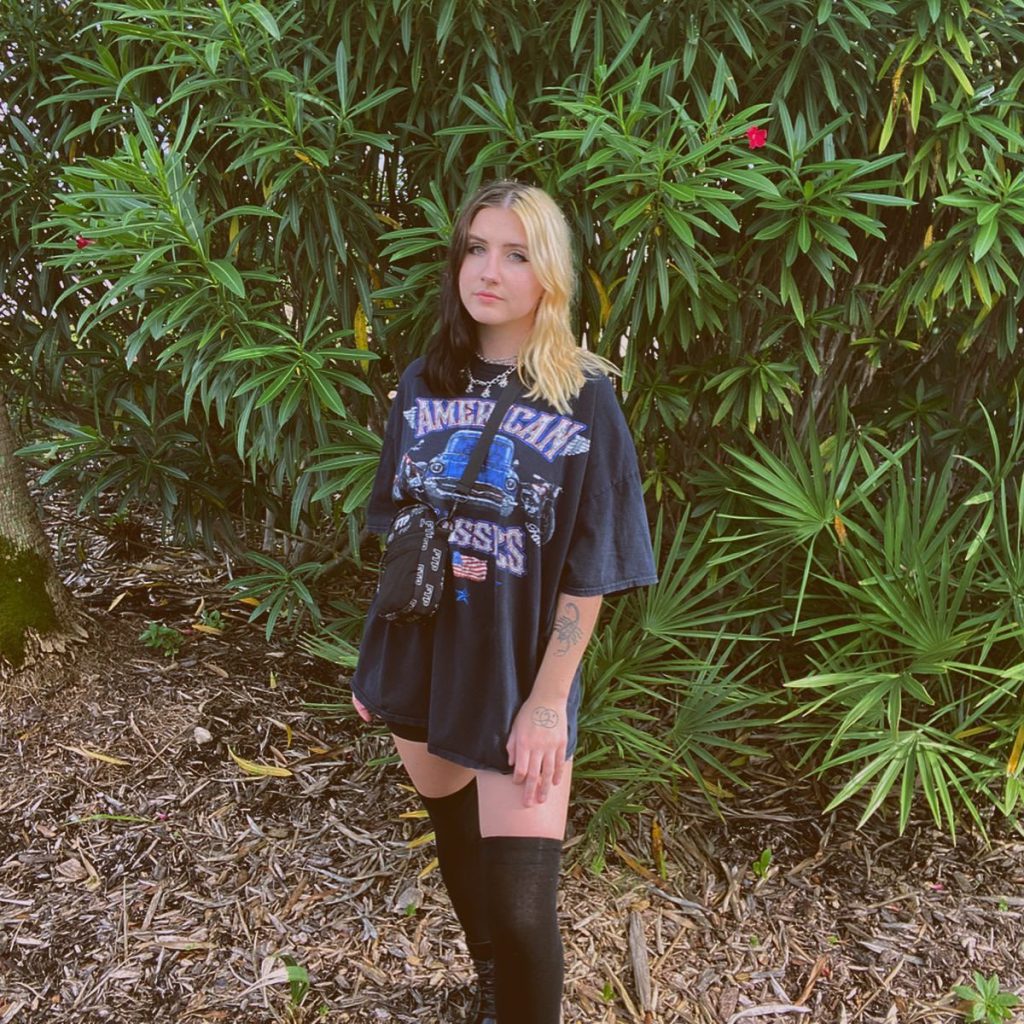 Who are some of your inspirations for your sound currently?
Hands down the biggest inspiration I have is SVDDEN DEATH. His unique sound and heavy style really inspires me to make things outside of the box and create a sound that is all my own. I think that being able to recognize an artist's style throughout all their music is a really cool thing and he does that so well.
Are there any artists who you aspire to collaborate with in the future?
I definitely have dreamed of collaborating with some headliners, but for the time being I'm really focusing on learning and growing as an individual. I want to put myself out there more as an artist and showcase what I can create.
With the pandemic affecting artists' livelihoods so greatly, this is a weird and stressful time for the music community. While some artists are using this time to create nonstop, others are seeing this as a much-deserved break away from the madness. In regards to your music, how have you been spending quarantine?
When quarantine first began in March, I was spending at least 12-16 hours on Ableton every day. I really cracked down on learning everything I could about my DAW and sound design. As time has gone on, I now understand the true benefits of taking breaks in between sessions. It has helped with my creativity taking a few days off here and there.
What have been some of your favorite livestreams of quarantine, and do you have any livestreams planned for the future?
My favorite streams were Harmony Virtual Music Festival by Electric Hawk and GRIMEFEST. They both showcased so many AMAZING up and coming artists of all genres. As for my own livestreams, I have played two before (Neon Oasis and Cerberus) and I have two more in the works for sometime this fall!
Post pandemic, what festival or event do you dream of performing at?
It is my ultimate dream to play Lost Lands. After attending for the first time last year, I was head over heels in love with the bass music scene and it fueled my want to create so much more. And I just really want to see people mosh to my music.
---
Connect with MOOVY on Social Media: