Layton Giordani delivers a masterclass on creating extensive techno soundscapes with New Generation, his latest album on Drumcode!
---
Layton Giordani is, without question, one of the most exciting acts to emerge from the Drumcode family. With an ear for the sounds of the future, he has gifted the world with intriguing gems that include his debut album Where It Begins and tracks such as "Live Again" with Danny Tenaglia, and "Space Date" with Adam Beyer and Green Velvet. Today, Giordani continues on his quest to blast expectations out of the window with his sophomore album on the label, New Generation!
Always one to take inspiration very seriously, Layton Giordani has tapped into to all of his experiences, both on the road and inside the studio, to develop a body of work that best describes who he is as an artist in a world ever-changing and constantly evolving. With that, New Generation was born. This is an album that takes listeners on a journey through the many faces of techno ranging from moody atmospheres and uplifting party pumpers to full-bodied mind-benders and progressive thought-provoking masterpieces, pushing the limits of sound and emotion. 
There is even a bit of familiarity layered within the album as Layton Giordani already tickled our curiosity by dropping the title track "New Generation" at the iconic Awakenings Festival, Tomorrowland, and Gashouder. As you can imagine, the response was quite massive as he primed us for the eclectic journey that would come in the latter half of 2020, a year that has convinced our most beloved artists to step up their game on the release front. I am thrilled to say that Layton has raised this bar even higher.
Purchase your copy of New Generation on Beatport, stream below, and then continue on for my take on the album. Let us know what you think about New Generation in the comment section!
Stream Layton Giordani – New Generation on Spotify:
---
Where It Begins convinced the world to fall in lust with Layton Giordani, but it is New Generation that pushes us to fall head over heals in love.
In order to prepare the body, mind, and soul for a dive into raw techno mayhem we must first let go of all expectations and allow "Shinjuku" to set the mind adrift. Without the familiarity of the beat, I feel myself open up to the dark mood, intrigued by what is to come. It almost feels like Layton Giordani is using this opening track to cleanse the pallet and allow a sweet moment of meditation before we nose dive into the soul of the beloved Drumcode artist.
With the rise of the title track "New Generation" I can already see how this album plans to shoot the Layton energy to glorious heights. While this track does remind me of Rebuke's signature sound on tracks like "Rattle" and "Along Came Polly," I have always been a sucker for these hallow sound details and I certainly can't be mad at Layton for leading with this attention-grabbing characteristic. What makes this track extra special is the fleeting narrative that ties spoken word with an unbridled rhythm, smashing my auditory senses with a climb down into the bowels of the techno realm. 
Now that he has me exactly where he wants me, Giordani flips the script for a little taste of his progressive side. Remember, this is an album that explores all sides of a man who has submerged his entire being into his craft. You can feel his ability and passion dumping out of the speakers as the bold atmosphere and brooding uplift of "Memory Fragment" makes me feel so secure in my love for multi-dimensional underground soundscapes. 
The heart of New Generation takes us on a marathon expedition of artistic growth and future forward experimentation.
"System Majority" is a track that has been featured on Adam Beyer's Drumcode Radio 515 and it is not at all surprising why this track was chosen. It is classic, yet aims at pushing the modern boundaries of melodic techno, and it's the type of track that blends flawlessly with the movement of the dancefloor. The consistent chug inspires a body movement that flows inhibition free and the spoken words add a bit of enigmatic flair that spikes the pulse and pulls our conscious mind into a profound state of nirvana. 
Speaking of nirvana, how appropriate of Giordani to follow up our transcendent experience with a track actually called "Nirvana X." This in itself unveils the focused nature of an artist who understands the importance of a well rounded musical journey. This is a marathon, not a sprint, and Layton takes the opportunity to enhance his discography with something a bit different. He opens up a genre-bending wormhole for all to explore and on "Nirvana X" we get to see his lesser-known breakbeat side take front and center. 
Now, we are gonna jump past Layton Giordani's collab with Green Velvet for just a moment and plant our focus on "Translation Lost." Yet another track that has pushed him to reach for the stars, this offering brings the funk and spins the underground upside down. It's all about the drums while our minds become tied to a spooky melody with ethereal synth stabs. There is more depth in this body of work than I had ever thought was possible as he welcomed me into his fantasy land where boundaries no longer exist.
It is now time we celebrate the collab game with a trio of tracks from Drumcode family and friends.
When the names Layton Giordani and Green Velvet are put together it is impossible not to get incredibly anxious. The good type of anxiety that inspires stomach butterflies to take flight as a rush of adrenaline cloaks the body. I mean, this is the duo who created "Space Date" alongside Adam Beyer. That being said, two artists have a lot to live up to and I believe they did justice with "Life Lesson." It has a striking wobble to it that is effervescent and invigorating and Giordani's vocal detail dashes all expectations as I would have expected Green Velvet to inject his lyrical stylings. I am here for it. 
Our next collab sees Giordani tap into the wheelhouse of Cevin Fisher and Avision. "Power" packs a punch as the trio dive into their festive personalities. Glistening with positivity, Cevin Fisher uses this platform to tell the tale of rave culture, and it's incredibly reassuring to hear lyrics fueled by that in these trying times. It reminds me that I am part of a special community and it proves that music will forever and always be the centerpiece in our quest to spread peace, love, unity, and respect. Now that is powerful!
For the final collab, we see Bart Skils join Giordani for the very first time. Well, in the studio at least. These two have been smashing dance floors with their epic B2B action for quite some time now and it was only a matter of time before these two would unleash the heat on the production front. If you are up for a nosedive into your most hellish of nightmares then "Midnight Magic" is designed just for you! Maintaining a consistent low octave growl, the daunting synth chords welcome us to dance among ghouls and goblins, topped off with a crescendo that is to die for. 
As we approach the end, Layton Giordani puts a mirror to his soul and I am left breathless.
It is time to "Feel A Vibe" and for Layton, this means hitting us with those laser beams. Yes, it is the laser-like auditory blips that add to the fascination but once again, it is the spoken word that steals the show. It's important not to sleep on the fact that "Feel A Vibe" is drenched in deep emotion as we are whisked away to experience the time-warping late-night musical experience through the eyes of the DJ. I say this because we are treated to a lyric at the very end that expresses a feeling of fatigue once the music fades to black. Is this a glimpse into Layton's own reality? All signs point to yes.
As we chew on that thought, it is time to lower the curtain with "Human Error." The soft piano stabs deliver a somber vibe as the drum pad injects a touch of flavor. We have gone from illustrious highs to intense lows and because of this, I am completely enraptured by this album. This final track makes the whole package come full circle as we have just witnessed the full story of Layton Giordani. As an artist who lives and breathes his craft, life is not always rainbows and butterflies. Sometimes it weighs heavy. Sometimes it hurts. That is what's reflected through "Human Error."
New Generation is everything that I had been waiting for from one of my favorite Drumcode artists.
I sit here in awe as I have just witnessed the next chapter of growth for a man who will soon become our next industry superstar. Over the years, his momentum has been on the rise but today, we have been invited to get to know everything that defines our beloved Layton Giordani as a musical visionary. He is not afraid to take chances. He is not afraid to let his imagination run wild. He has allowed himself to be vulnerable and because of this, I believe we are witnessing individual evolution at its finest.  
---
Layton Giordani – New Generation – Tracklist:
Shinjuku
New Generation
Memory Fragment
System Majority
Nirvana X
Life Lesson w/ Green Velvet
Translation Lost
Power w/Cevin Fisher & Avision
Midnight Magic w/ Bart Skils
Feel A Vibe
Human Error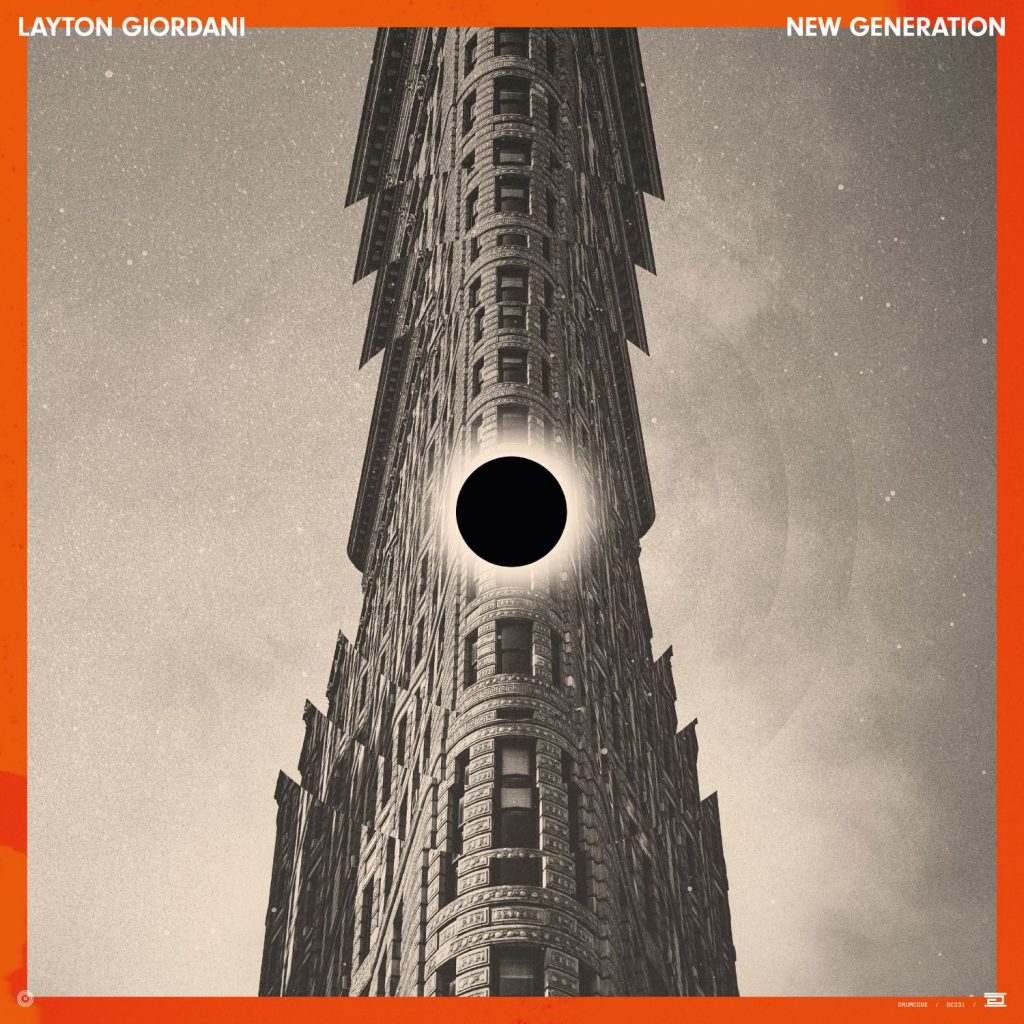 ---
Connect with Layton Giordani on Social Media:
Facebook | Twitter | Instagram | SoundCloud