In a surprise announcement today, Insomniac unveiled their plans for EDC to return to Europe for the first time since 2016 in the summer of 2021!
---
Over the past 25 years, Electric Daisy Carnival has become one of the biggest powerhouse festivals in the scene. While its beginnings trace their roots to sunny Southern California, it has since landed in cities across the US and cemented itself in other reaches of the globe like Mexico, Japan, and China. Now, Pasquale Rotella and the Insomniac Events crew have announced that they've set their sights on a location across the pond for the first time since 2016 with the news of EDC Europe.
Back in 2013, Insomniac made one of their first ventures into the international space with the debut of EDC UK. Running for four years, the festival featured Insomniac's signature production and plenty of amazing artists for festival-goers to flock to before it was canceled ahead of the 2017 edition. Since then, Insomniac has brought standalone events to Europe such as Dreamstate in the UK and Poland, but the return of EDC to the continent seemed like wishful thinking.
In celebration of 25 years of dancing under the electric sky, Electric Daisy Carnival will return to Europe in style in the summer of 2021. While dates and the location of the festival are yet to be disclosed, we're sure that Insomniac will be pulling out all the stops to make this edition one of the most memorable yet.
Related: Looking to get your fix of virtual festival vibes this weekend? Check out the lineup for the Nocturnal Wonderland Virtual Rave-A-Thon!
Stay tuned for more updates on EDC Europe as they will surely be arriving in the coming weeks and head over to their website to sign up for their mailing list to receive more details directly from Insomniac!
---
Check out the EDC Europe Announcement on Twitter:
---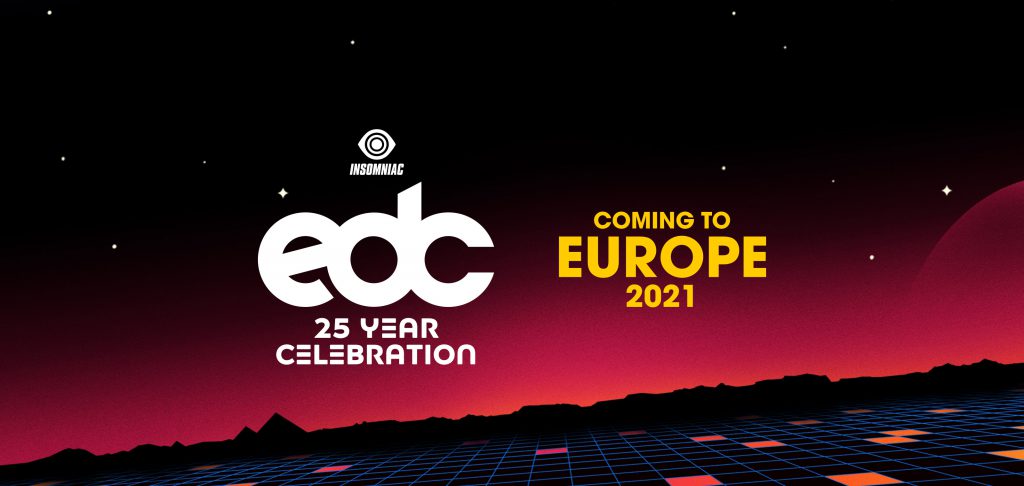 ---
Connect with Insomniac Events on Social Media: