Western Canada might be known for its thriving bass music community, but Broken Future is shaking things up with their hypnotic house sounds!
---
When Canadian artists in the dance music scene are brought up in conversation they're typically centered around the heavy wubs and wonky sounds of dubstep. But just because bass music has dominated the soundscape of the country doesn't mean that there aren't other genres blossoming as well, and Broken Future is proving that point with some solid house grooves.
Riding a wave of fantastic releases in the house music realm like the Street Profit EP on Hood Politics and recently released Hey Baby EP on House of Bangerz, this duo from Kelowna, BC has truly taken off on their rise to the top. Their discography grows deeper by the week with each and every original or remix they've produced are seeping with influences from bass and hip-hop to truly make their sound unique.
So when the opportunity to chat with Broken Future presented itself we couldn't pass up the chance to dive deep inside the minds of the sensational duo. Listen to their exclusive guest mix below and read on to learn more about Hey Baby, how they've carved out their place in British Columbia, and plenty more!
Stream EDMID Guest Mix 232 || Broken Future on SoundCloud:
---
Hey Brandon and Jake, thanks for taking the time to chat with us today. First of all, congrats on your EP that just dropped on House of Bangerz, Hey Baby, it's a stunner! What's was the production process like on this release?
Thanks for having us, and thanks for the support on the release. These two tracks were actually originally written about a year apart, the lead track "Hey Baby" was actually one of our early Broken Future tracks and seen a lot of changes from the first draft to the final product. The original version had a techier bassline with a little softer kick and it just never really hit the spot for us, but the main vocal hook we knew felt right. We ended up just going back into the project with a more melodic and driving take and it completely transformed the sound of the track into what it is today. "Calling" stemmed from a later period when we were focusing more on the sound design side of things. We ended up creating this crazy synth that sounded just like sampled horns and built the track around using them. Just pulled a simple vocal from Splice and it wrote itself from there.
Much like other tracks of yours, "Hey Baby" and "Calling" feature vocals that really hit the spot. Do you have those in mind when you're working on a fresh tune or are they something that comes later on in the process?
One of the biggest game-changers for us was falling in love with the hook, and that is what really took our production to the next level. I think the hook is the biggest part of a song, that's what people really remember. We'll work on building the sound of a track for ages, but until we have a solid hook it's not a song to us. Sometimes the hook is the first thing we have to work with, sometimes we find a hook later in the process, but until that point, our projects to us are incomplete and will stay in the project graveyard.
Your releases have graced labels like House of Hustle, Hood Politics, Westwood Recordings, and OFDM Records to name a few. As artists rising through the scene, what has this support meant to you?
In our opinion, it just legitimizes your work being recognized by these established tastemakers. House of Hustle were the first people to really give us a chance to showcase our sound to a broader audience, and that has created so many opportunities for us to expand and network throughout the industry, we'll always be thankful to them for that. 
Aside from other labels, you also run your own as well, Rollers Only. What led to your decision to launch your own imprint, and when you're diving into demos what sort of tracks do you gravitate to?
Rollers Only is really just a spot for our studio crew to release our overflow tracks or stuff that doesn't find a place on labels. I think we'll eventually expand it to taking demos in and building a network of good music, but for the time being our focus is on building the Broken Future brand on other labels.
Throughout the pandemic, many artists have experienced creative blocks or difficulties adjusting to the current state of the world. What has your experience been like? How have you found a way to keep the creative juices flowing?
It's been a big adjustment for sure, we went from playing out every weekend and living for the most part off of music-related endeavours to both having to take on full-time jobs to make ends meet. But everyone has made sacrifices and done what they need to do to get by. The pandemic won't last forever, and we know we'll be back to the music life soon enough.
The one down thing is that our time has been limited down to just a few days a week in the studio due to the heavier than usual work-load but it's also a blessing because when we get in we are overloaded with creativity. It really feels like every time we step into the studio these days we're coming out with a new track.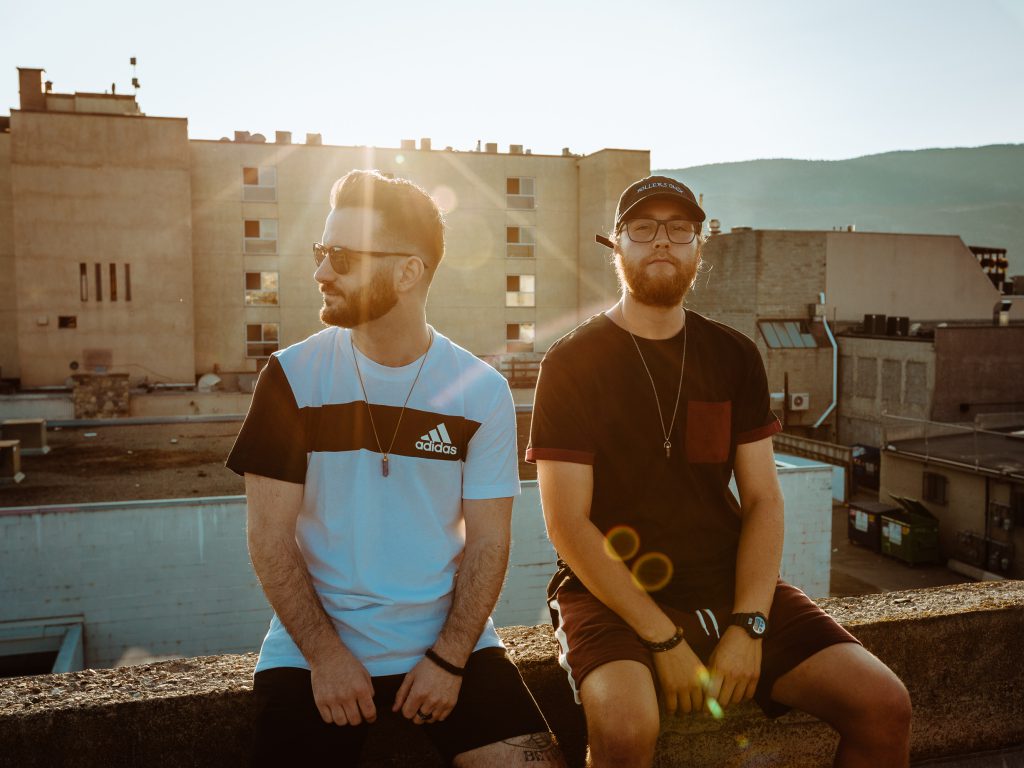 Let's dig into your history a bit. Who were some of your earliest musical influences and what led to you both developing a passion for house music?
How far back do we go? Do we go back to our parents disco records or the 90's cheeseball dance music playing at our sports games or the Fidget House playing at the high school raves we'd sneak hours into the bush for? 
In all seriousness though, I think both of us have always had a love for dance music, but it's only been in the last 5 or so years we really became obsessed with the techier house side of things. We both were really big into Bass Music just based on what was big around us, but as we got older we just found ourselves liking more and more refined sounds rather than the in-your-face mosh pit heaters that defined our younger years. You learn to love the little things as you get older, and it's really the complexity in simplicity that has cemented our love for house. Also, who doesn't love partying for days vibing to House over burning yourself out after a few hours of raging. 
Was there a moment of inspiration where you realized that you wanted to pursue a career in the music industry? What were your first steps as artists?
I can't pin down when the inspiration to pursue a career in music was, but we knew from the first time we jumped in the studio together that it felt right to chase after the Broken Future project. Both of us had been working on our own solo projects in different genres, but when we had that first real studio session together we just found instant synergy. I don't think there's been a point where we haven't been on the same page creatively, we're constantly sharing music with each other and getting each other inspired with new sounds.
On the flipside, (aside from the pandemic) what has been the biggest struggle you've faced so far as Broken Future? How did you overcome it?
I think the biggest struggle, and it faces everyone in the music industry, has been establishing ourselves in an ultra-competitive environment. Gone are the days of just being good producers and DJ's, it's 2020 and now you have to be a marketer, video editor, graphic designer and so much more to stick out in the world of social media. Space in peoples attention spans is so hard to grasp, and trying to find the magic formula of truly captivating people is an ever-growing challenge for all producers, big and small.
Canada has proven to be a hotbed of talented artists and some of the most renowned shows in the scene over the years. What's your favorite thing about the scene in Western Canada and how do you feel it compares to other regions of the country?
Western Canada is like the final frontier for House Music in our opinion, it's very underdeveloped for House as it's rooted so heavily in Bass Music, and that has always taken the forefront in Western Canada. With that being said, it's super exciting for us because there is so much room to grow, and rather than trying to cut off a piece of a baked pie, we have the chance to be an ingredient in the pie being baked for lack of a better metaphor.
Finally, with the second half of the year in full swing, what goals do you have for the remainder of 2020 and next few years of the decade?
Our job for the remainder of 2020 and for the next few years is simple, just make as much music as possible. It all comes down to the work you put in, there's no shortcut to success. We just want to write as much music as we can, and let that music speak for itself and be in the best position we can to really take things up a gear once this pandemic clears up and the shows resume. 
---
Follow Broken Future on Social Media:
Website | Facebook | Twitter | Instagram | SoundCloud