Electric Hawk has stacked the lineup for the return of Harmony Virtual Music Festival with artists like iLL.Gates, Kursa, and KOAN Sound!
---
Since the beginning of quarantine, Electric Hawk hasn't missed a beat to keep rave caves lit up across the country. As the scene grappled with the fallout of the COVID-19 pandemic, they went to work on putting together a great virtual festival experience for fans called Harmony Virtual Music Festival.
Their first edition of the series took place back in April and has continued to bring fresh and established artists alike to their channel on Twitch. Electric Hawk also stood with those protesting racial injustice, presenting In Harmony, In Solidarity benefitting Black Visions Collective in June. Now, the virtual festival is set to return for the seventh round on August 15-16!
The lineup for the upcoming edition of Harmony Virtual Music Festival carries on the tradition of fantastic artists. It's filled to the brim with industry titans like iLL.Gates, KOAN Sound, and Zeke Beats as well as rising stars like Brunchbeatz, TLZMN, Feelmonger, Vieira, and so many more! Harmony will also feature all three members of K.L.O: Kursa, Lone Drum, and Osmetic. It's sure to be a special night filled with incredible music and a wild live chat!
And if you've been looking for an opportunity to rock some Electric Hawk merchandise, you're in luck! The collective has recently teased a collaboration with popular clothing company Wobble Factory, with more information to come during Harmony. While they haven't announced what will be available, it's sure to look good and sell quickly. Make sure you tune into Harmony to learn more and check out some spectacular sets!
RSVP for Harmony Virtual Music Festival on Facebook, follow Electric Hawk on Twitch to know the moment the show goes live, and keep reading for the full lineup and schedule!
Catch all the action during Harmony Virtual Music Festival on Twitch:
Harmony Virtual Music Festival – August 15-16 Schedule: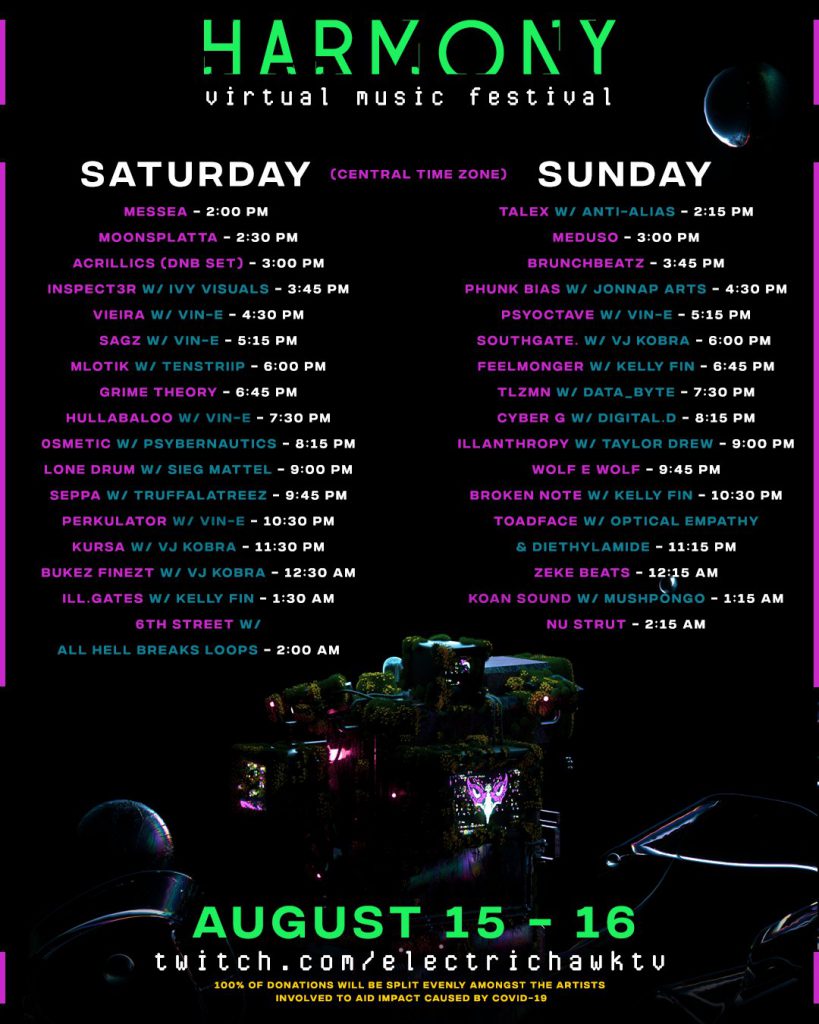 ---
Harmony Virtual Music Festival – August 15-16 Lineup: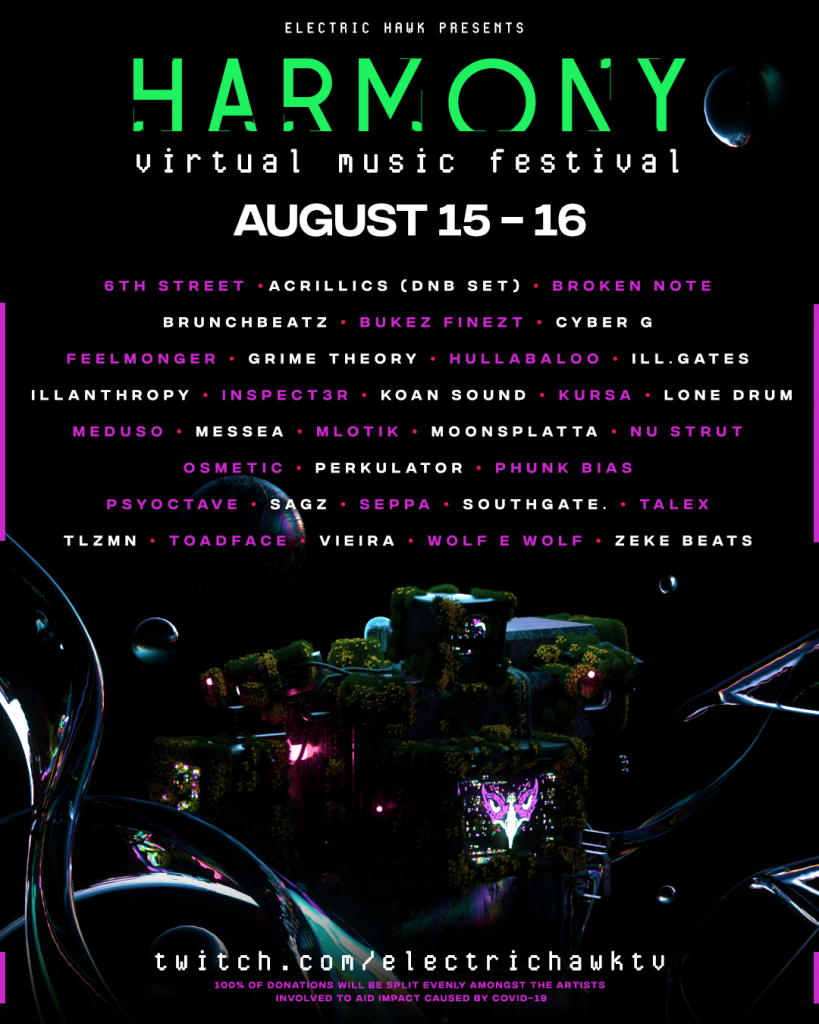 ---
Harmony Virtual Music Festival – August 15-16 Lineup By Artist:
6th Street
Acrillics (DnB Set)
Broken Note
Brunchbeatz
Bukez Finezt
Cyber G
Feelmonger
Grime Theory
Hullabaloo
iLL.Gates
Illanthropy
INSPECT3R
Koan Sound
Kursa
Lone Drum
Meduso
Messea
Mlotik
Moonsplatta
Nu Strut
Osmetic
Perkulator
Phunk Bias
Psyoctave
Sagz
Seppa
Southgate
Talex
TLZMN
Toadface
Vieira
Wolf E Wolf
Zeke Beats
---
Follow Electric Hawk on Social Media:
Website | Facebook | Twitter | Instagram | SoundCloud | YouTube | Twitch