We sat down with Tom & Collins to chat about their new label, Terms & Conditions, fresh tune "Won't Give Up," and their favorite cocktails!
---
Tom & Collins have mastered the art of house music. They've created high-energy, groovy tracks over the past few years now and aren't showing any signs of slowing down soon. In fact, this dynamic duo is taking things to the next level with their own record label called Terms & Conditions. To kick off this pivotal moment in their careers, Tom & Collins released "Won't Give Up" as the first track on the label.
Earlier this year, Tom & Collins provided us with "Corosito" and "Sombrerito," two fiery singles that did nothing but make us want to get up and dance in our living rooms. On "Won't Give Up," they bring that classic house sound with a driving bassline along featuring sultry vocals that gives listeners a much-needed escape from reality.
With the release of their new single and start of their new label, we knew we had to take the opportunity to sit down and chat with them. Tom & Collins let us in on how their new track came about, what propelled them to starting Terms & Conditions, and their favorite cocktails!
Take a listen to "Won't Give Up" on Spotify below, download or stream it on your favorite platform, and read on for our chat with Tom & Collins!
Stream Tom & Collins – "Won't Give Up" on Spotify:
---
Hey Tom & Collins, thanks for chatting with us today! Let's talk about your latest track, "Won't Give Up". What was the production process behind this track and did it differ from previous releases of yours?
This was the traditional face to face writing of the song with the vocalist and producing in studio. The song was practically finished after that day and it just needed some adjustments overall. We had a lot of fun during this process.
"Won't Give Up" also marks the start of your guys' own label, Terms & Conditions. What propelled you both to pursue making your own label? 
We simply thought much more house music should be heard and played overall from certain producers and vocalists. There were too many quality songs sitting around and ready to be danced to and we felt it was time to do what we'd always wanted. 
Do you have plans to open the label up to other artists to submit demos to or is it more for you guys to release your own music and highly curated tunes you love? If it's open for other artists, how can they submit their demos to your label?
It is definitely open for submission. You can find the submission link/email on the label's social media page. We're really happy we have a wide range of artists, from young upcoming artists to house legends signing on the label. It's the sound, not the artist, that we're looking for.
Your 2017 hit "Give Me One Reason" was a smash hit and is currently sitting at close to eight million plays on Spotify alone. What made you choose this specific song to recreate that was originally sung by Tracy Chapman in 1995?
We'd always loved that track. We just jammed to it in the studio and the music ended up with some nice variations. A lot of good things have happened just like that for us, unplanned and unforeseen.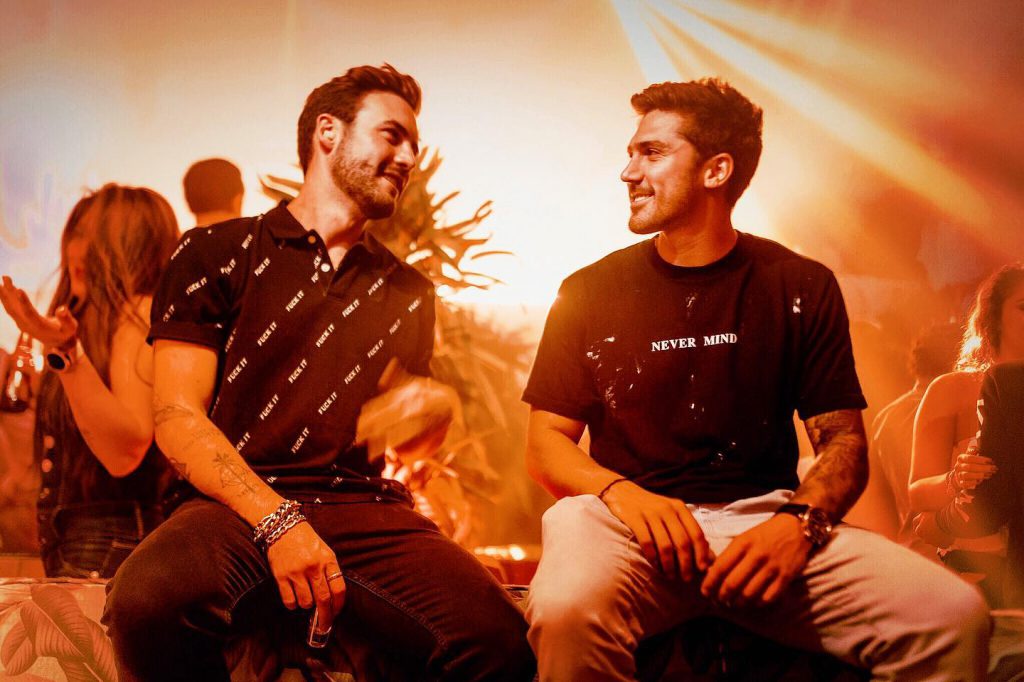 Earlier this year, you guys had the chance to perform at EDC Mexico. What was the experience like performing in your guys' hometown of Mexico City?
It's always great performing at home. We specifically got a lot of support this time and even though it was 30 degrees [Celsius] outside, people were dancing and chanting. Can't wait for the next EDC!
When people throw on a Tom & Collins track, the mood is immediately uplifted and people get to dancing in no time at all. Who are some other artists that influence this groovy, positive sound?
Off the top of our minds, Disclosure, Gorgon City, The Martínez Brothers, and Claptone. We basically love sounding fresh and new and that's what we think of during our sets. 
What are some of the biggest struggles you've faced so far in your career, and how have you guys overcome them?
We've faced a lot during our career. From difficulty finding vocalists that we sync with, to artistic direction and just overall sound. Since we started as DJs, we took some time to find our style. 
So far in 2020, you have released three songs and created your own label. How do you stay focused in the studio? What is on the horizons for the rest of the year?
2020 has been very tricky, but we are idealists in the sense that everything that has happened has led us to creating this label. So we've been able to dedicate the amount of time it needs. We are very pleased with the result and hopefully you guys will like it as well. 
Your DJ name comes from the famous gin cocktail. So, we have to know, what are some other cocktails that you guys enjoy?
Anything with Tequila or Mezcal!
Finally, if you could offer up an inspiring message to your fans during this uncertain time, what would it be?
Hang in there and take the time to try new things. It's ok to feel vulnerable. We do too. We can create more with these feelings. We will be back soon stronger than ever and hopefully with something nice and different to offer you. 
---
Connect with Tom & Collins on Social Media:
Website | Facebook | Twitter | Instagram | SoundCloud | YouTube