Crankdat stopped by to chat about his latest release, "BADFUTURE," how he's been able to cope with life during quarantine, and more!
---
Since first emerging in the bass scene, Crankdat has delivered some of the style's top tunes and remixes while also amassing a huge following. Riding the wave of success with singles like "Need Somebody" and "Monster," he's gained support from fellow artists and tastemakers alike. Last year, he delivered some fantastic EPs that included Gearworld Vol. 1 and the spooktacular Fearworld which further proved he's an artist that any lover of bass music should be paying attention to.
Now, after making a splash in the new decade with the Mechanized Mayhem EP and tracks including "Redo," "Poppin" with VOID(0), and "The Fire" with Kayzo, he's back with another heater this summer. Out now on Kayzo's Welcome Records, "BADFUTURE" is a fresh tune that truly highlights his skills and the dynamic quality of his sound.
And it doesn't seem as if the quarantine has truly slowed Crankdat down either. Between studio sessions and livestreaming on Twitch he's been hard at work while keeping the beats flowing at a steady pace. So when we had the chance to sit down with the bass music maestro to chat about the recent release we couldn't help but say yes.
Take a listen to Crankdat's "BADFUTURE" on Spotify below, download or stream the tune on your favorite music platform, and read on for our chat with him for extra insight!
Stream Crankdat – BADFUTURE on Spotify:
---
Hey CRANKDAT, thank you for taking the time to talk to us today. You recently released "BADFUTURE," can you walk us through what the production process was like on this track?
Sure thing thanks for chatting! "BADFUTURE" was actually a remix before it was an original track. I produced the entire remix, but unfortunately, it fell through and was never able to get an official release. Instead of putting it out as a bootleg, I just decided to get rid of the parts that made it a remix and then filled in my own original production and it became "BADFUTURE."
In the past, you've worked with other artists including Ghastly and Adventure Club, how do you approach these collaborations as opposed to solo works and remixes?
Collabs for me pretty much go like "hey…. we're homies and I like your music. I have this demo and I'd love to work on it with you… you wanna?" And then I send them the demo, and it becomes a collab. That's how it happens just about every time.
Have you found it easier to produce now that you have so much free time or do you gain more inspiration for tracks while able to travel?
I'm gonna be honest with you, being locked up at home is the best possible thing to happen for my production.  I place deadlines on myself a lot, and when I travel so much it becomes a game of just "well, I gotta make something by XX date." Only being home three days a week makes that date creep in real fast.
In quarantine, I've spent a lot of time honing my production techniques. It can be hard to do that when you have to bust around so much – so I'm really getting an opportunity to here. I can also take way more time on records than I usually do.  Honestly, in my opinion, everything coming out after "BADFUTURE" is all-time peak Crankdat. I'm beyond happy with the records I'm currently working on and finishing.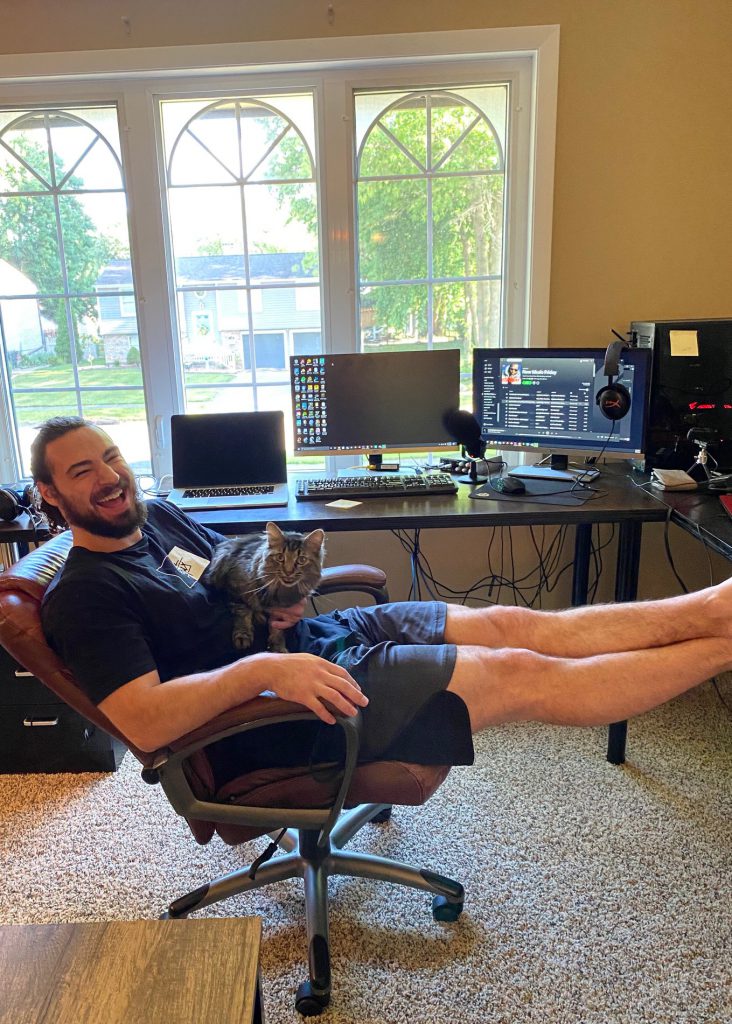 As an artist who is on the rise and constantly busy, what are some of the struggles you've faced (like writer's block or life on the road) and how have you overcome them?
I don't struggle with writer's block much… life on the road can be tough though. It becomes a huge game of time management. I always have something to do, and the list can sometimes feel neverending. Handling my time as best as I can is the only way to overcome this, but it's also the most difficult thing to try to juggle. I have to think, "what can I be most effective at today… Music? Art? Cleaning the house?"  and then just do whatever the answer is, while also juggling deadlines. It can be tough but it's also such a privilege to even have the liberty of choice.  
Quarantine has been such a stressful and unique time for everyone. What have you been doing to keep yourself occupied mentally and physically over the past few months?
Making music, streaming on Twitch…  watching One Tree Hill with my girlfriend. [Laughs] I moved into my new house – never really had the time to move so that was actually the first thing I did. I love weightlifting, and a couple of my buddies (just a few, we're responsible and social distance friendly) and I have been hitting the weights pretty hard. We're all getting new PRs on lifts and it's a great time. I'm taking my first attempt at 400 on bench this Saturday… up from 365 last year. It's nearly impossible to make progress like that while travelling so often, so I'm enjoying the opportunity to grow.  
Since 2020 has been such a bumpy ride, can you offer up a few words of inspiration for your fans who might be struggling now more ever than before?
I can do my best but this sucks. It's bigger than not playing shows, or going to shows, or to parties or whatever. A lot of people are hurting right now, a lot of people are losing loved ones, a lot of people are losing jobs. Be responsible, be patient, and try to find a silver lining wherever you can. There will be a light at the end of the tunnel, so long as we stay diligent. Hopefully, we can all get through this together, and we'll really appreciate resuming our normal lives again one day.  
---
Follow Crankdat on Social Media:
Website | Facebook | Twitter | Instagram | SoundCloud | YouTube | Twitch