In the wake of rising Coronavirus cases and concerns in Georgia, Imagine Music Festival has been officially postponed until 2021.
---
Yesterday marked a sad day in the scene for dance music lovers in Atlanta as another festival was added to the list of those canceled due to growing Coronavirus concerns. Imagine Music Festival, set to take place on September 18 – 20, was preparing to release a spectacular lineup at their newly announced venue before pulling the plug on this year's festivities.
The statement released last night offers up a little something to be excited about as they are still planning to go ahead with a massive artist announcement for next year's edition. Additionally, they've announced the new dates for 2021 as well, so mark your calendars for September 17-19 because you won't want to miss it.
Additionally, details have been released for those who currently hold tickets to Imagine Music Festival. 
Ticket holders will be granted access to the 2021 event if you choose to forgo the refund, and to sweeten things up they'll be automatically gifted free access to the pre-show. If you wish to receive a refund you have until July 19 to submit your request! Look out for an email from See Tickets for more information on the refund process.
The 2020 edition of Imagine Music Festival was set to make history as the brand would move from their old home at the Atlanta Motor Speedway to the gorgeous Chattahoochee Hills, the spot which previously hosted TomorrowWorld. Due to the decrease in venue size, if you're considering attending the festival next year make sure to keep your eyes peeled for ticket announcements as it will sell out quickly.
Stay tuned for more information about other cancellations and postponements from around the world as we continue to follow the impact coronavirus has on the festival season this year.
Read the full statement from The Imagine Family: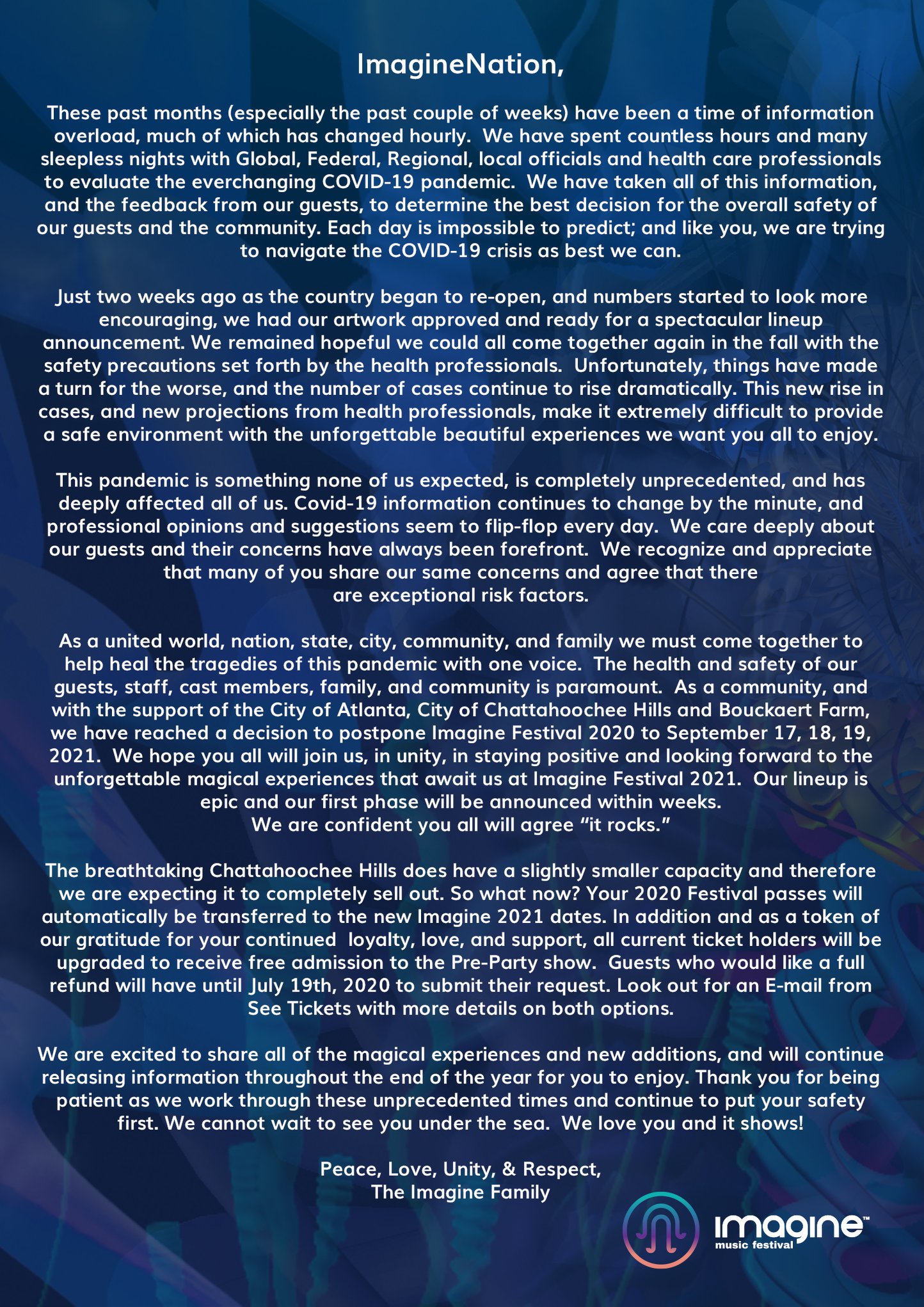 ---
Connect with Imagine Music Festival on Social Media: