BRWN BEAR swung by to chat about self-advocacy, staying grounded during the quarantine, his creative process in the studio, and more!
---
As bass music continues its rapid rise worldwide, more and more exciting artists are jumping to the forefront of the scene. This week's artist spotlight, BRWN BEAR, is no exception. The Ohio native has churned out some absolutely crazy tunes, with ripping bass and deep grooves that will have every bass fan bobbing their head.
BRWN BEAR has achieved some great success in his young career. He's supported bass superstars like DMVU and Conrank in the past year, and amidst the COVID-19 pandemic, he has played some incredible livestream sets. He's also released some incredible music over the past few months, including "Spicy Tacos" with Gardella and ZZ Bottom and a bootleg of Roddy Rich's "The Box."
In his guest mix, BRWN BEAR gives us a healthy dose of his signature sound and plenty of original music. Aside from the fantastic music, we also had a great conversation about his origins, obstacles, and creative process. You won't want to miss out on this incredible rising star, so make sure you click on the mix and read the interview below!
Stream EDMID Guest Mix 227 || BRWN BEAR on SoundCloud:
---
Hey BRWN BEAR, great to have you with us today to chat. Let's start at the beginning of your career! Who were some of your earliest musical influences and artists you loved?
When I first started listening to and making EDM it was acts like Skream and Benga that got me hooked, I tried to learn how to make simple wubs off youtube videos in Garageband, eventually I moved on to other acts, but that early dub-influenced stuff never really left me.
Was there a specific moment you realized that your passions were in the dance music space? What led to you deciding to become a DJ/producer?
I had been sent a video of EOTO doing their thing and at the time I was in a band, so we went and saw them perform near us, we were fascinated and tried to sort of emulate them and do an electronic band ourselves. I was exposed to a lot of different scenes from being in a band that was sort of without a genre and the dance scene was the most welcoming to me. When the other guys didn't want to continue in music I decided to just produce on my own and kept heading towards the dance music scene.
When making collaborations like "Spicy Tacos" with Gardella and ZZ Bottom, how do you balance your sound with the other artists?
Spicy Tacos was a unique case wherein I produced the track and my friends rapped over it. I try to pay attention to things like their timbre and also accentuate their flow with dynamic arrangement. I've always enjoyed collaborating, coming from a band background, so I felt comfortable giving space for other collaborators' voices to shine. My thinking is always that the song takes precedence over egos, I try to never get married to a single idea in a piece and look at the song as a whole.
You've also released a number of bootlegs and remixes since first breaking onto the scene. How do you choose which songs you want to put your spin on, and do you approach it differently than working from the ground up on an original?
I love working with vocals, and I choose what songs to work with based on if they give me goosebumps or not. If something is really moving the crowds I'll notice that and decide to work my own remix or bootleg of it, to try and give a more unique experience for the listeners. I don't really see working with vocals any different than working with a synth or any other lead, I try to give it space to breathe while also including my own voice and style.
What are some things that have kept you grounded during these unprecedented times? Have you found peace while producing, livestreaming, or something else?
I've turned to my friends and family a lot, my dog Opie too. Livestreaming was fun for a while but it feels a little oversaturated now so I try to do it when it's for a cause or a lineup with other artists. I've battled with mental health issues for a long time and this year has been very difficult.
As an artist who's played sets live for a crowd and also in the digital space, can you share what the differences in the experience have been for you? Has it felt weird to not play in front of a crowd?
I was nervous at first, that things wouldn't feel the same, but as someone who generally plays music I've created I quickly realized my love for the music is what brings me to this space. I do love the crowd, seeing their reactions and hearing the screams at a drop is truly life-giving energy, but at the end of the day I want to create music that moves the body and soul anywhere so knowing it's being heard and hopefully helping someone is enough for me.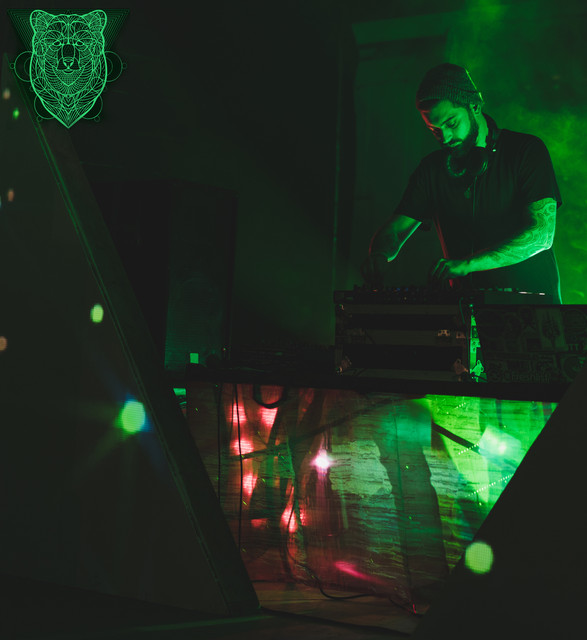 Aside from the pandemic, what has been the biggest struggle you've faced so far as a rising artist in the scene?
One of the hardest things about the industry is you start off independent, so when something is not going right or an agreement is broken it falls to you to have that dialogue. Without having found my home for management yet I oftentimes have to go to bat for myself, sometimes that's having to stand up for myself on my value as an artist and even things like the placement of my name on fliers can be a challenge but I always try to come from a place of professionalism and love.
When festivals eventually return, is there a specific one that you would love to play someday?
Shambala is a big dream for me, I've heard so many good things. EDC looks insane to share my music with too. Honestly there really aren't too many festivals I haven't dreamt of stepping on their stage.
With half of the year already gone, what do you hope to achieve in the rest of 2020 and beyond?
As an artist I have so much unreleased music I could release once a week for the rest of the year and still have more, so I'd like to get them homes with some labels. I have a concept EP I've nearly finished and have been working on a series of short stories and books to coincide with my music. I really want to build a world for my music to live in. Between the uprising and the pandemic, I have not felt comfortable releasing a lot or promoting my music, but the time has come to get it out there.
Finally, according to your Twitter bio, you live by two rules: tacos and burritos. What's the best Mexican food you've ever had in your life and where was it?
This is an easy one. La Mexicana in Newport Kentucky is #2, but #1 was a plain looking food truck parked outside of a gas station in Illinois. No branding on the truck, the menu was like 4 items, and these 3 dudes made tacos I still think about to this day. If you're reading this, mystery taco truck, please contact me. I miss you terribly.
---