Artists including Baths, Kaleena Zanders, Inukshuk, Vybrant Vibes, Ghostdragon, Reyna, and more are set to play PrideFest this weekend!
---
Not even the Coronavirus can keep us from celebrating Pride month. This year the second annual PrideFest will be redefined as a digital experience and hosted for all to experience virtually. EDM Identity is excited and proud to co-present this event alongside LEVITATE Events, which includes LGBTQ+ performers from around the world.
On Saturday, June 27, PrideFest will stream special performances, creatively curated from 40+ artists, to celebrate the LGBTQ+ community and representation in music. The event is exclusively hosted on Twitch and free but will be collecting donations to benefit causes such as OutRight Action International's Emergency Fund, which supports LGBTQ+ people during hard times and Black Lives Matter.
Although the festival is unable to host an in-person experience as they did last year, this experience brings new opportunities to bring people together in a whole new way. The full lineup, revealed today, includes dance music artists along with artists outside of the electronic spectrum, to be hosted on two virtual stages, including the Pride Stage and Rainbow Stage. You can see the lineup by stage below.
Some of the artists include Kaleena Zanders, who released a powerful ballad titled "Stronger Than I've Ever Been," and has collaborated with big-name EDM artists on popular tracks like "California" with SNBRN, and "On the Run" with J. Worra, is a must-see. Los Angeles-area producer Baths is set to play a DJ set and is well-known for tracks like "Aminals," "Miasma Sky," and "Lovely Bloodflow." You can also catch up-and-coming artists like Vybrant Vibes, an electronic bass musician hailing from San Fransisco Bay Area, who just released "Afterparty" featuring vocals from Elle Vee.
RSVP on Eventbrite for a chance to win 1-on-1 shoutouts, digital meet & greets, and other cool swag, head over to the Facebook Event Page for more news in the coming days, and let us know who you're most excited to see during PrideFest in the comments!
---
PrideFest 2020 Lineup: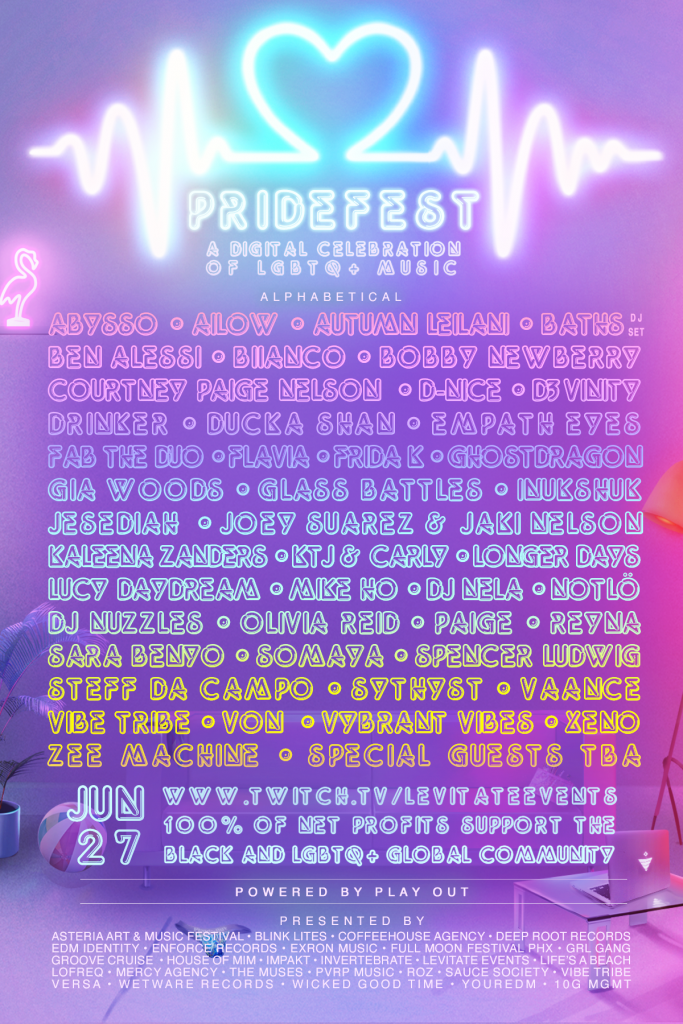 ---
Pridefest 2020 – Lineup By Artist By Stage:
Pride Stage:
Abysso
Ailow
Ben Alessi
BVDxBEAR
Ducka Shan
D 3 v i n i t y
Frida K
Rodriguez
GhostDragon
Glass Battles
Inukshuk
Joey William Suarez & Jaki Nelson
Kaleena Zanders
Longer Days
Mikel Ho
NotLö
DJ Nuzzles
Paige
Steff da Campo
Vaance
Vibe Tribe
Von
Vybrant Vibes
Xeno
Rainbow Stage:
Autumn Leilani
Baths (DJ Set)
Biianco
Bobby Newberry
Courtney Paige Nelson
Drinker
D-Nice
Empath Eyes
Fab the Duo
Gia Woods
Jesediah
KTJ & Carly
Lucy Daydream
DJ Nela
REYNA
Somaya Gupta
Spencer Ludwig
Zee Machine
---
Follow LEVITATE Events on Social Media:
Website | Facebook | Twitter | Instagram | SoundCloud | YouTube