B-Front, SEFA, Subzero Project, Ms K8, Wasted Penguinz, Korsakoff, and more have been announced for Defqon.1 at Home!
---
Every year, weekend warriors travel to Biddinghuizen (previously Almere) to take part in Defqon.1, the biggest hard dance festival in the world. Though 2019 ushered in 78,000 attendees, the largest crowd yet, this year's festivities were canceled due to concerns surrounding the Coronavirus pandemic. However, the Q-dance crew is now set to bring those hard-driving sounds into the homes of music lovers with Defqon.1 at Home!
This virtual edition of the festival is taking place on the same days the physical one would have. From July 26 – 28 this free online event will take place for all fans with orange hearts. Defqon.1 at Home retains much of the physical version in that there are still colorful stage names along with a Gathering celebration, Power Hour, End Show, and Closing Ceremony. Q-dance is also adding in fun events in the form of three different interactive quizzes where fans compete against one another for amazing prizes.
As expected from Q-dance, the Defqon.1 at Home lineup is massive. With a stacked lineup of over 80 artists and special sets such as B-Front vs Geck-0 (Early Raw Set), Happy Hardcore by Jason Payne, Proud to be Fout with Darkraver & Korsakoff, and more, there's definitely something there for every hard dance lover!
Check out the video below to get a sneak preview of what's in store, read on for the full lineup of artists who will be playing, and let us know if you plan to catch all the action in the comments!
---
Defqon.1 at Home – Full Lineup: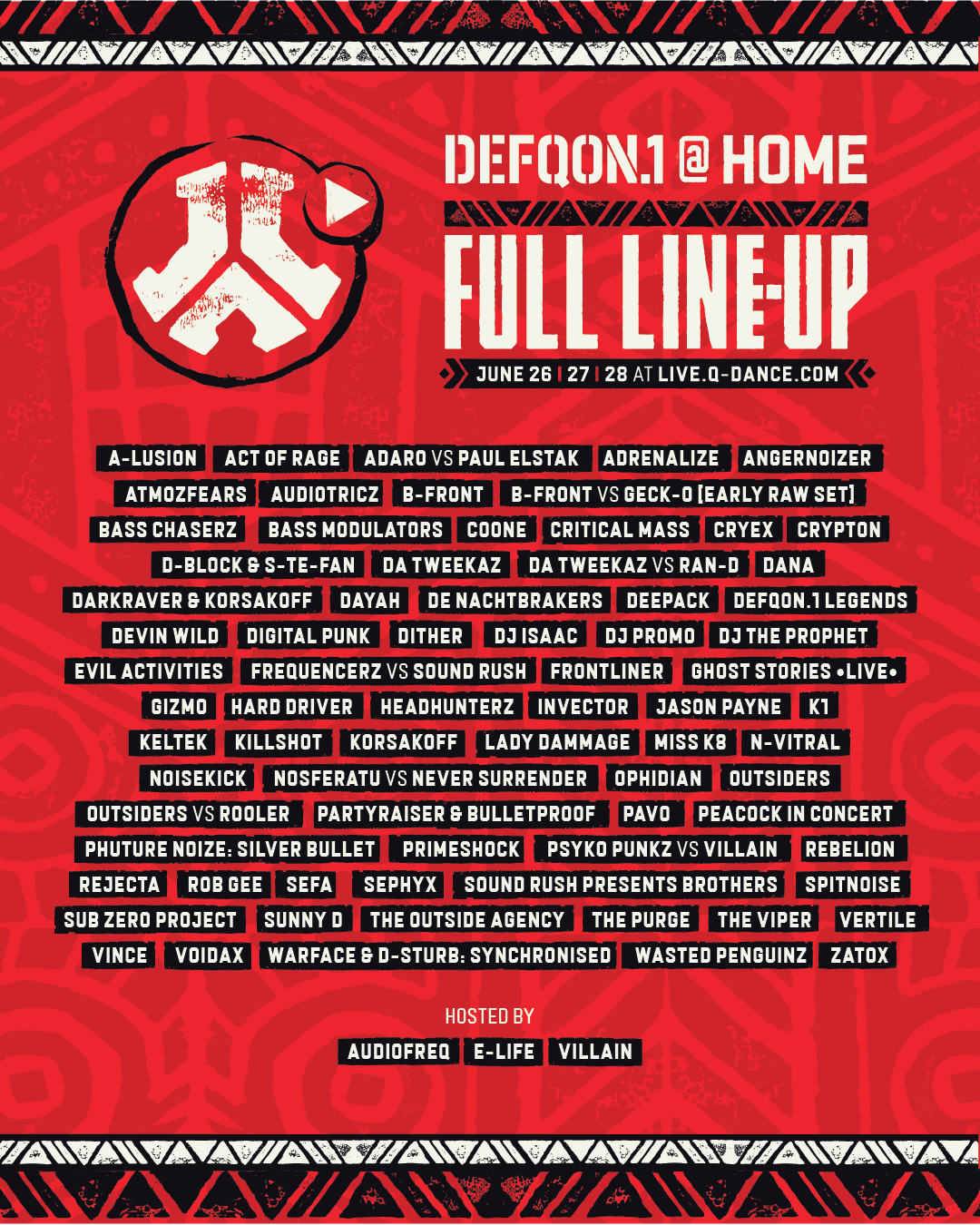 ---
Defqon.1 at Home– Lineup By Day:
Friday
The Gathering
D-Block & S-te-Fan
N-Vitral
Phuture Noize: Silver Bullet
Sub Zero Project
Hosted by Villain
Specials
The Ultimate Hardstyle Quiz
The Wasted Lands
Adaro vs Paul Elstak
B-Front vs Geck-0 (Early Raw Set)
Cooking with Chefa
Da Tweekaz vs Ran-D
Happy Hardcore by Jason Payne
Nosferatu vs Never Surrender
Positive Talks with Wietse
Psyko Punkz vs Villain
Sefa
Hosted by Audiofreq & E-Life
Saturday
RED
KELTEK
Sound Rush presents Brothers
Warface & D-Sturb: Synchronised
BLUE
Act of Rage
B-Front
Rejecta
BLACK
Korsakoff
Peacock in Concert
Spitnoise
UV
Adrenalize
Audiotricz
Bass Modulators
Primeshock
Sephyx
Wasted Penguinz
YELLOW
Angernoizer
Crypton
Lady Dammage
INDIGO
MAGENTA
A-Lusion
Dana
Deepack
Frontliner
GOLD
Critical Mass
Gizmo
Rob Gee
Vince
SILVER
Ophidian
The Outside Agency
PURPLE
Specials
POWER HOUR: Six Years of Insanity
The Anthem Moment
The Best of The Endshow
The Legendary 20 Years of Q-dance Quiz
Warrior Workout
The Wasted Lands
De Nachtbrakers
Devin Wild presents The Journey Part 1
Frequencerz vs Sound Rush
Outsiders vs Rooler
Proud to be Fout with Darkraver & Korsakoff
Puzzle with Sound Rush
Terror Lay Down with Noisekick
Hosted by Audiofreq & E-Life
Sunday
The Closing Ceremony
Defqon.1 Legends
Headhunterz
Ghost Stories LIVE
The Closing Ritual: A Pyro Salute to all Weekend Warriors
Hosted by Villain
RED
Atmozfears
Coone
Da Tweekaz
Zatox
BLUE
Digital Punk
Hard Driver
Killshot
Rebelion
BLACK
Dither
Evil Activities
Miss K8
Partyraiser & Bulletproof
UV
Bass Chaserz
DJ Isaac
DJ The Prophet
Outsiders
INDIGO
MAGENTA
GOLD
Specials
Sefa Sunday Special
The Defqon.1 Weekend Warriors Quiz
---
Follow Q-dance on Social Media: