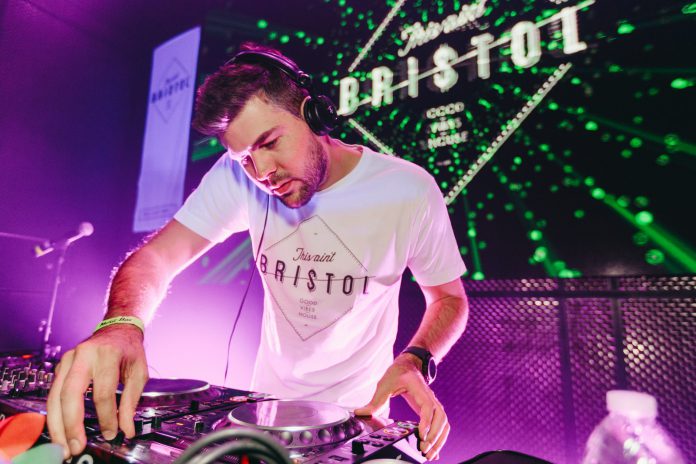 After a stunning performance at HARD Summer earlier this month, Kyle Watson stopped by to chat about Box of Cats, where we should go in South Africa, and new music!
---
Hailing from South Africa, Kyle Watson has been making a serious name for himself in the house music realm from both his work in the studio and behind the decks. Rising through the ranks of the scene at a rapid pace his music has been featured on labels including This Ain't Bristol and Dirtybird, while also helping curate the sounds featured on Box of Cats. Most recently, he teamed up with Stace Cadet for a fresh tune dubbed "Safe" that we simply can't get enough of.
Kyle Watson's beats are just as infectious as his sets, making it no surprise that he's graced the stage at some of the best festivals in the US ranging from Dirtybird Campout to Electric Forest. This year, he's continued that trend with a monumental performance at HARD Summer earlier this month and is set to dominate at CRSSD Festival Fall in September as well.
Looking to gain more insight into the world of Kyle Watson, we caught up with him after HARD Summer this year for a quality chat. Take a listen to "Safe" below, download or stream the release on your favorite platform and read on as he gives us a look at his latest music, insight for rising stars, and more!
Listen to Kyle Watson & Stace Cadet – Safe on Spotify:
---
Hi Kyle, thanks for chatting with us today. You're coming off a massive performance at HARD Summer this month that was full of some epic tunes. What was it like taking the stage at the festival and how'd you manage to stay cool in the heat?
The vibe at HARD Summer was intense, I love that Pink Tent! The response was really good and I played a bunch of new music coming from me and Box Of Cats that went down really well so I'm happy about that. As for keeping cool, gotta keep yourself hydrated yo.
After the festival, you headed back to South Africa for some gigs and will be Stateside again at the end of the month. When you're on the road and touring how do you keep yourself healthy both mentally and physically?
Balance is super important when you're traveling a lot and it's easy to lose focus of your health. I try to nap as much as possible because you really don't get a ton of sleep when you're flying between cities. I also try to do cultural things in as many of the cities I visit as possible, like visiting a tourist spot, gallery or park. As for food, it's really easy to eat badly on the road and I guess I'm pretty guilty of that! [Laughs]
You recently teamed up with Stace Cadet on "Safe" that's an absolute banger. What was the production process like on the track since he's half a world away down in Australia?
Thanks! It's actually so easy to collaborate with pretty much anyone in the world now. I wrote the instrumental and always knew it needed a vocal, and I am always looking to work with people who sound unique or who have something unique to inject into a track. Stace has something so unique about his voice that I felt would work really well on top of the chords I wrote. So he smashed out a vocal – I loved it right off the bat – and I used those to finish up the final version.
On Twitter last month you gave artists a tip about making sure to add a few subtle special moments to tracks when producing them to increase the longevity. With such a rapid pace of releases dropping in the current scene, do you feel artists should slow down their schedules and let tracks develop a bit more?
That's an interesting point. There's no doubt that music is hyper consumable nowadays, and the reason I tweeted that was to try to encourage at least a few people to put a bit more time and thought into their music and just to do what they can to make something stand out from the rest of the stuff out there. Slowing down release schedules might help a little but I'm not sure that it would solve the problem, just because the pace at which it's consumed is a product of a bigger societal shift.
Aside from your work in the studio and behind the decks you also are one of the minds that brought the world Box of Cats. What has it been like seeing the label grow so quickly and what goals do you have for it in the future?
Honestly, none of us ever thought the label would get to a point where people would actually be buying our merch! It's gone through some changes over the years it's been running, and at the moment Wongo is undoubtedly steering the ship while making sure it stays floating! [Laughs] I'm super happy to be a part of something like this, it's informal but at the same time it's helping grow a culture and push music that we all believe in.
There have been a lot of amazing beats coming out of South Africa over the past few years. Since we know that scene is fairly isolated from our past chat, who are some artists flying under the radar that you can shine a light on?
Das Kapital is making big waves and has started to direct himself towards the international scene – I wouldn't be surprised if he broke into the international club scene in a few years which would be pretty cool. TommyV also has some great potential, I'd like to see him write and release a bit more.
If you could go back to the beginning of your career, what's the biggest piece of advice you'd give yourself?
I don't really have any regrets, but I do think I could have spent a little longer honing my craft before putting out my first records. I didn't know a lot back then and my production quality was a little weak. But at the end of the day, it hasn't really mattered because after I did put the time in then things really started happening. So it all works out in the end.
Since we're already digging into the second half of the year, what has been a favorite moment so far that you've been able to experience?
The worst part of this is I can't share it with you right now, but I've been able to tick off a pretty huge achievement in any musicians career. I can't wait to drop the news! Apart from that, I've played some really awesome shows in the US this year and I'm pretty sure there'll be more!
Finally, when we eventually come to South Africa for a visit, hopefully sooner rather than later, where are a few places that we should definitely check out while there?
You guys have to check out our game reserves (safari), you absolutely have to visit Cape Town and go up Table Mountain, and you have to eat a bunny chow!
---
Connect with Kyle Watson on Social Media:
Website | Facebook | Twitter | Instagram | SoundCloud | YouTube